---
1962: Act 1: Susan versus Doom (America v. the old world)







Summary


Act 1 begins as a monster comic, a story of alienation, conflict and illusion, of overwhelming threats from all sides

underground
outer space
mass psychology
across the ocean
monarchy and anti-science
Doctor Doom sums up all the other threats: the threat of the past. Here is a scientist who cheats (i.e uses sorcery) and wants to live in a castle and rule others. Doom becomes the main antagonist, and here the real story begins. It is the story of America, democracy and science versus the old world, monarchy and superstition. Doom is defeated by Susan Storm, the symbol of the greatest power of all: the power of family. While Doom will become the symbol of arrogant isolation, Susan will become the symbol of equality and networking.

2
Issue 2: alienation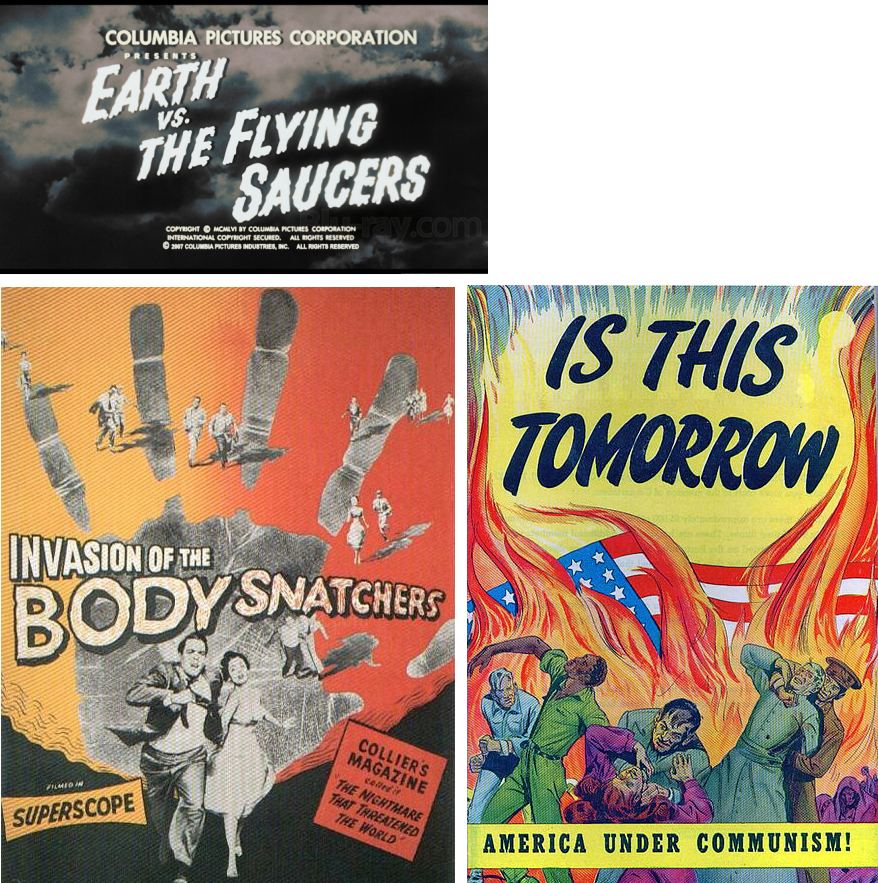 This issue



The Fantastic Four broke the mold of superhero comics. They were public enemies. They fought among themselves. The first act reflects the tensions of the time: the Skrulls are metaphors for communists hiding among us, wanting to undermine and conquer the nation. Like the shape changing aliens in the 1956 movie Invasion of The Body Snatchers, they look like us. They arrive in flying saucers, a metaphor for Russian technology: Russia almost caught up with the west in a single decade, the 1950s, and then its space program seemed to exceed America's. With such incredible progress, and nuclear weapons ready to launch at any times, and America forging ahead as well, it seemed like anything was possible.

By the end of this issue we find that the ordinary Skrulls hate their lives, and their race is simply shortsighted. As for the ones the authorities hated and feared (the FF) they turned out to be innocent. A commentary on McCarthyism perhaps?

Act 1: alienation

Other superheroes fought crime in the service of the authorities, and represented escapist fantasies of power, friendship and beauty. But the FF at the start represented alienation. Note that this is only true for the first year or so. But what a year!

Fear:


Issue 1 began with people afraid of the FF's flare gun, wondering if it was an alien invasion. In issue 2 the public's suspicions seem to be confirmed.

Hiding:


In issue 1 Ben and Sue felt they needed to hide for the public, and Johnny was attacked by missiles. Here in issue 2 the FF have a network of secret hideouts.


Conflict with authority:


In issue 1 Reed has to hijack the rocket, and the state fires missiles at Johnny. In issue 2 Reed feels they will not get a fair trial. This issue (FF2) is where the FF gain the respect of the authorities by saving the world, allowing them to create a public headquarters in FF3.Fans have often wondered how they got zoning permission for a passenger missile in the heart of New York. The suspicion is that the authorities want the FF where they can keep an eye on them.


Hatred from the public:


The first adventure is to meet a man driven underground by hatred. And from what he knows of the surface people, Reed feels he is better off down there! But the public will hate them again in FF7, and again on the cover of FF9, and by that time it's all Reed's fault.

Self hatred


Reed blames himself. Ben hates his condition. In act 4 we see Johnny's frustration and self criticism. Sue is the only one without self hatred at some point, though she seldom shares her feelings so we can only guess - see the commentary to FF291 for example.


Ingratitude:


All this hate is despite the team being devoted to helping the world. Hatred from the authorities is despite them beating the Russians into space (though the journey was probably hushed up because of the crash and what followed). Ben is a war hero, yet has to wear a disguise in case he is ridiculed for his skin (reflections of racism).


Conflict with each other


The team fight amongst themselves. It's not just Ben and Johnny: until FF8 Ben sincerely believes that Reed hates him.



Division:


In this issue they don't know how to keep Ben on board. Next issue Johnny leaves. The issue after that Ben threatens to kill Johnny. The next issue (FF5) Ben wants to leave the group. The next issue FF6 (we see that Sue, although she called Reed her fiancé, keeps a photograph of Namor.

Questioning the nuclear family


These days the FF is seen as a nuclear family, with Ben and Johny acting as surrogate children. But in the early days it was anything but. Reed and Sue were not married, yet by FF3 Sue had a room in Reed's house (she commuted from Glendale, but spent a lot of time in Reed's company). Sue raised her younger brother in a home without parents (see FF31 and 32). Ben was not a child in any way. The message seems to be that any four people can be a family as long as they are committed to each other.

Family secrets?


In this light, there is evidence that Sue kept a family secret: something much more shocking than her secret photo of Namor in FF6. See the commentary to FF291 for the details.

Government mistakes


In FF2 the government declares the FF to be public enemies to be hunted down. In FF4 it is government nuclear tests that destroy an empire and cause enemies to attack (in the FF4 and again in annual 1).


Realism: a cause


This angst represents the world of Stan Lee and Jack Kirby at the time. Just three years earlier the business collapsed and they thought they'd be out of a job. By early 1961 Stan Lee wanted to quit comics, and finally decided to something realistic for a change. According to Kirby's later recollection he was doing everything he could to save the company, and there was no great love lost between them: the last time Jack worked for Stan (the younger man) he considered Stan an irritating kid. But as sales increased it became clear they had a hit and the mood lightened. it sometimes took six months for sales figures to come in, and nobody could be sure if good sales one month were just a blip, but by issue ten the team are getting a military parade in their honor and in issue 14 Reed returns from the moon in glory. The bad times are then behind them. At least for a while.

The only truly good person


the only person who does not have conflicted loyalties, who does not hate or oppose anyone, is blind: Alicia, the one who's purity changed history by touching the heart of the Silver Surfer, another being with a pure innocent heart yet who's job was to enable genocide. In short, there is plenty in the early Fantastic Four that the counter culture would recognize!
The Greatest Generation versus Baby Boomers

Johnny was born in 1945, the year that World War II ended. He is therefore the archetypal Baby Boomer (defined as the post war generation). Meanwhile, Reed and Ben fought in the war: they are the archetypal "greatest generation". Ben has the burden of prejudice and personal struggle (born into poverty, a self made man), and Reed has the burden of trying to save the world: as one of America's top scientists, with a massive private fortune, he wants to be "mister fantastic", the man who single handedly can take America to the moon and beyond. The Fantastic Four is the burdened "greatest generation" and carefree "baby boomers" personified. They reflect this massive cultural change in America. The older ones worry and have trials, whereas Johnny's life is an endless burst of opportunity - at least at first.


We see in issue 1 that Johnny is the only one who loves his life, whereas the others see each other as weak: Ben blames Reed, Reed sees Ben as the problem, and both see Sue as vulnerable. In contrast Johnny exudes confidence: he traps the Skrulls and says "you thought that because that is what I wanted you to think!" In issue 3 he decides to quit the team because it cramps his style.

Sue Storm may not seem to fit the Baby Boomer versus Greatest generation divide - officially she is stuck in the middle, a little older than Johnny, but not old enough to be an adult in the war. But is she? Issue 1 suggests that she is the most old fashioned of them all. The evidence suggests that she is older than she looks, and has her own secret burden to bear. See the notes to FF292 for details.

The zeitgeist: why act 1 matters

The early 1960s were a transition between the mainstream conservatism of the time and the increasing questioning in the later 1960s. The Great American Novel reflects that period of change.

"What had actually made the team so important [was] the light that they shone on the ultra-conservative era of the early Sixties. Without that link between the title and the social and political world of the moment, all that's left is yet another clichéd set of super-people." (source)

"In a world where children were warned daily of an impending nuclear holocaust, where children were taught about madmen who, quite recently, had murdered innocents by the millions because of their race; in that world we also told to remain young and innocent and to obey rules without question. Something was wrong. We all knew it, though we might not have had the words to transmit the knowledge. That's where Rock and Roll and the Fantastic Four came in. They allowed us to put words to our suspicions. They gave us a space where we could consider the contradictions of our parents' words; our parents world." Walter Mosley, from his afterword to 2005's Maximum FF, quoted by Colin Smith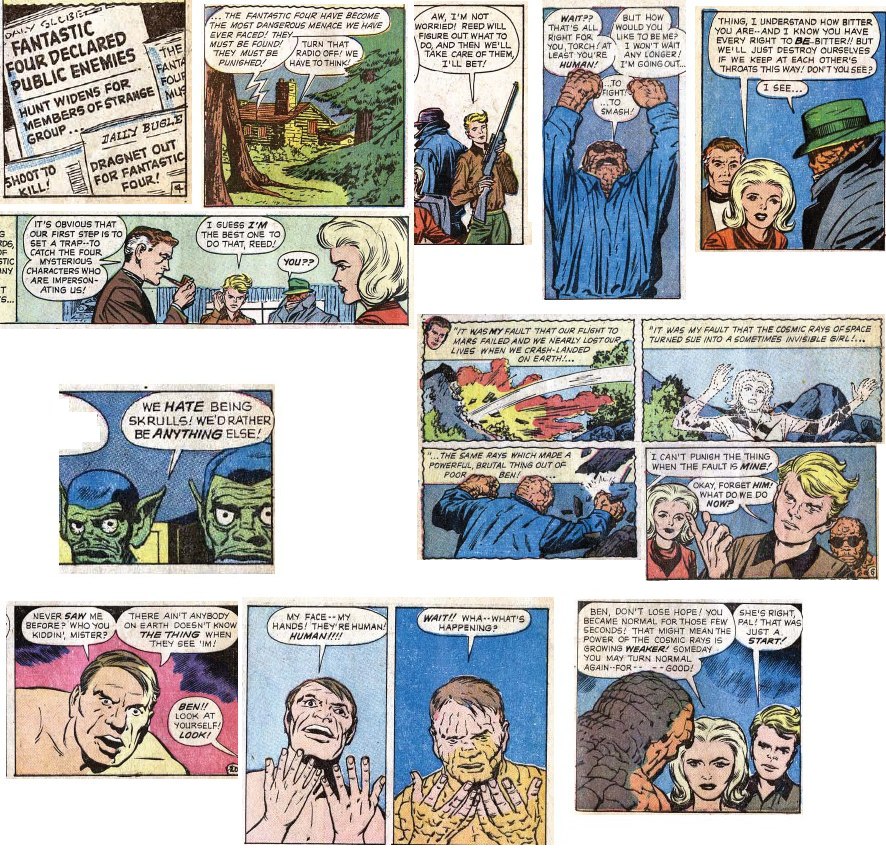 Here the four themes are developed:
Reluctance:

the team receives no thanks, just hatred. Ben does not want to be The Thing. Reed seems to regret the space flight (note that in his self recrimination he exaggerates his error, the orbital test flight becomes a "flight to Mars," although no doubt Mars was on his mind for later in the space program.)

Equality:

Johnny leads the way, and Sue is the one who keeps the team together at times of crisis. Note also the origin of the Thing-Torch feud: Ben started it. Once his confidence sags in later issues, Johnny will start most of their fights.

Confidence:

Ben changes due to his emotional state, just like the early Hulk. (Also like the Hulk he is affected by sunlight in the early days - e.g, the Rama Tut story.) Soon his ebbing confidence and need for Alicia means he will be unable to consciously change.

The American Dream:

Skrulls hate being Skrulls, and would rather be American cows: America is that good! And what is more symbolic of middle America than the dairy farm?
This second mission is a major milestone: the team has shown twice that they can defeat more powerful opponents, and they now have the trust of the authorities. It is time to go fully public!

Memories: why the FF was different

What was it like, as a child, to buy the Fantastic Four for the first time, when you'd only seen regular mainstream comics? User 'ghastly55' at the classic comics board mentioned that he saw issue 2 as a child, but was unable to find any other issues for a long time. I asked him what he remembered. (Post reprinted here permission. Emphasis added. [My edits in square brackets]):

I didn't really realize that this was a superhero book, since there were no secret identities, kid sidekicks, or nosy girl reporters involved. But I recognized "the monster artist" [Jack Kirby] from those other books, and then when the story ended with Reed showing the Skrull commander "pictures clipped out of Strange Tales and Journey Into Mystery", I was hooked. Except that I could never find any more issues in this line. It seemed that the store near our house didn't carry the title, and we never had cause to go near that hospital again. So I had to read and re-read that issue for more than four years, wondering if anything ever became of this odd little combo.
I remember noticing that unlike the DCs I was so used to reading, this was one full book-length story (albeit divided up into chapters).
I remember that so much of the story was told purely in the pictures rather than repeated in expository captions. Like when at the beginning of one of the chapters when the FF are captured by the army, The Thing has reverted to Ben Grimm, but no captions mentioned it and four panels went by before the army general asked "Who are you, mister???"
I remember that Reed looked slightly menacing in his first few panel appearances. [Reed's three dimensional psychology will often be discussed in these reviews.]
I remember that opening panel where an amorphous orange blob (which we're supposed to recognize, apparently) is swimming towards an oil rig. The opening panel was actually the beginning of the story, rather than a second cover shot as was common at DC.
I remember little blurbs at the bottom of some of the pages, saying things like "What is ... the Incredible Hulk" and "Look for Amazing Adult Fantasy"
I remember the closing panel being memorable because it was a long shot of four tiny figures walking across a field wondering if they did the right thing, as opposed to the DC standard of back-slapping reinforcement of some moral or other.
I remember noticing that the colors were very muddy and imprecise and yet that didn't distract me from being fascinated by the story itself. Over at the Distinguished Competition, for instance, Superman's 'S' symbol, as small and colorful as it was, was always very precisely delineated and colored with nothing going outside the lines, whereas in this book even a dark purple water tower was off-register. [The comics had no money: that's why they were allowed to take risks.]
I remember noticing that there were actual signatures on many of the splash panels, something unheard of in the DC comics I'd been mostly reading up until then.
I remember thinking that the dull yellow cover seemed odd, when compared to the primary color backgrounds throughout the Weisingerverse. [A reference to DC's famous editor Mort Weisinger]
I remember studying for hours that three-or-four-panel progression where Ben gradually reverts to The Thing. Had I been a Madison Avenue executive I'd market that progression with the catchphrase "You'll believe a monster can cry.">"
I mean, I still enjoyed reading about The Thought Beasts of Krypton and Proty and Gorilla Grodd. But THIS ... this was DIFFERENT.
A mistake?


The apparent discrepancy at the end (three or four Skrulls) is later explained in the Kree-Skrull war in another comic.

Another mistake?


Some readers wonder where the diamond went if Sue shrank instead of becoming invisible - why wasn't it seen? Any stage magician could explain it: this is classic misdirection. The jeweler thought he was seeing The Invisible Girl, so when she disappeared he expected she had gone invisible. No doubt she did it when his eyes were momentarily off her. It would have never occurred to him to look on the floor at that exact moment (where the Skrull would be running for some hidden corner).


Why not use photos?


Why didn't Reed show photos of the actual monsters in Monster Isle instead of comic pictures? He obviously forgot to take any. This is probably the reason why later missions take photos as a matter of routine (e.g. see the splash page to issue 38).

Poor Skrull eyesight
...is a sign of realism. Being small and weedy is a great evolutionary advantage for a Skrull: it means the default Skrull uses very few resources, allowing Skrulls to survive for longer and in more extreme environments. As shape shifters they can would grow muscle or other organs only as needed. Why would Skrulls need good eyes? To recognize fellow Skrulls? They are shape shifters so it wouldn't help. To see dangers coming? They can instantly change if a danger is close. For special times when eyes are needed? Then they can just shape-shift better eyes. When Reed showed them pictures they had no reason to be suspicious, so used their regular poor eyesight..

Low intelligence Skrulls


...and their warlike nature are more signs of realism. Given a biology that allows for unlimited changes, reproducing Skulls is easy, and their need for food is low (just shrink and hibernate during long space flights). So it makes economic sense to send out billions of low resource, low grade Skrulls around the galaxy to see if other planets can be easily conquered, and if problems arise then just send higher grade Skrulls later. Am I just making excuses? No, Stan and Jack had both fought in WWII.They knew more about real warfare than modern readers. Real warfare is dominated by ordinary people making dumb mistakes. A belief in superhuman enemies belongs only in bad comics.
The medal: laughable?
Nathan Mahney wrote "having him receive a Skrull medal of bravery right after that puts it so far over the top that it can't help but be amusing." But this assumes that an alien culture would be like us. Why would they? Aliens are alien! Odd behavior is to be expected. But this instant reward scheme is consistent with a low intelligence race as noted above: just like pre-schoolers they love medals. Low intelligence is not an insult: it means they can create new soldiers very quickly. In this situation, quick rewards and local autonomy are critical to success.

Poor art?


This issue has been criticized because the team stand around more than usual. But that is the point: they are trapped, with nowhere they can go.

Johnny's plan: foolish?


How did Johnny know the alien human torch would not be there? He did not know, and this is an example of realism: aliens are so unusual that the team assumed the saboteurs were human. They could also conclude that there were more than four of them: the original attacks happened simultaneously in Texas, and also "many miles away" (presumably New York for the biggest jewelry stores and maximum publicity?), and also in the midwest. Attacks happened often enough for them to be reasonably certain the new rocket launch would be attacked: this all suggested a large network of humans. In real terrorist networks each operative will know as little as possible about the others, so that if one is captured the others can remain free. So even if a fake Torch were there, or a fake Thing, they would just assume someone else had decided to attack - after all, it was an obvious target. Seeing that somebody else had attacked they were impressed by his technology and would offer assistance. So Johnny's plan was realistic. As it happened, it worked for a completely different reason: Skrull operatives have low intelligence (who needs intelligence when you can shape change and your masters have high technology?) So the team had to quickly think on their feet, such as Reed making use of their poor eyesight, low intelligence and limited understanding of the planet, and cutting out monster comic pictures.


Other points to note
Doppelgangers


This issue introduces doppelgangers, a common motif throughout the big story. Doppelgangers allow us to see the same people having made different choices, or else they highlight some aspect of each person's character (whichever aspect is different in the doppelganger). Each doppelganger is carefully chosen for their specific difference. For example, in this issue they illustrate alienation, whereas the alternate Reeds in FF118 and FF174 highlight Ben's tragedy and Reed's frustration respectively. But in the Franklinverse era this changes: the number of doppelgangers expands to absurd proportions with no noticeable difference between each. For example, in Simonson's run we see endless parallel copies of the FF as they escape the time bubble. Later when Franklinverse Ben's skin turns against him Reed has a conference call with numerous alternate versions of himself. Hickman continues this theme of a council of Reeds: the point is that most alternate Reeds are interchangeable with our own. It cannot be any other way, as the abandonment of long term continuity in the Franklinverse era makes deep characterization is impossible.

Englehart's meta commentary on FF2


The triumph of the doppelgangers in the Franklinverse is highlighted in the second major arc of the Franklinverse (after the merging of dimensions story): Englehart's clone team. Englehart created the team to mock the death of continuity, which results in dumbed down characters. In effect he repeats issue 2, with a dumbed down unethical team replacing the real one. But in the Franklinverse it looks like the dumbed down doppelgangers win.


Flashbacks:


Many issues have flashbacks to

their origin (discussed here), often with slightly different details emphasized, or reflecting the agenda at the time. E.g. Reed's one-off reference to a trip "to Mars" is apparently hyperbole, reflecting his self-blame.
A tiny

zeitgeist

word: "contented":
The last thing the Skrulls say is "promise us we will be contented", so Reed hypnotizes them into being cows. This was a concept on breakfast tables throughout America. "Going back to 1907, Carnation Evaporated Milk touted on its cans that it was from 'contented cows'" - Iron Maiden

Ben says he never gets tired.


That is the secret to beating a hole in his prison cell. But in later issues, as he loses self esteem, he loses this. Making Ben tired is one of the main ways the Hulk beats him in FF26.

The start of the Marvel Universe


The reference to real comics at the end is the first indication that (1) other comics exist, (2) they exist within the world of the characters, (3) they simply exaggerate the real world (because real monsters exist in that world, though not as extreme)


The fourth Skrull

Before moving to discuss issue 3, remember what sets the Fantastic Four apart from others stories of the time: continuity. Each story is caused by the one before. Issue 2 was a direct response to the team's appearance in issue 1. Issue 4 continues directly from issue 3. So we should expect issue 3 to be a result of issue 2. So let's consider the last panels of issue 2 that lead into the "worse trouble ahead" in issue 3. Notice anything?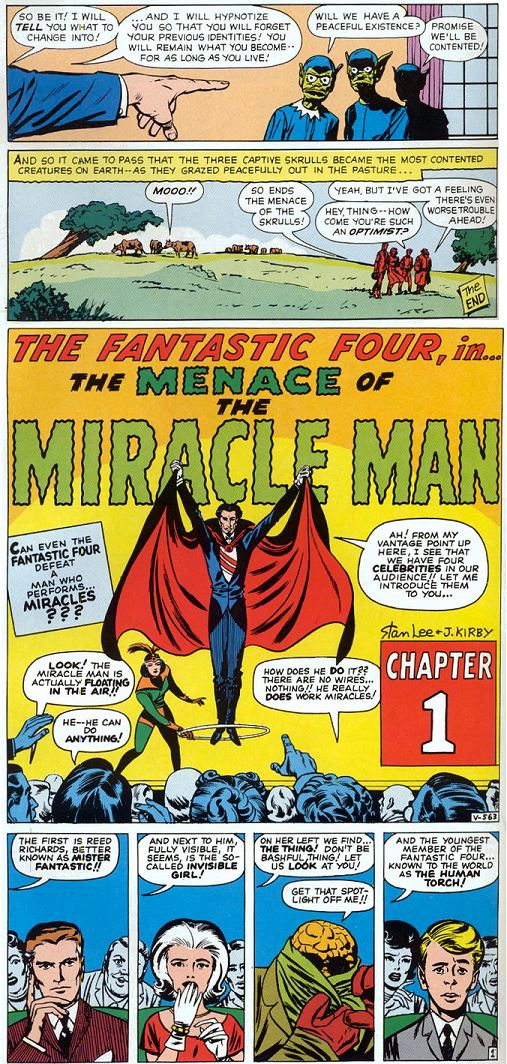 Yes, they are both about hypnotism. And not just hypnotism, but super-hypnotism, beyond anything a human could do.

Both the missing fourth Skrull and Miracle Man have hypnotism powers. This is the fourth skrull later when he copied Senator Craddock: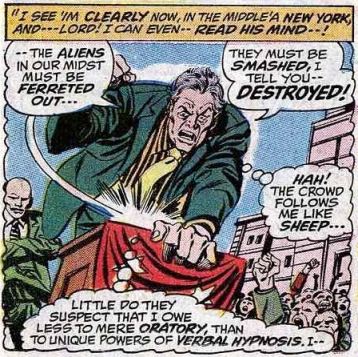 The Miracle Man, when alone, referred to "the human race" as if they were a different race from him: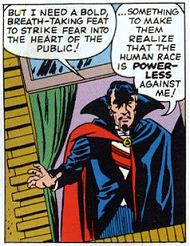 Both the fourth Skrull and Miracle Man are shape changers.
Both the fourth Skrull and Miracle Man (and Craddock) have the same goal: to destroy the team's reputation, in order to make them useless.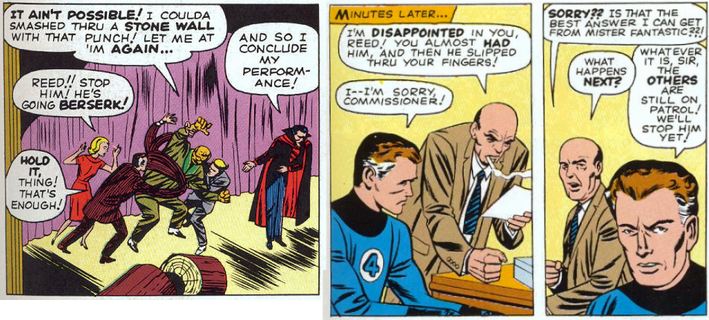 The Miracle Man succeeded. When he was supposedly beaten Johnny suddenly changed his character and the team fell apart. The Miracle Man got what he wanted.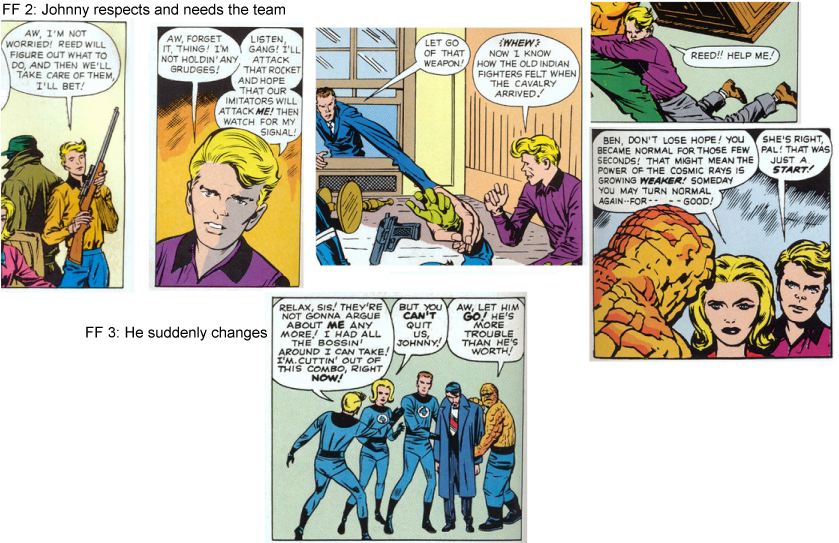 The same thing happened the next time the Miracle Man appeared: the team thought they had defeated him, but his actions led to the break up of the team. (In FF 138-139 he kept the more functional members busy so that nobody noticed an impending disaster)


But wait, you say, there is no need for this theory: we already know what happened to the fourth Skrull, right?




But that explanation makes no sense. How did the fourth Skrull get up there? There is no sign of a spare rocket. And if the fourth skrull returned he would have told the invasion fleet that the four "skrulls" were really the FF. And How did Reed learn that Skrulls could be hypnotized? How did Reed learn to be a hypnotist?


The answer is supposed to be "the Skrulls are stupid." But this is the empire that outsmarted the Kree Supreme Intelligence for thousands of years. While it is very plausible that

most

Skrulls are stupid, any invasion would need some very smart ones. Besides, the "stupid skrulls" theory makes no sense. They were fooled by cut out images from a comic book? They thought Earth had armies of giant monsters? But the Skrulls have been studying the planet very closely since the 1930s.They knew

exactly

what they were doing.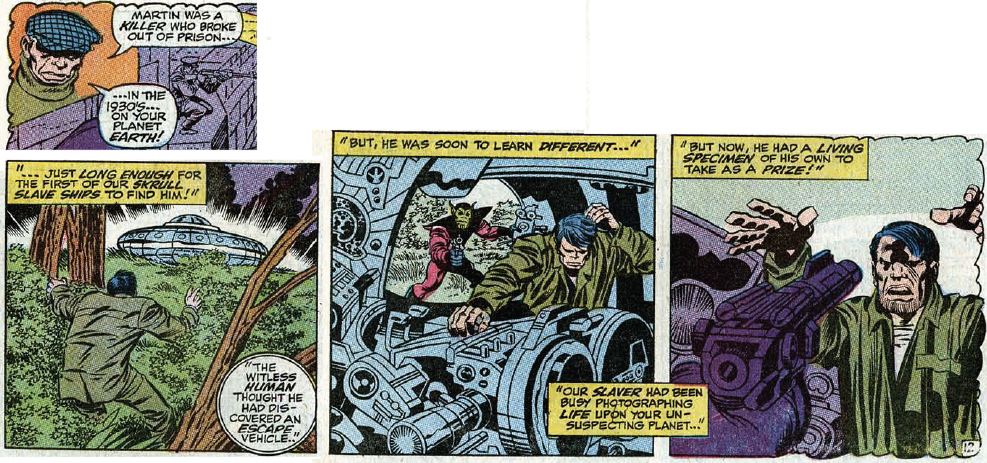 And on the Skrull planet what do we find? That they routinely use hypnotism against outsiders.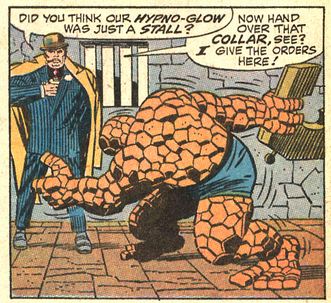 So all the evidence points to Reed being the one who was hypnotized at the end of issue 2. The other three Skrulls seem to be just cannon fodder, so the fourth one probably hypnotized them as well.
But wait you say, if the Miracle Man was a skrull, why didn't he revert to Skrull form when he died in the 1980s?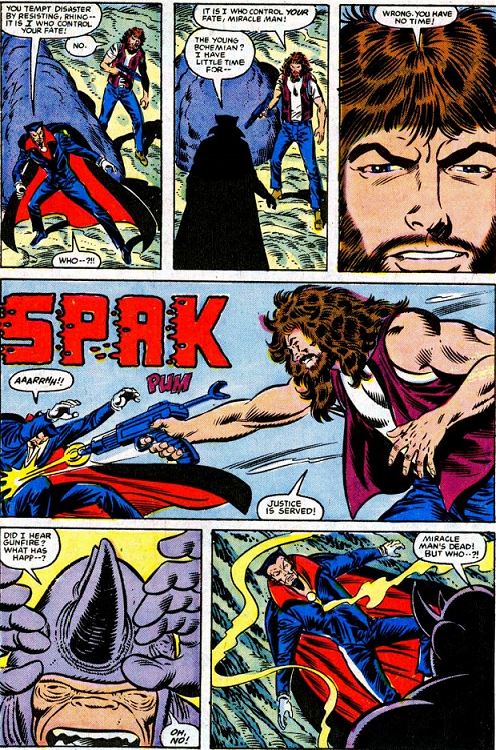 Because there is no proof that he did die. He had plenty of warning, and the shot was not to his head. A shape changer could easily route around the injury, but fake death to maintain his cover. (And his later "resurrection" by Dormammu was at a time when continuity had been largely ignored for decades. But if we demand strict continuity we could draw parallels with the resurrection of Doom by the Beyonder, which created a whole mess of continuity, but the Beyonder and Dormammu don't care about such details: they want a character so "poof" the character appears.)


But you say that Skrulls were not routinely pretending to be humans back then? Oh no? Ever read a book called "Secret Invasion"?


In short, the "idiot skrulls" theory makes no sense. But if issue 3 was a continuation of issue 2 then suddenly everything makes sense.
Maybe the Skrulls always win
A good case could be made that every Skrull battle was won by the Skrulls, and the angry "losers" we see (e.g. the ruler in FF annual 19) are just minor players. In FF 91 we see that they model an entire planet on Earth. Presumably this is to better understand the humans. We see in AFF annual 17 that Skrull cells regenerate extremely quickly, so it is probably extremely easy to grow large numbers of Skrulls. So devoting an entire planet to defeating another planet would not be diffieult. This would go a long way to epxlaining their civilisation's success. Maybe they understand us better than we understand ourselves. With that in mind, let's look at every Skrull appearance:

FF 2:
If the purpose was to weaken the team (and only conquer if convenient), then it worked. First it established the FF as villains, so the FF had to work hard to become establishment figures. Being in the establishment limited their freedom. Then issue 3 led to Johnny leaving in issue 4. They were sowing discord: just enough to weaken the team, bit not enough for the team to realise.
FF 18 (super skrull):
this is just a warning shot: letting the FF know that the Skrulls are FAR more powerful. Even the ending, when Reed discovers the power beam, is a reminder that they can target anywhere on Earth at any time. They then let the Super Skrull be defeated just to show their power: they can rescue him any time they want. They kill Sue's father as a warning. Mafia style.
FF 37 (behold a distant star):
the message here seems to be "we do not want to kill you. Don't go too far, and we will let you live." That's just good politics. The story ends with the skrulls making it clear that the FF only survive because they allow it, and Reed thinking more positively about them.
FF 90-93 (the games):
another reminder that they can take who they want, control who they want. FF 93 ends in a chaos of war, featuring an endless horde of beings who are more powerful than the FF, and the FF barely escape in the middle. The message is clear: this is more than you can cope with, don't set off this tinderbox, friend. Crystal destroying the sonic disruptor only serves to emphasise the instability of power. Obviously such a marle empire would have other weapons, but the message of the shape shifters is that life is chaotic: anything can blow up at any time, so do not go too far. On the last page we see that Reed has captured skrulls by tying them up!!! Clearly that was absurd: they must have agreed to be caught, with the understanding that Reed is only there to get his friend back. The skrulls have made their point. Note that Reed was rather too quick to guess it was the Skrulls back in FF 90. Whatever the bigger plan, he goes along with it.
FF 174: the dragon
Here we again see that defeating the Skrulls causes more problems than it causes (the team kill a dragon only to find that the dragon was the god guy). It's the same message every time; "you are out of your depth, children, know your place."
FF 204-214 (the ageing ray):
Another reminder that the Skrulls can kill the team any time they want, and the team is lucky to escape with its lives.
FF 244 (Galactus destroys their throne world)
This is the only major setback, but it's Galactus. And even there, what is one world when they have a whole galaxy?

FF 250 (the Skrulls pretend to be X-Men):
another reminder that they can come and go as they please. They are only discovered because they choose to be, by behaving in the most visible way possible. Their goal worked: periodically remind him who is boss. Sure, five cannon fodder are lat at the end, but they are easily replaced. I imagine that Skrulls can be bred in vats by the million if needed. This seems to have shaken Reed's already fragile confidence so much that the very next issue is what I see as his his suicide attempt. (He was already at his lowest after a series of terrible failures and disastrous decisions: it cannot be a coincidence that Gladiator turns up just after Reed saves Galactus, and before the Shi'ar empire condemns him for his crimes)
FF annual 17 (note that all of Byrne's annuals deal with Skrulls)
Here we get a clue to the Skrulls' phenomenal success: Skrull cells can regenerate incredibly quickly, and also control other cells. so creating more Skrulls is super easy.

FF annual 18 (becoming friends with the Kree)
An alliance with the Kree would not be a defeat, but their greatest triumph.
FF annual 19 (changing Skrull genetics)
The first half of the story clearly deals with the low intelligent variety of Skrulls. These can easily be replaced. The second half is not about the FF at all, they have merely stumbled on an internal Skrull conflict.
Once Reed leaves in FF 307 the Skrulls show no more interest for the reminder of act 5.


At least, that's my current thinking on the topic.


3

Issue 3: the triumph of self belief

In issue 1 Reed created tension with the government by launching without permission. In issue 2 the team were national enemies. But by the end of issue 2 the authorities are on their side. To paraphrase the policeman at the end, "if only the public knew what we know!" Triumphant, Reed's ambition knows no bounds: he previously had a network of safe houses, but he now rents the top floors of a skyscraper in the heart of the financial district. We are now in 1962, the year of the Cuban Missile Crisis. The theme of confidence is palpable: enemies may appear to be unstoppable, but as with the Miracle Man, this belief is often an illusion.


Reality versus illusion: hypnotism as a metaphor
How does hypnotism work on TV viewers or to those out of sight? The simplest explanation is that nobody was hypnotized via TV at all: the entire thing took place in the minds of the FF, they were hypnotized at the theater. That is all. This is all about the media.

This is an example of the zeitgeist: the rise of the importance of the media in the Kennedy era. Kennedy was a master of the media. Whether the media was the theater or newspapers or rumors or TV, it was the same. This story is about beliefs, not reality. Starting with issue 3 the FF are public celebrities, so beliefs make reality.

"The only thing we have to fear is fear itself"


This story was written in 1961. The previous year Kennedy had given his famous "fear itself" speech. The way to beat miraculously powerful enemies was self belief. The Miracle Man can be seen as a metaphor for communism: his actual power was limited but his imagined power was infinite.

Brain washing is a closely related theme. In 1961 Americans could clearly remember the Korean War, with its rumors of brain washing. Brain washing was a topic in the zeitgeist, and a theme of several early FF stories, most notably the Puppet Master. But issue 3 was the first to use it.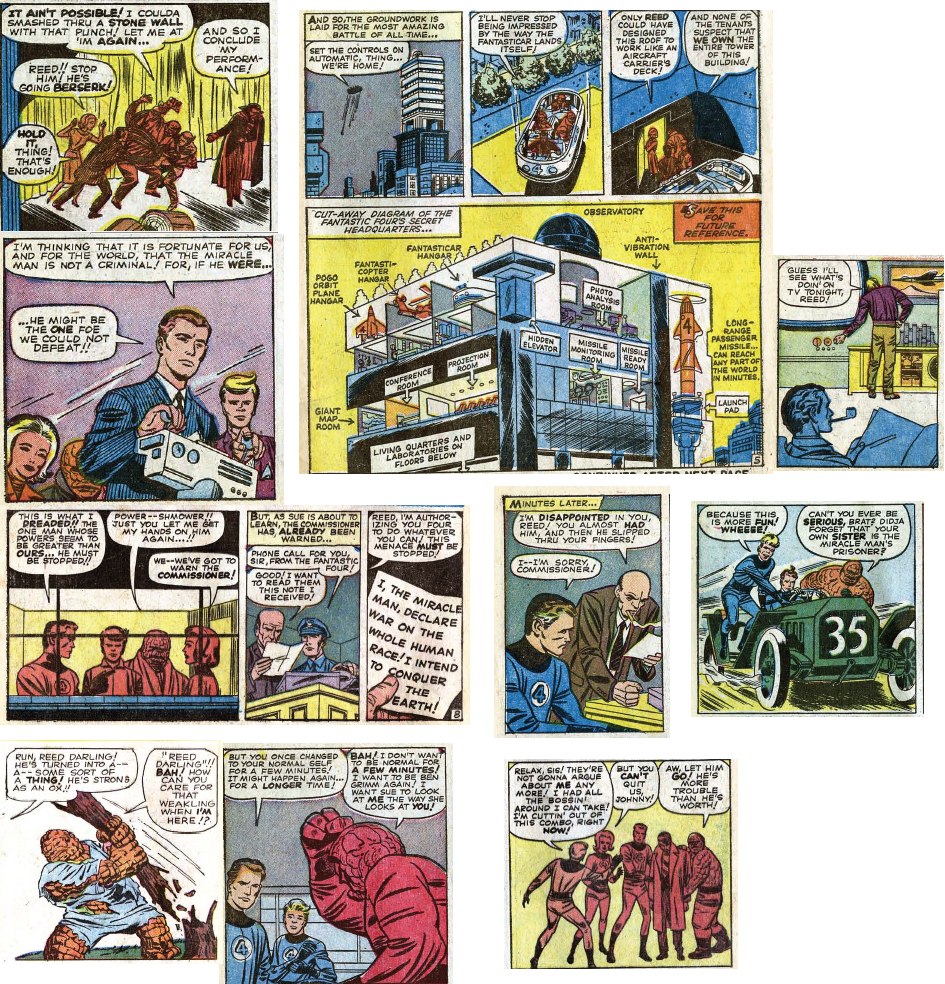 Love triangles
The Fantastic Four is known (or should be known) for its love triangles:

Ben - Reed -Sue

in the first issues.


Sue- Namor - Reed

from issue 4.

Johnny - Crystal - Pietro

in act 4.

Ben - Alicia - Johnny

toward the end of act 4


Crystal - Johnny - Alicia

in act 5.

And the mystery of

Reed - Sue - Doom

in the Franklinverse period: perhaps not what it seems.

These really deserve an essay all of their own. Maybe one day.


Tragedy: "I want be Ben Grimm again! I want Sue to look at me the way she looks at you!"

This issue continues Ben's frustration as Sue is slipping through his fingers. Above we see a reminder of issue 1: Ben and Reed were rivals for Sue's love. Ben was the handsome one... until Reed's space flight. No wonder he's angry.


It's the last twist of a terrible fate. Not only have Richards and Storm cursed Grimm with his irreversibly "ugly, gruesome" frame. As if that wasn't enough, he's now dependent on their comradeship and support even as he longs for his best friend's lover. It's a degree of passionate desire fused with understandable resentment that constantly festers to trigger Grimm's psychotic rages. When cornering the runaway Human Torch in The Coming Of The Sub-Mariner, he spits; "Don't worry, sonny boy ... I'm not gonna spoil your pretty features! I'll just rough you up a little ... Teach you who's boss, once and for all." It's a scene that goes far beyond faux-sibling, rib-tickling rivalry. In truth, it's still a frankly terrifying sequence, with the apparently unhinged Grimm holding a car above the Torch's head and then bitterly, mockingly asking "Why aren't you laughing now?". In that, his portrayal can't help but touch upon issues of profound inadequacies, individual responsibility and, in a variety of fashions, abuse." (source)

Note how at the beginning it's Ben who is humiliated in front of an audience, not others. It's always Ben





And here are the themes again:
Confidence:

if you believe, you win!

Reluctance:

Johnny leaves

Equality:

The story begins with the team wanting to be part of the audience, just ordinary Americans, not celebrities. And there is sexual equality: later it's Sue who takes action while the others dither.


The American dream:

a new home, a penthouse suite with a flying car!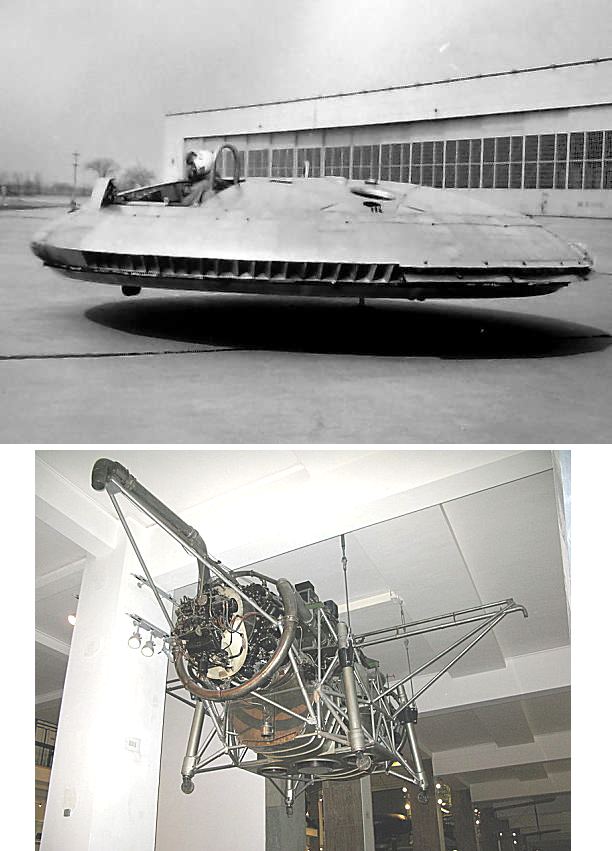 The "flying bathtub" reflects the zeitgeist of the day: this was an era where vertical take off craft were first developed. Top: the "Avro" car built between 1959 and 1961 (it turned out to be too hot and unstable for full time use). Bottom: the "flying bedstead" (compare the "flying bathtub"), a successful test rig used by Rolls Royce. Note the Kirby technology. Below we have the "flying bathtub" from this issue and the later sky cycle, a variant on the Rolls Royce Flying Bedstead.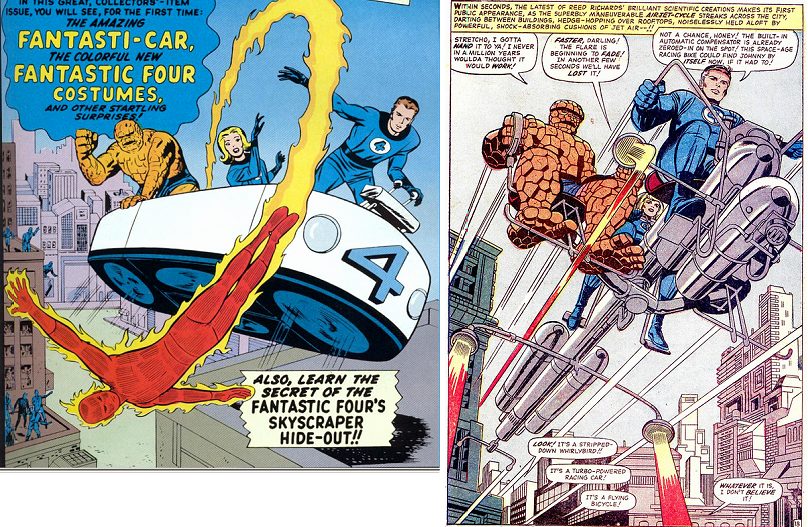 Where is the Baxter Building?
The Baxter Building has been called the fifth member of the team. it symbolizes what they stand for: unlike other heroes who keep secret identities the stand as a beacon in the middle of New York, where everybody can see them and find them when needed. Unlike other heroes who look downward (toward the world of crime), the Fantastic Four reach upward toward a better tomorrow. The Baxter Building is a Statue of Liberty for science.
The comic never states the location of the Baxter Building, but from internal evidence we can be fairly confident that it is based on the Western Electric Building in the financial district, on Broadway and Fulton Street. But first let us first examine the common belief that it is on 42nd street and Madison Avenue.
Official handbooks are just empty filler
A few years ago I helped to produce the official handbook for a certain well known comic (not the FF). I learned that these handbooks are mostly nonsense. This is why:
As I have learned from creating this site, to genuinely research a handbook would require days or months of work for every page. Nobody would pay for that!
The whole concept of a handbook is nonsense. We are given heights and weights and maximum strength for characters - facts that were never established in the comic!

Handbooks routinely contradict the comics. For example, all the handbooks state that the Baxter Building has 30 regular floors plus 5 for the FF, making 35 in total. But F 148 clearly states, on the splash page, that the building has 35 + 5 = 40 floors. This is stated boldly on page one, specifically to clear up any confusion, but the handbooks ignore it.
The writers genuinely do not care: they are concerned with making stories that are exciting. Good writers care for realism, so that allows nerds like me to fit everything together. But do not care about the details. If you create a handbook for them that looks fun they are happy to sign it off. They are paid to entertain, not to count the number of windows on every building!

What the handbooks say
The comic stories themselves (at least pre 1990, and probably not pre 2000) never tell us the address of the Baxter Building, and the handbooks contradict each other:
Some filler material at the end of Fantastic Four Annual 1 said it was "east of Fifth Avenue". This filler contradicts the comics on every page, so should not be relied on. For who wrote it and why, see the page on "how strong is the Thing?"

The Official Handbook of the Marvel Universe (1983) said the building was on 38th street.
The deluxe edition (1985-1989) has a map that place it on Lexington Avenue.
The Spider-Man encyclopedia (many years later) placed it on Madison Avenue and 55th street.
Finally, Fantastic Four volume 3 issue 39 (2001) has a new Baxter Building constructed in space. It then lands on 42nd street and Madison. So this is the new accepted address in most handbooks, on Wikipedia, etc. But this was in the Franklinverse period and tells us nothing about the original address. (There is also the possibility that when the building returns after FF 202 it comes to a different address: its return is not shown.)
The real Baxter Building is not hard to find

I recently watched a time lapse video of the New York Skyline, and saw the Baxter Building for the first time. This is the view from One World Trade Center as it would have been in 1951 and 1961. Spot the difference? That's the Western Electric Building in the middle, built in 1961. That was the first year when the Baxter Building first appeared (also the year it was built, according to FF 250).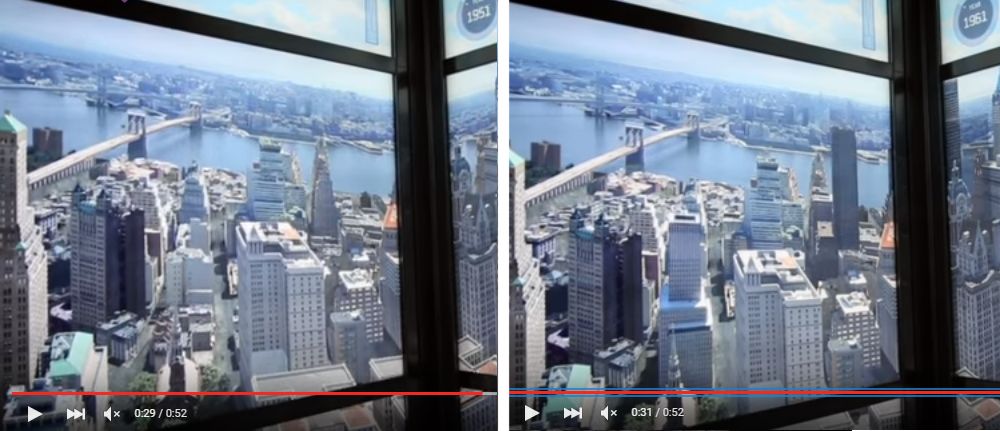 When Kirby drew the new headquarters he naturally wanted the most modern looking skyscraper possible. The Western Electric building had only just opened. Being an electric company, the residents would not be disturbed if scientists with complicated equipment came and went. And - get this - Western Electric ran a major defense laboratory (Sandia National Labs) and trained people for the space program!
"In 1960, NASA awarded Western Electric a contract for over $33,000,000 for engineering and construction of a tracking system for the Project Mercury program. As part of this effort, Western Electric engineers trained remote-site flight controllers and Project Mercury control center and operations personnel." (Wikipedia)
The upper part looks a little taller than we are used to, but it's closer to the original picture when it first appeared in FF issue 3. Artists must mainly see it from the front, the section that can detach (see below), so they assume the building is square (when seen from the top). But these photos are well within the bounds of artistic license: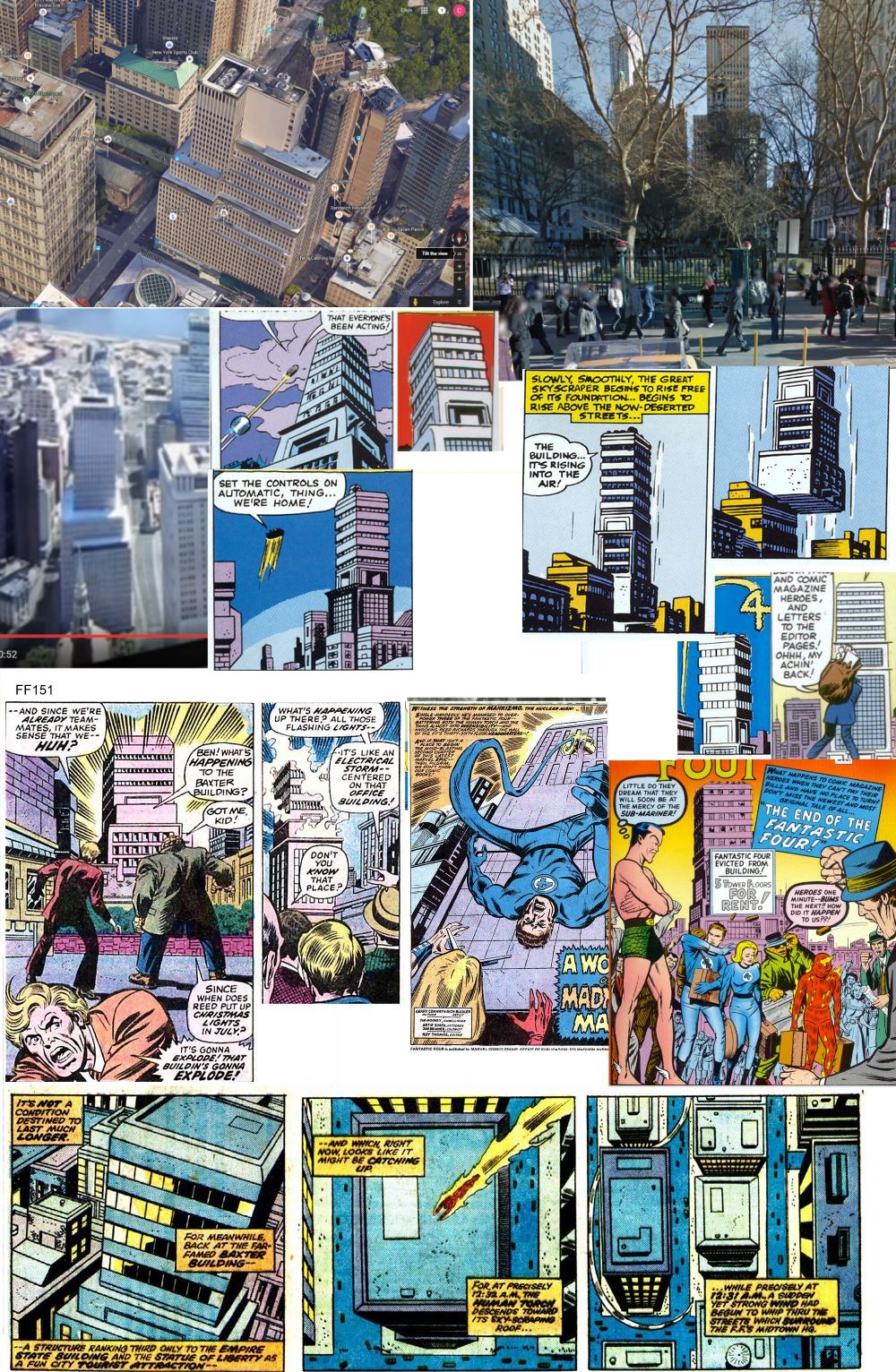 This solves the mystery of the number of floors: the official number is 40 (see FF 148) yet every early picture shows it as much shorter. This is now easy to explain. The Western Electric building has 31 floors. One of those would be for the lift mechanism or engineering, so it's basically 30 floors. Now imagine that the FF tell Marvel "the top part is our penthouse, divided into five floors." A quick glance at the building would make us think "30 storey building plus five floor penthouse equals 35 floors". A similar error later on made it seem like "35 floors plus 5" and that became canon. But in fact the base of the western section is only eighteen floors. The penthouse section is officially twelve floors, combined into five larger floors to allow for the aircraft hangar (the white area, about 5 normal floors high) and the laboratories (around three normal floors high).
Objections to the Western Electric Building:

The image is not

the same in every detail?


The details change drastically in the comic: see examples above. The general form is exactly right.



Some stories show buildings on either side?


The early stories show streets on three sides: see examples above. Streets of course appear closer together when seen from a distance.



Aren't there skyscrapers on the other side of the street?


I always assumed that this was the case, but plenty of early stories show a largely uninterrupted view from the front, just as in the photos.



When it flies into space it is clearly square (as seen from the top)


That is easy to explain. When Reed upgraded the building in the late 1970s a condition of planning permission was that the top section must be able to come apart from the rest (see FF 202). Presumably there was a similar clause in the original agreement: "if you are going to build a rocket silo then the front of the building then if it breaks it must not bring the main building down." So the front part, while it touches the back part, is not integrally connected.

We see support for this in the first cut-aways in FF 3 and FF6 (these are part of the story, and not the nonsense handbook versions). Both show a thick anti-vibration wall around the missile silo. Given that the hangar deck and laboratories might all create loud vibrations it is natural for some kind of buffer to exist between the FF part and the rest of the building. The missile silo extends to the foundations, and so the buffer wall must as well. When the building rises into the air it would detach along this buffer. This also explains why the FF could not simply use their missile to escape in issue 6: by separating the wall the missile was either left behind or was not fully functional.
So there you have it. Western Electric was involved in the space program, and built its high tech building in 1961, exactly as shown in the comics. It all fits.

After the Baxter Building
The end of the Baxter Building mirrors (or anticipates) the end of Western Electric. In 1982 Reed buys the building, and in 1986 it is destroyed , to be quickly replaced by a bigger skyscraper. In 1984 Western Electric was split up, with a new charter and called "AT&T Technologies" (reflecting how the FF was incorporated as part of "Integrated Technologies" in FF 160). In 1986 their telephone production ended in America, the work being sent overseas.
Reed replaced the Baxter Building with a much bigger building, called "Four Freedoms Plaza" (a nod to Roosevelt's "Four Freedoms" speech, and the subsequent "Four Freedoms Park"). The taller FF Plaza reflects the optimism and madness of the 1980s property bubble more than anything else. And like the 1980s boom it had little permanence. The FF part was soon destroyed (in the Infinity War, 1992), the team left it soon after, and soon after that the whole thing was destroyed (Heroes Reborn, 1996, and Thunderbolts).
Reed the capitalist
Why choose the financial district? And how could Reed Richards afford to buy half a building? And how did he afford a series of hideouts in issue 2? And how did he afford to help fund a rocket in issue 1? Clearly Reed is extraordinarily wealthy. Here I will argue that Reed is a capitalist, and this is his main power, more important than his stretching or his science, is his ability to control resources. This has obvious implications for the Great American Novel: while on the surface America is built on freedom and pioneering, its real power is its capitalism: its ability to take existing wealth (originally the land itself) and multiply it.

What is capitalism


Capitalism refers to using capital (whatever resources you can find) to make more resources. People with great skill in capitalism can amass great wealth. Capitalism contrasts with socialism, where the resources are shared, and is often criticized because the person who grabs the resources often does so in questionable ways. I think this all applies to Reed. His genius ability is in finding the best possible use for resources. That's capitalism at its purest.


Why Reed is a genius
Reed gets most of his technology from alien contact, especially the Gormuu ship, Skrull ship and planet X saucer, then he studies every alien artifact he can find. I don't see any evidence that he invents things from scratch, but plenty of evidence that he adapts existing work. That is what all great geniuses do: they stand on the shoulders of giants. This is not to disparage Reed: it takes a brilliant mind to understand how alien technology works. it just makes him realistic, IMO. But this is classic capitalism: take a resource and use it to make more wealth.

Reed's wealth
Let's look at FF issue 1. Reed invested a lot of his own money in the rocket ship, but it still needed a lot of investment from the government: probably the majority of the funds came from the government, as it costs a lot to build and run a spaceport. This is classic capitalist behavior: Reed uses his money to leverage other people (the government) to invest even more.

Now look at issue 2: the team have a series of secret hideouts. If Reed owns all that property it's very expensive. Then in issue 3, he buys the top five floors of a new building: all this indicates great wealth. As far as we know his wealth comes from his patents. Getting wealth from patents is classic capitalist activity. And those patents would rely mostly on Gormuu's technology: grabbing assets and claiming ownership is pretty much the core of capitalism.

In issue 9 we learn that Reed invests heavily on the stock market and takes enormous risks. Years later we learn that his father is a multi-billionaire. In issue 160 he incorporates the team for tax purposes, and sells it to a very shady businessman, against the wishes of the rest of the team.

When Terrax damaged the Baxter Building, Reed bought the whole thing for a price that made Mr Collins giddy with excitement. Yet just twenty issues earlier Reed was using the subway to save money (reminds me of many billionaires: they never waste anything). Then when the building was destroyed, the insurance money allowed Reed to build a far bigger building, and then the priceless contents of the Baxter Building mysteriously reappeared (in annual 23 I think). It all shrieks capitalism to me.

Then we have Reed's interest in secrecy in the early issues, and how he managed to get extraordinary planning permission: a rocket and deadly scientific equipment in the heart of New York? This suggests a closeness with people in high places. For me it all shrieks wealth and contacts. And the secrecy never stops: in issue 114 Reed pays a 20 thousand dollar fine from his personal funds and Ben says he didn't realize they had that kind of dough. You don't know the half of it, Ben. Even if you have the vital part from a Skrull ship, building your own subspace portal or flying car would still cost millions probably billions.

His main power
So why do I say that capitalism is his main power? Most people will agree that his scientific ability is more important than his stretching ability, but I argue that his scientific ability is secondary to his ability to use the resources he finds. Without his capitalist talent he would be like Hank Pym or the Mad Thinker or the Wizard: those three are at the very top of the scientific tree, but they lack resources. So they will always be C-listers. The scientists who become A-listers all do so via capitalism: think Tony Stark and his factories, or Dr Doom and his vast property portfolio.

When he lost his main power
In this light we can look again at Reed i the 1970s. He lost his stretching power and used tat as a reason to give up, But as Sue pointed out, his stretching power was never his most important asset. So why did Reed focus on stretching?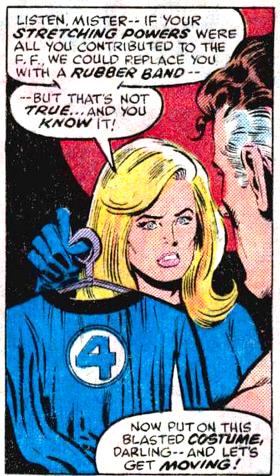 Stretching was just a symptom, and an excuse. The real loss was of his self confidence. First when Sue left, and soon after that when he incorporated the team (in FF160) and it went disastrously wrong. Reed's real power was to be "Mister Fantastic": to be a "Master of the universe", to take big risks and achieve world-saving results. But when he started to make mistakes he lost all confidence. His scientific ability was unimportant in comparison: without his confidence the team could not go on.

Wealth or genius: which creates the best science?
Wealth gives you access to science even if you're not a top scientist. The skrulls have low intelligence, but their empire gives them access to high technology. Namor is no scientist, but his position gives him access to the very best. Gregory Gideon can hire all the scientific help he needs. With science, the biggest power is not the size of your brain but the size of your wallet. Every real world scientist knows this: you can be the smartest guy in the world and save the word in your lab, but go home poor and in debt, while your idiot boss takes all the money. Love it or hate it, capitalism is the power in this world, and that is the real basis of Reed's power, IMO.


Objections to the capitalist theory

Uniforms
The story goes that comic fans demanded secret identities and costumes. So in issue 3 the team was given masks, but masks are simply not realistic, so they were erased before the comic was published.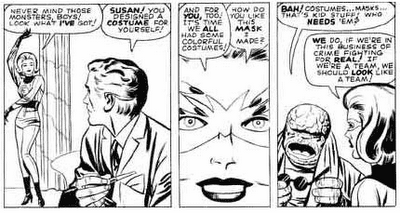 The team were never given costumes as such: not the brightly colored capes and masks that other heroes had. But as a team they did get a uniform, a simple, functional jumpsuit in a single dull color such as astronauts wear. Compare this with the flashy costumes worn by every other superhero: the Fantastic Four are fundamentally different.

Not like superheroes
When regular superheroes get costumes they show them off. But when the team get their costumes (uniforms) we don't get a clear view, and Ben refers to his as a "monkey suit" before tearing it off. These are not godlike icons parading to be admired, they are people who just wear clothes.

Not because of fans
It is said that the FF gained costumes as a result of fan demand. But the comics were written several months ahead of publication, so this is too early. Some of the letters printed in FF3 are made up by staff members, suggesting that very few had arrived when the letters page was made up. The story itself would have been written a month or so before that (to allow time for art), before even those few letters arrived. A more likely explanation is that the absence of costumes was always the plan to sneak a superhero book past the distributor (they used DC comics to distribute, and DC did not want direct competition). For the same reason the first three issues had monsters on the cover, to look like an ordinary monster comic. Issue 3's monster cover was changed at the last minute to the cover that was eventually published.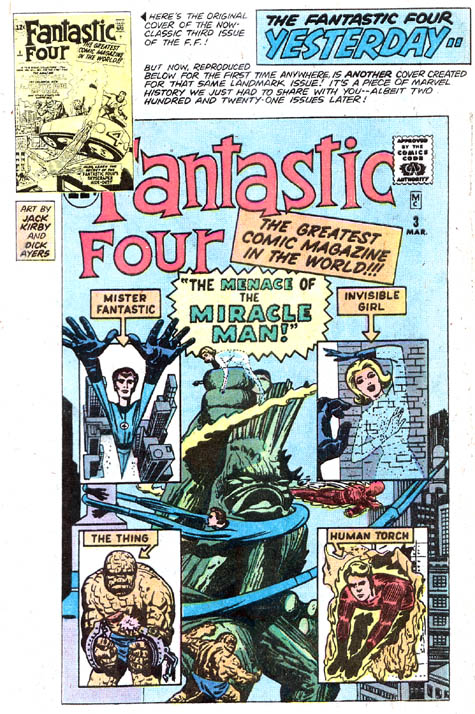 So it was always the plan to start by looking like a monster comic, and then sneakily reveal itself to be a superhero comic. However, the story was evolving in a direction that made Stan Lee decide not to have bright costumes (with masks), but to have functional uniforms instead. This is an early example of how the story writes itself, and goes beyond what the writer intended. For more about the uniforms and the unstable molecules from which they are made, see the notes to issue 15.

Secrecy
The Baxter building headquarters were first described as secret. While the team were well known from a distance, the public did not know their personal identities. This is important for the context of alienation: the team were not yet comfortable with the public. This secrecy also helps us to date the stories (particularly the Torch's solo tales). How secret were they?

FF1: known to authorities


The team are presumably known to the government (it's hard to hide a crashed rocket). Johnny's identity is known to at least one friend.


FF2: identities not generally known


The authorities know the team. The public have heard of the team via newspapers, but do not recognize their faces. The one exception is a jewelry store owner, but the others in his store do not recognize Sue. So most likely the Skrull said "I am the Invisible Girl" and "proved" it to the manager by seeming to disappear. This raises new possible objections to issue 2, but they are easily answered:


Why duplicate the team's faces if nobody knew them? Because clearly the authorities knew them.
How did the Skrulls know about them if the team were only just becoming famous? This is a good argument for the team

not

being famous yet. if the team was already famous it would be hard to destroy their reputation: the team would get a fair hearing. But this early moment was the ideal time to discredit them.
How would the Skrulls know about the FF if they are so new? This is an intriguing insight into a galactic empire in long term decline. In order to maintain such an empire they need highly advanced technology. But the Skrulls themselves are so reliant on technology that individually they are weak (poor eyesight, low intelligence). No doubt there are a few more intelligent Skrulls to maintain the technology. Their technology would spot the FF before they did
If the technology was far more advanced than the average Skrull, why don't the computers rule? Perhaps they do. They already rule (in effect) for the Kree (in the form of the Supreme Intelligence) and on Xandar (the living computers). But it serves their needs if the skrulls not to realize it. That way the Skrulls support the computers and never see who is pulling the strings.
FF3-4: secret, but not trying hard enough.


(FF4 continues from FF3, so can be considered as the same story). FF3 page 1 suggests that they do not want to be recognized. Later the Baxter Building is referred to as being secret. Reed seems to not mind if people see his face, but Sue is more coy. Reed's lack of concern may be because if he becomes well known he can simply change his face. The secrecy becomes untenable once they have a prominent headquarters, and in this issue they decide they have to talk to the local police commissioner, but there is great tension.

FF5: no obvious clues




FF6: known to anybody who pays attention.


the team is well known, but at the start a few people still wonder if they are real. The team make no effort to hide, e.g. Reed stretches across from the building to a nearby hospital.


FF7: identities well known


They are invited to a public ceremony. They are full blown celebrities.
Stan Lee and authority figures


Why was Stan Lee writing such negative authority figures in these early issues? it could be because just three years earlier the national campaign against comics and senate hearings had almost destroyed his career: the authorities were about to ban comics and Timely (Marvel) almost ceased to exist. That has to affect how you see people in power. (But as time went on and Marvel became powerful itself Stan soon began building bridges.)



In summary, the FF were well known to everyone by issue 7, but mostly unknown before issue 3. Between those dates depends on how well you were paying attention.


Dating the first three issues
Why was Johnny so angry at the end of FF3? He may have been influenced by the Miracle Man, but his actions had to seem natural to the others or they would suspect. Miracle Man had to be pushing at an open door, finding the weak point to exploit.

Clearly there's a major disagreement over the direction of the team. We can learn more form "Strange Tales", where Johnny wanting to be a solo hero. When seen in the context of early secrecy this enables us to date the early stories.

In Strange Tales 102, the Torch's second solo story, the Wizard did not know the Torch's identity, and staged an elaborate stunt to find him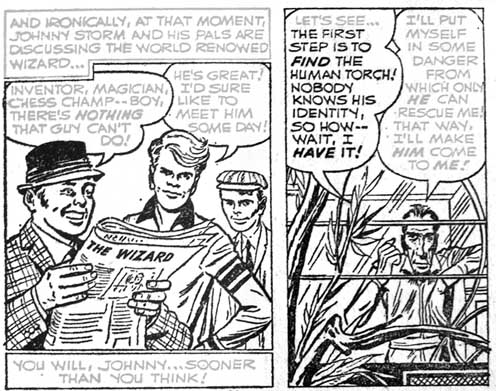 the end of the story is even more clear: the Wizard does not consider the possibility that The Invisible Girl could be present. Was he just flustered? No, this is a guy who's an escape artist, exactly the kind of guy who knows not to get flustered. The implication is clear: at that time Johnny's identity was not well known, and Sue Storm had a much lower profile. So that dates the first Wizard story to before FF6, and probably before FF3. Meanwhile, the Wizard uses the flame suit from issue 2 (see the discussion of Reed's technology). So we can date the Wizard story to between 2 and 3. Given the time needed to build the Baxter Building, the time between the events of FF2 and FF3 is probably much more than the two months between the issues.

The case against an early date
Johnny is wearing his uniform at the start of Strange Tales 101, and Sue has her uniform at the end of 102. So this might place the story after issue 3, i.e. between 4 and 5 (since 3 moves directly into 4). But it could still be before issue 3.

If this was a 1961 story, updated to 1962, then it would be standard practice to draw characters as they are, not as they were. See for example the flashback in FF 126. Or see FF207 (Spidey and the Torch) or FF222 (the Coca-Cola issue): these were inventory issues, that sat around for months or years before being used. When finally published the stories were tweaked to make them appear up to date. But with Strange Tales 102 the secrecy was essential to the story that they could not tweak it out, it had to stay in, even though it had become anachronistic.

All of this assumes of course that the stories are real, and are reported to Stan and Jack. This is what the stories themselves say, and the only way we can see the stories are realistic, so it is an iron rule. Everything else follows from that.

Johnny's career and issue dates
This all fits the internal evidence of the early FF issues. In FF1 we see that Johnny loves being the Torch whereas the others don't. In FF2 we see how they feel very uncomfortable being recognized in public (I suspect that this may be the only time Johnny was seen not flamed on?), and they have numerous hideouts. It also seems very likely that several months passed between FF1 and FF2, and between FF2 and FF3. At the end of FF3, Johnny is so frustrated with the team that he leaves. Based on this I think we can reconstruct Johnny's early adventures with confidence:

FF1: Johnny wants to immediately spend all his time being the Torch, whereas the others want to hide. This creates tension. Johnny and Sue already live in Glendale, so Johnny swears his friends to secrecy and starts having fun. His first solo tale probably comes from this time. The early Human Torch stories have lame villains simply because this is all so new - Johnny is completely inexperienced and so are they. At this point relationships with the authorities are very strained, due to the whole spaceship thing. (It was a collaborative effort between Reed and the government, and of course they wanted to say when the ship left.) So Johnny wants a separate career away from all the politics and stress. The date must be before the Russians put the first man in space, so before late April 1961 (the story was plotted in April or May). We can't put the rocket ship much before this, because the space race was very tight: America was not that far ahead, and issue 1 makes clear that every day counted. The Mole Man story was obviously a little later, to allow for Reed to have his own base and to have patched up his relationship with the military. The latest possible date is late April, because Stan and Jack were writing up the story then.
FF2 and FF3: the big story here is that the team finally become friendly with the authorities. This allows them next issue to help build the Baxter Building: first a secret project, but it very quickly becomes public. It's hard to hide when the Fantasti-car lands on its roof in the middle of New York! Several lines of evidence let us date the construction of the Baxter Building:
Issue 3 was written up in August or September (issues had two month gaps until issue 7)
The building was completed in 1961, according to FF 249.
The amount of building work needed means it must have been more than two months. But possibly Reed just did finishing work to an already half complete building: the major work was building the rocket exhaust tubes down its side.
It cannot have been completed before issue 1, because it needed rocket exhaust tubes as part of the design. Note the extraordinary planning permission necessary: this would not be allowed in later years!
This all points to the Baxter building being built in 1961, and the major finalizing work (including the rocket exhaust channel to the underground) in at most three or four months between the events of issues 2 and 3. This is also the time when Johnny had his "secret identity" adventures. FF3 should be dated as late as possible to allow as much time for construction as possible. FF3 was plotted around August-September based on information given by the team, so I'd date it to the start of September. We have to push issue 2 back as early as possible to allow for the building work and Johnny's career, so I'd guess May for FF2, or perhaps even earlier. The team are already celebrities at the start of FF2, and have gained the attention of nearby Skrulls. But people can become celebrities very quickly, and the skrulls would be monitoring news broadcasts for anybody who might defend the planet, so this does not imply a very long time. So I'd place the rocket ship of FF1 in perhaps March of 1961, and .
In summary, these are my preferred dates:
March 1961: the rocket ship
April 1961: the Mole Man
June 1961: the Skrulls
June-September 1961: final building work, and Johnny's early solo adventures
September 1961: Miracle Man

Johnny's influence on the Baxter Building
It is likely that part of Reed's motivation for building his high tech building, complete with rocket, was Johnny's love of vehicles. Johnny was enjoying a separate highly public career around his home in Glendale while the others were trying to live in secret. The Baxter Building helped to keep Johnny on board, where they could control him. The emphasis on vehicles no doubt helped his final decision to stay: the building was designed around the needs of a Fantasti-car and a pogo plane! The plan worked. Johnny stayed, and in issue 12 we learn that he spent a lot of his time working on the Fantasticar, remodeling it.
I love how everything fits together so neatly.


The Miracle Man: cliche, or deep and rich?
The now defunct FFPlaza site criticized this issue: "Miracle Man has no deeper raison d'étre than a desire to show off his powers -- which, by the way, aren't really powers at all. His stereotypical 1930s movie-serial-black-hat-villain look (with dialog to match) also renders him laughable." Looking closer however, we see a different story. The power to alter minds is a real power. His motivation is the only one that reality matters: as noted in the classic "How To Win Friends and Influence People" the need to feel important is in some ways the number one human motivation. Regarding his 1930s villain look, there is a reason why that look was used in the 1930s: it was the genuine costume of powerful people a generation earlier. FF3 is set in 1962 and the Miracle Man is plainly not young, so he would have grown up surrounded by those images. What appears at first glance to be a pantomime villain turns out to be a sad older man, who's life revolves around illusions, desperate to prove himself. This is a good example of how this Great American Novel, writes itself. Stan Lee and Jack Kirby merely borrowed common stereotypes of the time. But those stereotypes were grounded in real history. Stan and Jack knew all the cliches and treated these stories with love, so it all fits together.

Making a statue move


How does a hypnotist make a statue move? That's easy to explain: the characters only thought they moved, but showing them flailing at the air would make a dull story.


Hypnotism is silly?


The story is about confidence and self belief. These topics are the most important of all.
Other points to note
The inner self:


Reed's pliable face allows his appearance to

reflect his inner confidence. After the success of issues 1 and 2 he gain smoother skin and a squarer jaw. But by the end of Act 4, when everything goes wrong, he looks old again.


1962 cultural references:


Johnny refers to Rock Hudson, and Sue refers to Christian Dior. The Bijou theater at that time was called the D.W.Griffith theater, but everyone still knew it as Bijou.


The first "Kirby Closing Triptych"

:
perhaps my favorite aspect of these stories is what Colin Smith calls the Kirby Closing Triptych: how the final three panels of the story show the same image receding into the distance, to make a momentous message that leaves us thinking. I love these things! This first example in FF3 is a modest affair. Often these deal with tragedy and despair: a receding camera makes the subject seem tiny compared with the forces at work. Reading them I am reminded of the ending of a novel like The First Men in The Moon." Other times the camera advances, as if the emotion comes really close. In this first example the triptych emphasizes the distance between the family members.

Other examples are at the ends of FF annual 1 (the loneliness of Prince Namor), the end of annual 4 (Quasimodo trapped), the end of FF41 (Ben's mind has gone), FF 87 (Doom's greatest moment of nobility), FF 91 (the smallness of the team and the vastness of their task), and my favorite, FF128 (the Mole Man will always be alone). Smith's entire essay deserves reading.

Costumes with trunks on the outside.


Why do the costumes have trunks on the outside? It's simple modesty. As Victorian bodybuilders discovered, a one piece external outfit stretches with long lines that point from the head to the crotch. External trunks tend to stretch from side to side and are thus more modest. This was a serious consideration in 1961.

The cover:


Johnny's strange hands are discussed here.
4

Issue 4: divided we fall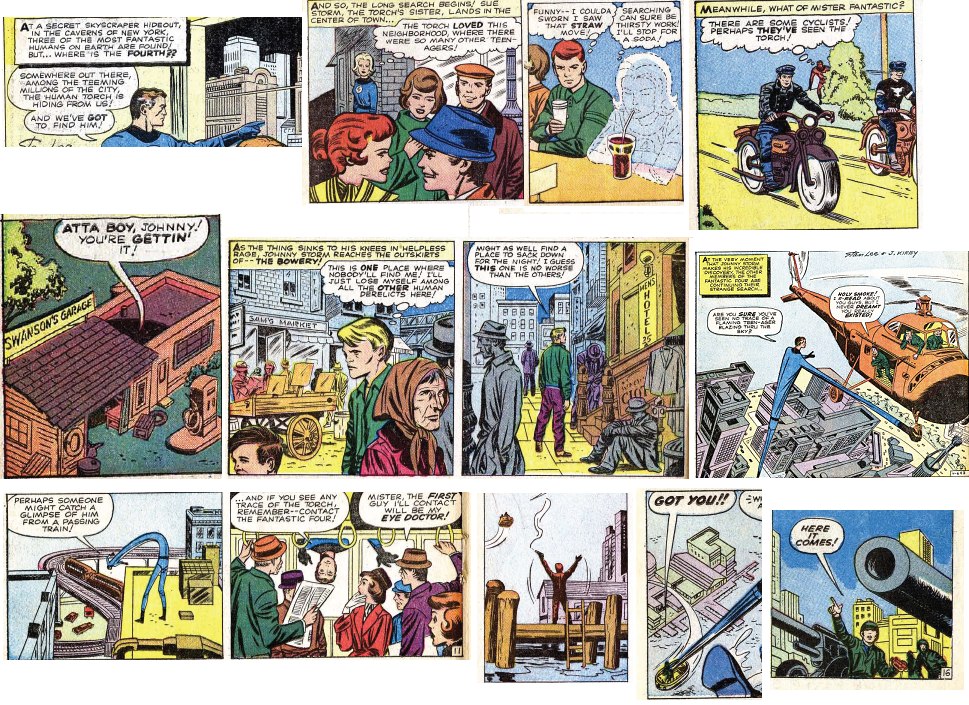 "I don't think it's overstating it too much to say that this is nearly a Shakespearean reversal of character expectations. To take a previously known hero and recast him in the form of a villain with completely sympathetic motivations" - ff1by1.com

The American dream is represented in this issue by a montage of American scenes.
The Zeitgeist: The great threat, like the threat from Cuba, is off the coast. It is caused by Nuclear weapons testing (Namor's home was destroyed by bomb tests). Just as Cuba could summon the might of Russia, so little Namor (once he has lost his Castro-like beard) can summon the gigantic monster from the deep. The solution of course is a nuclear bomb.
Equality is once again an issue when we see the arguments within the team, and by having a sympathetic "villain:" Namor is only an enemy because of what our side did to his people: can we really blame him? Sue understand this, and does not see him as an enemy at all, but the boys lack that insight. This is an example of why Sue is the most powerful member of the team, regardless of invisible power: her ability to make alliances is more effective than any physical power. The simple act of befriending the Sub-Mariner means she has found mankind an ally who represents three quarters of the surface area of the planet and advanced technology, plus one of Earth's mightiest and bravest beings himself. That alliance alone dwarfs the majority of victories or defeats in future years.
In this issue it's Johnny's turn to express his self confidence while also showing his reluctance to be a hero (and Ben is reluctant to get him back). Sue appeared hesitant in issue 1, Reed blamed himself in issue 2, they all doubted themselves in issue 3, and now it's Johnny's turn for some soul searching. In issue 5 it's Ben who wants to leave. Act 1 is where each person must decide to accept the challenge and wholeheartedly be part of the team.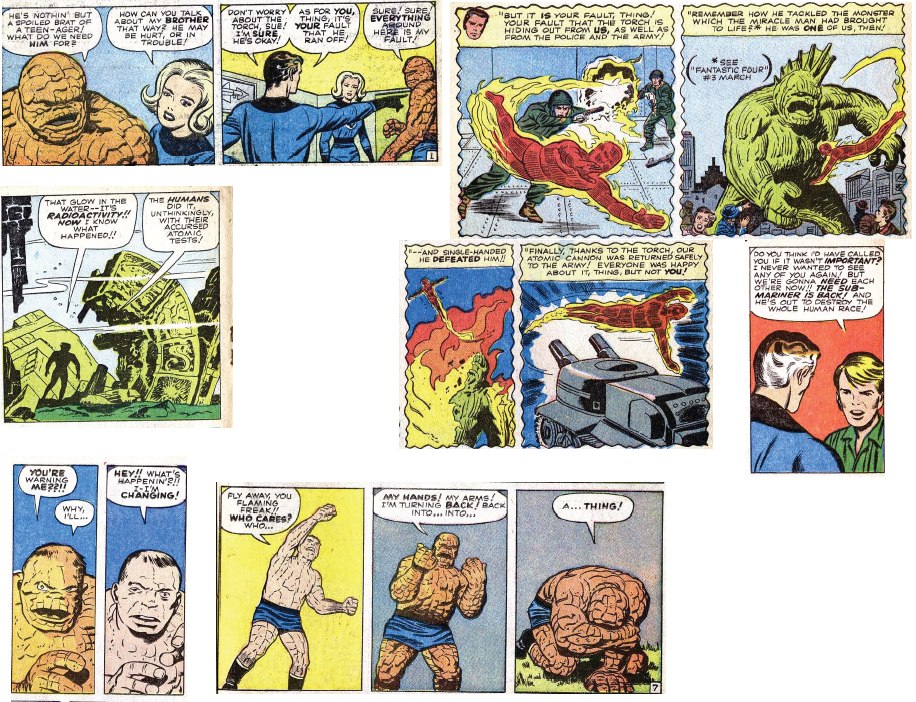 Here Reed begins to undermine the Thing's confidence, a process that will increase in Act 2. It's probably not conscious, but it works. Meanwhile, Namor's tragedy mirrors Ben: both have lost everything due to scientists playing God, and both will ultimately fail to win Sue's heart.

The ending has been called too sudden and too silly. As if it suddenly builds up and is over the top: Ben destroying the monster with a gigantic bomb, then Johnny creating a tornado. But Ben is the one we remember.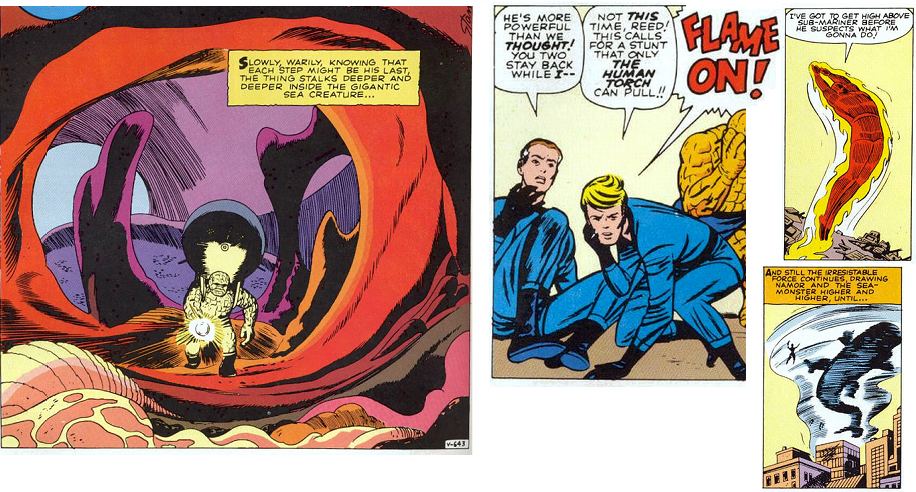 But see it in the context of the bigger story: the first arc is where the boys fight over who is most important, and Reed does not win. The first issues all have Ben angry: he's a hero, not a monster! The strongest guy in the group (in his eyes), not some second fiddle to the nerd! Here he proves his worth in a dramatic way. And Johnny wants to top that. Last issue, Johnny left because he was not appreciated. This foreshadows the 28 year story where Johnny's abilities are never appreciated. Just look at Strange Tales for what he can do. In this issue, after spending time away from the team he comes back to pull out all the stops: he creates the most dramatic feat of his career. Ben and Johnny make Reed look irrelevant. Next issue Reed will meet Doom, a mirror to himself, and in Act 2 he will follow Doom's lead and dominate the others.

The ending to FF 4 (appropriately the fourth issue of the team of four) is all about power. And of course Sue quietly is the most powerful of all. Why did Namor propose to her within three panels of meeting her? Like many women, Sue no doubt works hard on being attractive: his attraction is no accident. While the boys focus on conflict and get only the most temporary successes, Sue's gentle methods will soon turn Namor, ruler of three quarters of the planet, into their most powerful ally.
Ben's character development
At the start Ben is angry and violent (e.g. against Johnny) but by the end we see his softer side.
"I've always felt that the presence of Namor [a real he-man who threatens to take away the woman Ben loves, making him feel vulnerable] was directly responsible for the Thing evolving out of that role and into one that would make him one of Marvel's most beloved and noble heroes." ("Trebor the Unconquered")
In this issue Ben is established as the common man. Reed's attempts to find Johnny are farcical, and Sue isn't very observant. Only Ben has the common sense to know where Johnny would be.
The original Sue: spunky!
In this issue we see the original independent, free spirit Sue: drinking somebody else's drink (how did she pay for it if nobody knew she was there?), kicking somebody over. She defies others ("maybe, maybe not" in issue 3; defying Doom in issue 5). She had spunk. But Reed's control turned her into the quiet housewife. She tried it his way for the first few years (acts 2 and 3). And his way did not work (act 4) so she will finally take effective control (see notes to FF159).

Namor
Was it just luck?
Was it an unrealistic coincidence that Johnny found the Sub-Mariner? No, Johnny was already interested in him, and would have known this was his best chance:

We know that comics recorded real people.
So Johnny's interest in comics mean an interest in real people. (We see this interest again in issue 5, where Johnny reads about The Hulk.)
He says that his sister spoke of the Sub-mariner.
The early Strange Tales stories are probably dated before this (see notes to issue 3). In them we learn that Johnny studies maps of the stars and also maps of the oceans. There is an obvious reason for the star charts - he's been into space! But why the oceans? Unless he is already interested in the Sub-mariner, his old namesake's sparring partner, and the one "Sis spoke about".



Anyone who read the Sub-Mariner comic would know that Namor was based in New York, he often used disguises, traveled among the underworld, and had not been seen since the mid 1950s.

Comics compress the stories. So when the other man says "reading about the Sub-mariner, huh?" this probably represents a longer conversation.
So we have a studious young man (not like the idiot Johnny of the Franklinverse), with a special interest in the Sub-Mariner. He finds himself in the location where the Sub-mariner was last seen, and talks to the kind of people he moved among. So for Johnny to then find Namor was not a complete surprise.


Sue's great secret
For Sue's probable past history with Namor, see the notes to FF 291. This is incredibly important, but the reasons may not be obvious until the end of the 28 year story. The Great American Novel is ultimately about Susan Storm, and this issue is where we get a hint of her great secret.


Why is Sue attracted to Namor?
Sue is attracted to Namor's nobility. But wait, isn't Namor now a villain? No. He only attacks New York because America has, unprovoked, destroyed his nation! Americans would do the same thing if the tables were turned: imagine if Afghanistan wiped out the whole of the United States, American survivors would not sit back and say "oh dear, never mind." Namor is acting like a good American. Then the Fantastic Four enter this war as America's defenders. According to the rules of war they are then legitimate targets (in FF6). Remember that to Namor, the FF are terrorists: their organization (America) bombed the innocent Atlanteans, and then the FF kill the greatest animal who ever lived... with a bomb.

Namor's nobility compared with Reed's


Despite having justice on his side, despite losing everything, Namor forgives the nation and is happy to simply humble the terrorists without hurting them (FF9). How many Americans would have forgiven so quickly if the tables were turned? Sue is attracted by his nobility. Unlike Reed (see issue 7 where Reed lies, and controls and belittles his friends), Namor's motives and actions are always pure.



Atlantis as a metaphor for Cuba



How could Namor swim from "his land" to New York in just "minutes"?


We are told that he swam as fast as a torpedo. The fastest torpedoes exceed 100 mph. Namor is of course super-powered like The Thing, so that much energy is possible. Namor's time was measured in "Minutes" not hours, so has an upper limits of just under an hour. This means he could swim up to 100 miles. As Namor had a history of interacting with the surface world it is likely that his empire had an outpost near to New York.

Would the surface world carry out nuclear tests so near to New York?


At the start of World War II Namor had been an enemy of the United States. "In his first appearances Namor was an enemy of the United States. [...] in 1940 Namor threatened to sink the island of Manhattan underneath a tidal wave." (Wikipedia) Then during the war Namor became an ally: this is a close parallel with Russia: an ideological enemy of the west who nevertheless joined with America and Britain against the Nazis. After the war, when Namor disappeared, Atlantis would be considered a danger again. An outpost so near to New York would be even worse than having communist Cuba close to Florida. Therefore, far from being an accident as Namor assumed (as he recalls being an ally of he west),

destroying his outpost was almost certainly deliberate

. The bomb used would be the smallest convenient one, so as not to endanger American shipping, but to act as a warning. The main Atlantean headquarters would of course be far away and America did not want to start a war.

The Bay of Pigs:


This all explains why Namor acted exactly like Khrushchev in FF annual 1: his New York outpost was a parallel for Cuba. Attacking it was a foreshadowing of the Bay of Pigs invasion attempt.

Imagined threats


Why does Namor warn Johnny first? Why doesn't he summon more than one monster the first time? For the same reason he was quick t call it off, and did not come back after the setback: did not suspect the USA of deliberately targeting his outpost. He was a former ally of the USA, and his war was strategic. merely a warning, not a war of absolute destruction. This is more realistic for the cold war: small wars and invasions, like Vietnam or the Bay of Pigs, were calculated moves in a bigger game, not efforts to arouse and annihilate the other entire enemy.
Did Namor endanger any lives?


When Namor attacked, New York was evacuated. Did Namor know this? He must have done, because the great creature mindlessly follows the sound of Namor's horn. He follows onto a deserted, derelict area, so Namor at that point must be in front, having walked through the area and knowing it to be deserted. But didn't Namor say he would sign the "death warrant" of the human race? Yes, as a race, not as individuals. He later makes his goal clear: he simply wishes to drive humans out of their cities to live in caves, just as his own people were driven out by mankind. He succeeded in evacuating New York, then crushing some buildings to prove he has that power, so humans will not return. After that the great monster does nothing: its task in New York, to scare people away, is complete. When that first creature was defeated, Namor planned to summon other creatures to similarly force the evacuation of other cities.

Namor never planned a single death.

True, in FF6 he went along with Doom's plan to take the team away, but again he was simply removing them, not killing them (why would he kill the girl he wanted as his bride?) He knew the FF were resourceful. When it became clear that Doom's plan would lead to certain death then he changed sides.

They exploded a nuclear bomb at the end???


The fact that they could obtain the bomb so easily, and that it did not destroy the monster, despite being contained, suggests a relatively small device. "The smallest size nuclear warhead I know of is that fitted to the 'Davey Crockett' (M28/M29) weapon system in the 1950s. About 40cm across with a yield of about 10-20 tonnes of TNT." (source) For comparison, this is 1000 times smaller than Hiroshima (15 kilotons equivalent), and a million times smaller than the largest hydrogen bombs ever tested (25-100 megatons equivalent). (Wikipedia)As for fallout, everything was contained inside the soft flesh of the monster, so all that escaped would be a small amount of air that would drift away.
Danger to motorcyclists?
By pulling a motorcyclist off his bike isn't Reed ricking damage to the vehicle and anything it hits? Note the prominence of bushes in this picture, almost the only time they appear in the early FF. We can infer that the two riders were traveling slowly and Reed tilted the bike toward the bushes as he lifted the rider.
Why did Johnny wait for Namor to come back? (It must have been many minutes)
This is what makes the story so real to me. That little touch gives the story such power. Johnny had just quit the team and stormed off. "The whole country is looking for him" (page 4), so this is not a five minute thing. We previously saw Johnny plan to spend the night at a low grade hotel, just wiling away the hours reading those old 64 page 1940s comics. He had plenty of time to kill. Page one had it dark outside, and he's ready for another night, so he's been kicking back for at least 24 hours. He's a troubled kid, wandering aimlessly. He reminds me of me, just before my divorce, when I would spend hours a day on long walks. I can imagine Johnny staring out to sea for hours, the rolling waves soothing his troubled mind. And now that he has discovered another rebel, another angry young man (at least that's how he was portrayed in the comics) that's a big deal. Johnny is not the hot head people say: he has the patience to fix cars and read comic books. He could stare at those waves, watching the activity of the busy port, all day. I imagine his thoughts. He's a troubled kid, raised by his sister, the Baxter Building was just built. Reed is trying to take his sister/"mom" away from him, Ben wants to kill him, nobody appreciates his power. He had a lot to think about and all the time in the world to do it. Just staring into the distance, thinking of Namor and a hundred other things. Trying to make life changing decisions: decisions that would each take many hours. It adds such pathos. It's a beautiful little touch, and these stories are full of them.

"Sittin' in the morning sun
I'll be sittin' when the evening comes
Watching the ships roll in
Then I watch them roll away again, yeah


Realism
The excellent Baxter Building Podcast notes that Bowery is the most fully realized location so far. This is a like memory of the Great Depression where Kirby was raised. Note the details: the man selling clothes, the condition of the men without jobs, the hand cart, the details of the building both inside and out. here is alienation at its clearest


The real New York


This is the first issue to make it explicit that the Baxter building is in New York, and not a fake comic book city. This set Marvel Comics apart.

Biology
Why did the giant monster fall asleep so quickly? This is realistic physics: an animal of that size, out of water, would need all his strength merely to avoid collapsing under his own weight. All his effort went into the initial surge. It was then physically impossible to do more than perhaps slide back into the ocean, and even then he needed a rest first. In addition, any movement requires a lot of energy, which requires a lot of food. But such a creature lives in the deep ocean (hence he is seldom seen by man), where there is little oxygen and little sunlight so food is scarce. So a giant beast like this would have an extremely low rest metabolism: where possible he would use the minimum energy possible: in this case, he sleeps.


Johnny's power:


Johnny mentions how his flame can avoid the gasoline. This is a significant power, and gasoline itself does not burn, it's the vapor that burns: Johnny is able to control his flame's behavior to an intense degree. This was shown in the very first appearance of the Torch in issue 1, where he melts through a car engine without the car itself burning. Johnny's control over his flame is only briefly mentioned in issue 4, but the 1975 radio adaptation, which stays faithful to the comic panel by panel and features the voice of Stan Lee, expands on this in more detail. Johnny says he is constantly discovering new ways to use his "flame" (which is clearly not a conventional flame) and the gasoline is never in danger. When Ben bursts in he hasn't heard that and thinks Johnny is in danger of blowing up the gas. For another amazing use of Johnny's flame see the end of this issue, and also issue 17. Johnny's abilities are enormous, and barely appreciated. In Act 2 Reed will begin to dominate Johnny, reducing what he can do. By the Franklinverse Johnny's control over his flame is much less (resulting in him setting fire to a school in DeFalco's run). But eventually Johnny must rediscover his true power and take his place at the head of the team where he belongs.

Pop Art


The Baxter Building podcast rightly draws attention to the variety and quality of art in this issue. Take this beautiful triptych, made more powerful because we don't see the punches being thrown:"That's Pop Art right there. Here is the birth of Pop Art: this is the [stuff] that Jean-Luc Godard would rip off as much as he could with his dramatic jump cuts" (Godard's films actually slightly predate this: "Breathless" was released in 1960), but the zeitgeist is the same
:

Golden age homage


This is the issue where a golden age comic hero returns. So Kirby drops in what looks like a homage to the most famous golden age comic of all: Action Comics 1.

This may not be deliberate. It depends on whether Kirby saw a poster of that cover when he worked for DC, or perhaps he saw the image elsewhere (back issues were not such a big deal in 1961). But the whole idea of a man lifting a car is the epitome of the superhero, and it all began with Superman, who began with that cover. So every car lift is a tribute, and this one happens to be fairly close in its layout.

Revolutionary comics (1)


On causing Namor to recover his memory.


"As far as I know, the FF were the first comics adventure team who CAUSE their own problems. The Fantastic Four are created through Mister Fantastic's screw up. The FF attract the attention of the military by moving too quickly through the city while unsure of their powers. And the Human Torch "makes" the Sub-Mariner. One check for the "revolutionary" column."

- Mark Andrew

Revolutionary comics (2)


On deconstruction.


"The Sub-Mariner, a former Golden Age superhero, is amnesiac and living as an bum in New York's Bowery. Think about that for a second. And some people don't believe that Stan Lee is the grandfather of all superhero deconstruction. You can find DNA traces of this story in Watchmen and Miracleman."

- Rene
Trivia


Sue refers to Reed by name, but only calls Johnny the Torch. At this time she and Johnny were commuting from Glendale, and trying to keep their professional and private lives separate. In Strange Tales Johnny tried to keep a secret identity for a few months, but later admitted that it was futile as his friends knew all along.
Giganto
The monster at the end is later revealed to have the same name as the large creature in FF1. Both are metaphors for the same thing: the great power that can be used for good or evil (e.g. the nation of Russia, the people of America, nuclear weapons, etc.) where the real danger is the lone ruler who controls them.

5

Issue 5: their nemesis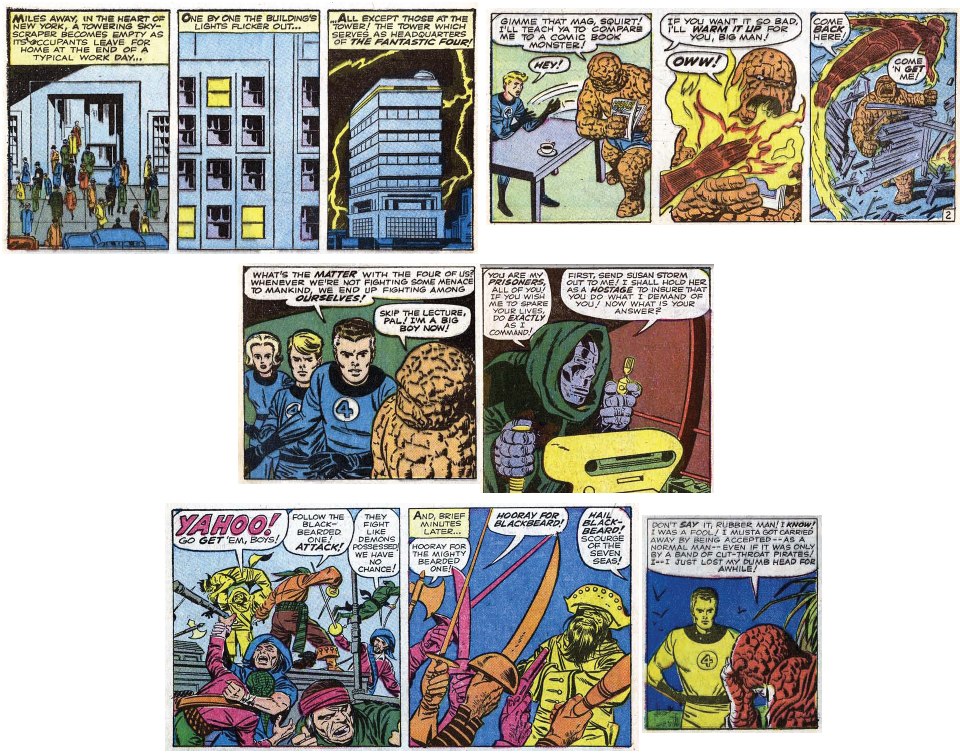 Themes
Reluctance: Ben finally leaves the team and finds somewhere he belongs: somewhere that his natural manliness is valued. But eventually his loyalty forces him back, even though he is going back to a life where Reed will treat him like child and his only outlet is to play along. This short sequence is a powerful tragedy that could be expanded into a moving full length play, if treated with sufficient gravitas.
Confidence: Ben's turning point:
choosing to return is Ben's turning point. his spirit is finally broken.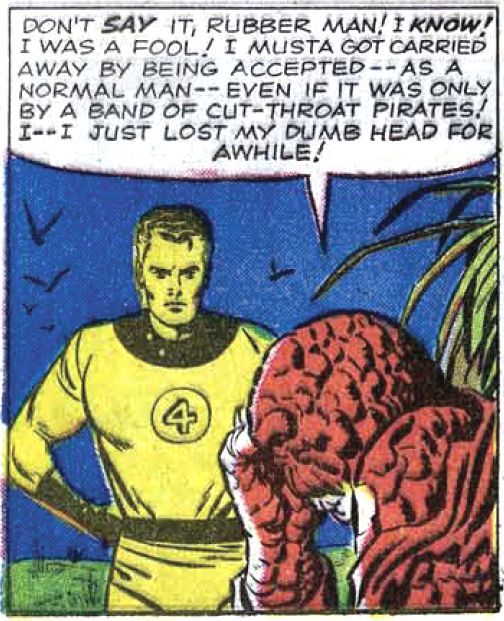 After this he still answers back, but the fire has gone. Before this he was surly, violent, not always likable. But from here on he is more humble. The reader is drawn to sympathize. (And as a side note, see the wonderful coloring: the highlights on Ben, the dramatic eerie light over Reed.)

Here, at the end of Act 1, Ben is a beaten man. Reed will continue to whittle away at Ben's self confidence through Act 2, until Ben is treated as one of the children. And the tragedy is that he will accept that role because his spirit has gone. He will not regain his spirit until he has to undergo the hero's mental journey at the end of Act 4, exploring his psyche and slaying he demons on Battle world. Appropriately, Reed's own dark journey will be just as deep and painful, until Ben ends up as leader and Reed is the one who is humbled. But we're getting ahead of ourselves! We should just note that Ben leader a team in issue 4 foreshadows his role in Act 5.
Just as Ben loses his confidence, so Johnny gains his. From now on, Johnny will tend to be the one who starts their fights. Soon after this, at the same time that Act 2 starts, Johnny begins his own adventures in Strange Tales, and eventually Ben will join him as a guest-star: the adult, the war hero and test pilot, as comedy co-star to the teenager.
Equality: Sue is at first glance a weak hostage, but defeats Doom and saves the team when the others fail (see below).
The American Dream: note the scene with the hard working Americans in their office block... and at the top, in the penthouse suite, is the Fantastic Four.
Doctor Doom
For an overview of Doom's twenty appearances see his own page.

The real Doctor Doom worked on the atomic bomb
"Lewis G. Doom worked at Los Alamos National Laboratory in 1944 as part of the Manhattan Project: an effort that culminated in two nuclear detonations over Japan and the end of World War II. We first learned about Mr. Doom thanks to a tweet from nuclear historian Alex Wellerstein, who found a document signed by 'L.G. Doom,' and concluded that Doctor Doom helped the U.S. become a nuclear power. [...] I was able to find Mr. Doom's phone number, and gave him a call. [...] A fresh graduate of Princeton in 1944, he put his name on two atomic studies that have since been unclassified and released to the public: 'Thermal analysis of plutonium,' and 'Development of gamma-phase hot-pressing of uranium.'"
That's right: the real Doctor Doom worked on the gamma bomb. (More or less.) And he worked with the people who piloted the planes:
"I loved flying, we had wonderful pilots there."
I wonder he he met a particular young test pilot, a high school football star? Technically he was not a doctor, but he would have been if it wasn't war time, he certainly knew enough.
"So are you actually Doctor Doom?"
"At that time, people did not have the luxury of going on to higher degrees, we had to either join the Navy, Army, or Air Force, or work in a defense industry."
"Did you ever get any Dr. Doom jokes while you were working on the bomb?"
"(Laughs.) Many. There were so many of them that I can't remember half of them. And in fact, early in life, I thought I would become a doctor."
(source)

Note how these jokes about "doctor Doom" predate the Fantastic Four: clearly the name was in the zeitgeist.

The name "Doctor Doom": revenge for humiliation

The real Doom's name was Dutch: Doom was an americanized version of "Dume", a name from Germany's Rhein Valley, originally a nickname meaning "naive". There are other possibilities. Victor was a Romany (a Gypsy - see annual 2) and in the Romany language "dumo" means back, or the rear part of a person's body. Like "Dume", "Von dumo" could have been a humiliating name, either an insult or a reflection of the family's lowly status. Another possibility was the German-Jewish nickname "Daum" meaning "short person", similar to the German Daumen "thumb". Victor may have embraced the similar English word "doom" as poetic revenge on the world for how his family was always humiliated, even by their name. Victor's life is dominated by the need to never be humiliated.

Or "From the homeland"


There is also another possibility, suggested by "von" meaning "from the estate of":

"In German, von is a preposition which approximately means of or from. When it is used as a part of a German family name, it is usually a nobiliary particle, like the French, Italian, Spanish and Portuguese de. At certain times and places, it has been illegal for anyone who was not a member of the nobility to use von before the family name. ...thus, "Hans von Duisburg" meant Hans from [the city of] Duisburg." -Wikipedia, "von"


"Doom" is not a common Germanic word, but is probably a contraction of "Domäne," the equivalent of the English "domain" or estate or sphere of influence. So his proper name is "Victor from the estate." Growing up with a name like that, while being persecuted as a traveler, would have planted the idea of ruling a permanent home in his mind. Given his tendency to violence it is natural for those around him to interpret "von Doom" (from the estate) as the English "doom" or death.


As for the title "doctor" this just meant educated man, as in the doctors of the church such as Augustine and Jerome. It does not imply medicine: there are doctors of medicine, but there are also doctors of divinity, or physics (PhD is "philosophy doctor").




Science and magic
Symbolism
As a cold war novel, the Fantastic Four reflects the fear that our enemies have secret powers. By exaggerating an enemy's power, rulers can persuade their own people to make greater sacrifices. So much for the symbolism: now let's look at how Doom's magic works.

What is magic?
Doom's specialty is mixing science and magic. This is made clear time and again, from the first time we see him in issue 5. Doom's origin in FF annual 2 shows his methods more clearly: he uses magic to change mundane things into much higher quality versions, but at great cost. So a man who cannot play the violin finds he can play perfectly, a man with a headache finds it is gone, and a lead case becomes gold. All but a few of Doom's achievements follow this pattern. So his first "invention" is a net that becomes far larger and stronger than seems feasible, and in FF6 he creates a grabber that magnifies "magnetic" force far beyond what should be possible.
A little thought shows how magic must work:

Gain great power from somewhere
Control that power in complex ways
Pay the price. E.g. years of study, or for short cuts, appeal to a demon or sorcerer and then pay them what is needed (what they do is extremely difficult, so their help generally does not last long).
Science is of course the same. Any great discovery involves:

Some useful feature or material or power source
Great sophistication in how it is used
Hard work or reliance on the work of others

So we see that magic is simply more advanced science. As the saying goes, any sufficiently advanced science is indistinguishable from magic.

Doom's unique brand of magic
Doom is different from other sorcerers because he uses science that we recognize: he is intermediate between great scientists such as Reed Richards and sorcerers such as Dr Strange. Doom's first appearance shows why: he has access to a time machine. This would allow him access to advanced science that is still recognizably mechanical: that is, from the year 3,000 rather than, say, the year 30,000.

Magic and time travel
Normally time travel is of limited use because you cannot bring back anything you could not have anyway (see comments by FF 272). But the whole point of magic is to apparently bend rules. Doom's unique insight was to use magic to do what on the surface appears impossible. For how Doom obtained his time machine, see the notes to FF271.

Merlin's treasure
What it's for


For the nature and significance of Merlin's treasure, see the time machine notes by FF 272.

Why Merlin


Merlin is a major figure in the Franklinverse: like Franklin he straddles dimensions so appears in numerous variant forms. His daughter Roma inherited his role as omniversal guardian, and ensures Valeria's survival. For Valeria's links with Doom, see the commentary to the Franklinverse after 1992.

Infinity gems


One of the very few mentions of these gems is in Dazzler issue 4: one of the stones at this point is in Nightmare's dream dimension. (Source) The only similar objects are the infinity gems that assist the skilled user in various powers over time and space. These are sometimes embedded in the infinity gauntlets, as worn by the various incarnations of Reed Richards before Franklin finally gains peace in FF600.


Conclusion


Based on all of this. Merlin's treasure is almost certainly connected with dimension hopping, such as time travel. The purpose of magic is to apparently bend the laws of physics, so this is probably related to the limitations of time travel: for details see the discussion by FF272.

The long term structure
Note how the major elements in the future of Doom - including the role of Merlin - are all contained within his first appearance: the Great American Novel has a long term structure that was not obvious at first.


Doom's castle
It seems to me that Dark Island Castle (now called Singer Castle) fulfills the requirements of Doom's castle in FF 5. There are several closer castles, and the point is that a castle in New York is reality, not fiction. How could Doom resist a name like Dark Island castle? It's within a rocket-assisted helicopter ride of New York City (275 miles). The journey was probably 50 minutes or so, a surprise to the FF who thought Doom was based in Eastern Europe. The castle's extra turrets could be artistic license. The inside of the castle is suitably grand for Doom's tastes, and it's conveniently on the Canadian border for legal purposes (it was used for smuggling).
The castle is on an island, which explains the odd escape: Reed could stretch over some water to some rocks, so why not just stretch across the moat and let Sue walk across him? Ben would not fear alligators, and Johnny could fly. Yet for some reason, getting across the water was a problem. The water around Dark Island is wide yet shallow, so Johnny's causeway would have worked.

The legend of Oak Island, Nova Scotia, links the north east coast to Black beard, so it's no stretch of the imagination to think he may have sailed a little further north and down that waterway. As a route inland to the north of the colonies, with its many islands for hiding, this would be irresistible. So that explains how the time machine took them to Black beard, without having to travel any great distance.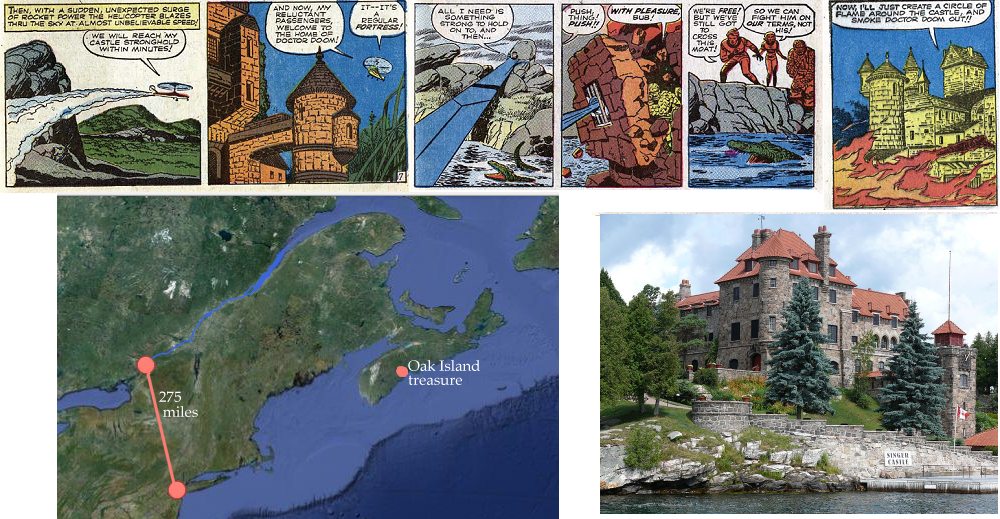 This was before Doom had a major revenue stream (the Latverian tax base), so the castle was almost certainly rented. The animals were of course a sign of his ego, like Hearst's animal filled Xanadu. I don't know if the water was warm enough for alligators even in the summer, but he could easily have tethered them by a warm water outlet: they are obviously mainly for show.
Crossing the moat
The final event of act one carried great meaning: the team leave the castle, symbol of the old world, and symbolically walk on water, asserting their strength. In the classic stages of the hero's journey, this point matters. They have passed the test of act 1, they are entering act 2.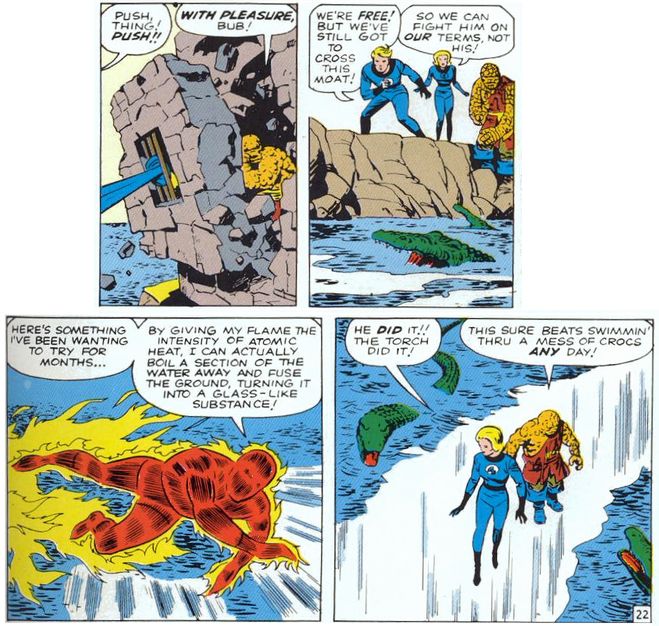 Consider the following "problems":
Why doesn't the water flow over the path again?

This is an example of "show don't tell": the picture demonstrates that the path is higher than its surroundings. The process of super heating the river bed would cause air bubbles to expand, making the vitrified substance expand in volume. This is the first known use of the Torch's power to extract heat as well as supply it.


If it's that shallow why doesn't Ben just wade across?


For the same reason he doesn't swim, or use Reed's body as a bridge. For the same reason Johny doesn't fly across and carry Sue. For the same reason Reed wanted to help Ben push the wall: the only purpose in these things is to show off. As Sue said, they want to do this on their terms, not Dooms. They want to fight on

their

terms. But at this point they are not a cohesive team. The men are all passive aggressive, and sometimes at each others' throats. Look at the order of events:


Masculine pride:


The big strong men are rescued by the tied up female. Ben and Reed both wanted to impress her, whereas Johnny just wants to be the cool adventurer. So while the others are recovering, Johnny, leaning forwards, says "what do we do now?" Take a snapshot of the scene: Ben hates Reed, did not want to come back, and wants Sue to look at him the way she looks at the nerd. Reed wants to dominate the team, but is not doing such a good job. Johnny wants to be the hot adventurer. So what happens next:

Ben

is first: he wants to destroy the castle. That will make

him

look good.

Reed

is next: he stops Ben by saying the castle might be booby trapped: he must hope it is because solving those puzzles will make HIM look good. Sue sides with Reed: a result! So he claims his alpha status: "We'll do it MY way."
Reed then orders Ben around: his body forms a natural bridge, just as he did earlier in the story, but this time other males do not want to use it in front of Sue. There was no reason to stretch into a bridge otherwise: any assistance in breaking the window was trivial. But note that it contradicts Reed's claim to be worried about booby traps: hey, let's make my body super visible to any cameras! Reed just did not want Ben to look like the alpha male.
Now it's

Johnny

's turn to show off: "this is something I've been wanting to try for months". Sue is impressed at Johnny (a result for the kid!) and Ben is more than happy to metaphorically show Reed the finger.

And so:


The rest of the story is their continued competition: Johnny tries to get Doom: this was not necessary, as Reed, who can grab a hunter missile from the sky, could have grabbed him just as easily. But they weren't thinking about stopping Doom, they were thinking about each other, the real enemies. When Johnny slipped up it allowed Reed to be condescending and Ben to insult Johnny. Ben then says next time they'll do it

his

way.
I like the power plays in these early stories, the underlying competition. It's not about "how do we defeat X" it's about who is in charge. Each man tries to look like the responsible male, and each pretends they only have the good of the team at heart. I love it!




Other points to note
The cover


"Brian" wrote on another blog: "I'd argue that a lot of the Fantastic Four and the X-Men came from Eric Frank Russell's Sentinels from Space. I actually bought my first issue of Fantastic Four (issue 5, introducing Doctor Doom) precisely because the cover showed a scene taken from Russell's novel."

Kirby used to read a lot of science fiction for ideas, and Sentinels was published in 1953 and based on an earlier magazine story, so this is highly plausible.



Doom's costume


Kirby said he based Doom's costume on the Grim Reaper: the absence of seeing any human flesh indicates his absence of empathy.

Black Beard
Sean Kleefeld once examined the real Black Beard's life to see if Ben Grimm would fit. He was surprised and pleased to see that actually Ben would fit in perfectly: the description, behavior and dates all fit in rather nicely. E.g. Edward Teach (Black beard) was known for his size and strength, his appearance is only vaguely known (most witnesses only mention his beard), nothing is known of his history, and he had a relatively short career (27 months). It is possible that FF5 skips over a Johnny and Reed leaving Ben behind with the treasure, then returning to find him, allowing two years to pass in Ben's time period, or perhaps he used the time machine again (as he did in Marvel Two In One).
---
Analysis of Act 1
---
The five act structure arises naturally and is never stated. However, the major divisions are clear to long time readers:
Act 1: exposition


The first few issues were like the monster comics that Stan and Jack produced at the time. They feel very different to what comes later: Ben is uncontrollable, Reed does not dominate, the team does not live in New York (at first), there is no cast of familiar enemies, etc. The pieces that define the Fantastic Four gradually appear over the first five issues: this even includes Joe Sinnott, who gave the team their consistent look from Act 3 onwards, and is guest inker in issue 5. Stan Lee said, speaking of issue 5:

"Yeah, that's really when we got into the rhythm of it. I think that was the first issue where we really started to hit our stride."

(In "Comics Creators on Fantastic Four" page 14.) By the and of Act 1 all the core characters are committed to the team, and all the conflicts, themes, motifs and major characters are in play.
Act 2: rising action
Between the first issues and the golden age was a period when a large number of core characters were introduced, so we can naturally call that Act 2.
Act 3: climax / "the ball"
The next major milestone that most reader recognize is the marriage of Reed and Sue, immediately followed by the most beloved stories of all, with new inker Joe Sinnott. A few years later, in contrast to this happy time was perhaps an even greater milestone: Jack Kirby left after issue 102.
Act 4: falling action
After Stan Lee and Jack Kirby, everything got worse and worse for the team. This led to FF200, the apparent ending: Reed expected to disband the team. But as in all the greatest stories, this was a false dawn, and things were about to get a lot worse. The next apparent turning point is the second longest run and second most popular run for most fans is by John Byrne (FF232-295 if we include the last couple of issues that he plotted but did not draw). While the start of his run may appear to be a major change, his conscious goal was to

avoid

change. His first issue (and to some extent his whole run) was called "back to basics" and he tried to turn the clock back to the period we can call Act 2. So it was not a change but a resistance to change.

Act 5: Dénouement / revelation / catastrophe


The real change came when Byrne left: there was a brief period of major plot developments: Ben's story reached a major turning point in the triple sized anniversary issue 296 (the climax to events in his own comic title that ended then) with another important issue in FF303, Johnny marries Alicia in FF300, and Reed and Sue discover Franklin's secret life in FF301-302, and Reed decides to make Franklin his top priority. Next come major changes under Steve Englehart: Ben leads the team and changes his appearance, a new She-Thing joins the team, Reed and Sue leave, and Johnny's old love Crystal returns to the team. In terms of the long term story, Byrne' run is part of a very long status quo that we can call

Act 4

, and the major changes all occur immediately after. A closer look at those changes show that they are designed to resolve all the long running issues, so it is fair to call them Act 5.

Today's comics:


In a tragedy, act 5 is the tragedy or catastrophe. In the case of the FF it was Reed and Sue leaving the team for better things... then wasting their opportunity, coming back and ending the dream of constant progress, ending the continuity, ending the story. This reflected a time of fundamental change in Marvel Comics (the post-Shooter era, moving into the Image Comics era) and the changes were unsettling. Editors demanded an abrupt and unprecedented reversal, and Englehart considered this to mark the end of creativity. Looking back, this was indeed a major change, because it marked the start of a period where continuity no longer matters, a period where we still live today. The marriage was reversed in the mother of all retcons ("retcon" = "retroactive continuity": Alicia was really an alien in disguise all that time!); Reed and Sue returned as if all the reasons that sent them away no longer apply; Ben returned to his old form without any explanation, and in general, writers and editors now say that continuity is not very important. Some long term fans desperately want to believe these are the same characters and that these events still matter in some way (i.e. that long term continuity is intact) and the obvious in-comics explanation is that Franklin controls everything. The phrase "Franklin's universe" is shortened to "

the Franklinverse.

"

The future:


Comic sales have been declining steadily since continuity began to stretch in 1968, and sales are now so bad that even a major title struggles to sell a single issue per American town (there are roughly 30 thousand towns in the USA). The

comics' economic model no longer works for anyone except committed fans. So either the titles will die as fans grow older and die, or at some point the original formula will be tried again and continuity will once again be king. This return to continuity can be called

the New Team

.
Act 1 contains all the elements of the first act of a classic five act structure:
The catalyst for the story, the hook that turns everything upside down, is four friends gaining super powers.

Their goal is to save the world, each in his or her own way:

Each individual is introduced a clear identity and goal:


Reed is a scientist and leader: he wants a technological fix.
Sue is the heart who holds the team together: she wants to protect the family.
Ben is the tragic figure who only wants to be normal.
Johnny is the kid brother who wants to be a hero.

The point of no return is in the first five issues, where Ben and Johnny consider leaving, but decide to stay and follow Reed. Reed builds a headquarters and Sue gives them an identity through their uniforms..

The main villain is an old friend and rival, Doctor Doom.

The big secret is that you can't put family first and also put the world first. That conflict, reflects in the four themes, gives shape to the next 300 issues.

The romantic subplot is that Reed must choose between family and science. Other romantic subplots are Johnny and Ben finding, losing, then regaining their soul mates.
The "theme" of any book is its message, what it is trying to say. As the "Great American Novel" page notes, the obvious themes are (1) Family and (2) Danger. The person usually most concerned about family and danger is the mother, hence Sue is the natural star of the book. But part of this story is that the star, the most powerful member, is the one most often overlooked. She is literally and symbolically invisible. Invisibility a theme throughout the long term story: the real story is not the obvious one. The real dangers are hidden. This is made plain in Act 1:

Issue 1's danger is hidden underground: underground is the classic metaphor for being hidden.
Issue 2's danger is hidden in disguise among us, pretending to be us.
Issue 3's danger is hidden in our friends: they seem normal but are in fact brainwashed.
Issue 4's danger is hidden underwater (another common metaphor of the subconscious, especially in Freud).
Issue 5's danger is hidden in worlds within worlds: the team disappear into worlds of the past are accessed through a hidden castle.

Other notable hidden worlds include the negative zone and the microverse, literally worlds inside worlds.

The themes of family and danger are very obvious, so won't be labored in these reviews. The less obvious themes are also introduced in act 1:
Reluctant heroes: people should act out of duty, not self-interest.
Self confidence: success depends on self confidence. This finds its greatest expression in Act 5 when they finally tension is resolved in
Equality: everyone matters, even those we consider inferior.
The American Dream: working hard and doing the right thing leads to a good life that the lazy or fearful can only dream of.
Each of these themes is also a conflict. All of these conflicts increase through the novel and are finally resolved in Act 5, when each person finally gets what they want (or is on the way to getting it). The remainder of Act 1 introduces all the main motifs and core characters, and conforms to the classic first act structure..

All core motifs are introduced

Act 1 introduces the major motifs of the novel: would-be monarchs (Mole Man, Skrulls, Namor, Doom), hidden races (Skrulls, Subterraneans, Atlanteans), dangerous frontiers (space, underground, oceans), Reed's health (from old academic to action hero), mind control (the Miracle Man), doppelgangers (the Skrull impersonators) and home (moving to the Baxter Building).

The high concept is introduced


The high concept is realism, not science fiction

Q: Why do you think the Fantastic Four have endured for so many years?

A: The readers could almost think of the characters as real live people.acting

Q:

Do you see the Fantastic Four as a science fiction series?

A. In a way, but science fiction is sometimes limited because it usually involves aliens and other worlds and stuff like that. I wanted to keep the Fantastic Four very human. I loved the idea that their headquarters was in the Baxter Building, and I think I mentioned it was on the Lower East Side. People would tell me years later that they flew to New York and looked for the Baxter Building, which always made me feel great. When I was a kid, I read the Sherlock Holmes stories and I walked around Baker Street when I was in London many years later. When I told Jack to give them a headquarters, he did such a superb job."
- Stan Lee, "Comics Creators on Fantastic Four" pages 18-19.

More about how Stan and Jack created great stories


Cold war themes
For more about cold war themes, see "The Fantastic Four: A Mirror of Cold War America" by Rafiel York. Some of the themes covered in these early issues include

Scientists as heroes who can do anything.
Scientists messing with dangerous forces they do not understand (dangers from cosmic rays, Dr Doom, the nuclear tests that destroyed Atlantis).

The need to beat the Russians.

Enemies hiding among us (the Skrulls)

The attitudes to the Soviet Union: this was changing from the 1950s, where Russians were seen as technologically inferior, but relying on stealing our ideas. Now they are seen as intellectual equals, likely to beat America into space.
The nuclear bomb: it destroyed Atlantis in FF4, and then Ben had one strapped to his back to save the world from a monster in the same issue.
Hypnotism: four of the first eight stories feature it (Skrulls, Miracle man, Kurrgo's robot, and Puppet master). Brainwashing was a big fear at the time.
Family: the nuclear family was seen as under threat: there is tension between the wife as submissive and also challenging patriarchy. We see both in issue 1: at first Sue merely supports Reed, but on the way to the space port she opposes him and insists on going.
The rise of teenagers: Johnny is not a side-kick, he's a full member of the team.

The four types
The four members are often compared to four...
Family members
Mother (Sue)

Father (Reed)

Uncle (Ben)

Child (Johnny)

Types of person
Women (Sue: women were largely invisible in positions of power)
The elite (Reed)
The common man (Ben) - see FF 168
Youth (Johnny)

Four elements

There are obvious parallels between the team and the four elements:

Earth (Ben Grimm, who looks like he's made of rocks),
Air (the Invisible girl, who is as invisible as air),
Fire (Johnny storm, obviously)
Water (Reed Richards, who's body can adopt any shape, like water).
The team occasionally battles elemental creatures representing these forces (e.g. in FF232). In the next generation the team will include an elemental who combines power over all four. See the commentary to FF61-62 for why she was the natural replacement for both sue and Reed.
The Fantastic Four is often compared to Jack Kirby's earlier creation "Challengers of the Unknown" because of the similar origin, uniform and purpose, and even in some stories similar powers. Thom pointed out that the four Challengers also reflected the four elements in their origin story (DC's Showcase, issue 6).

"Professor Haley is associated with water in that he is a master skin diver. He is also the fluid thinker who originally seemed to be the leader of the group."
"Rocky Davis is associated with earth by virtue of his first name, and his ability as an Olympic wrestling champion makes him the most physical (earthy) of the four."
"Ace Morgan is associated with air in that he is a former Air Force fighter pilot and current test pilot of Air Force equipment who works for a defense contractor."
"Red Ryan is associated with fire in that he has fiery red hair and is a circus daredevil–who was depicted in the expository introductions as jumping his motorcycle through flaming rings."

Four temperaments/humors

The Fantastic Four also parallel the four medieval humors or four temperaments (source)

"Choleric: this is the soldier or warrior type. All about action. Shoot first and ask questions later. Start building the bookshelf without reading the directions. My way or the highway. Fantastic Four mnemonic: Johnny Storm, the Human Torch."
"Sanguine: the scholar or scribe type. The record-keeper, the analyst. Approaches everything from a purely mental standpoint. [...]Reed Richards, the scientific genius of the quartet."
"Melancholic: the farmer or contemplative type. Hangs on with both hands to what it's got. The strong, silent type. Tradition! Finders, keepers. Fantastic Four mnemonic: Ben Grimm."
"Phlegmatic: the slave, ruled by desires. Goes with the flow. Like water, conforms to the shape of the vessel its in; wears down its path by pure habit and persistence. Sure, I could exert myself… if I have to… I guess. Fantastic Four mnemonic: Sue Storm, The Invisible Woman, who blends effortlessly into the background.

This implies that, unlike the usual order (Sue is air, Reed is water), Sue is more like water (the path of non-resistance) and Reed is more like air (he expands to fit any space).


Jung's four archetypes


Jung identified four primary archetypes that make up the self:

Persona: the mask worn by actors. Ben literally physically rejects wearing a mask.

Anima and Animus: the male and female identities. These are often a married couple, or male and female twins, or in Star Wars it's Luke and Leia. In this case it's Sue (demure, sensitive) and Johnny (fiery, likes action and car racing)

Shadow: the instinctual, animal side of human nature. This is physically powerful but morally weak and unhealthy: Doom is a classic example.

Self or ego, or unifying force, the process of self realization. This is Reed, who dominates the team for the first four acts.


Another way to look at the mind is:
Ego: this is Reed, the confident visible force at the center.

Id: this is the unconscious: Sue, the quiet power?

Superego: the self reflective part. Ben?
Interjection: this is where external restraint (such as parents) become internalized. Everything points to Johnny being the natural leader, he is the one with the most potential, the natural ego, but he is always kept down by the presence of Reed and Sue.
This is an edited version of comments by Jonathan Nolan, which were still work in progress. He writes "play with this [these ideas] - Stan Lee and Jack Kirby did! They were both WELL aware of this stuff. Kirby overtly used it, almost too clumsily. Stan was actually subtle about this stuff. But they both knew it well. Unlike the hacks of today..."
Sue is the key
Sue Storm drives the action
Sue is the invisible power behind the team. The closer you look the more important she becomes. But on the surface she doesn't seem to do anything. She is an example of the depth and unity of the 28 year Fantastic Four story.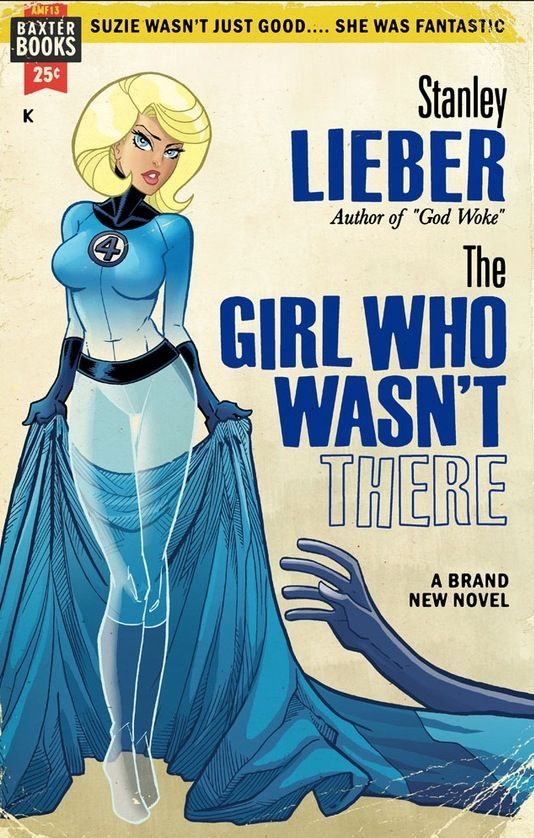 Image: Tony Fleecs
There are many who think that Sue is weak at this point in the story. So it's worth reviewing her role in each issue. Sue is independent, she drives the action, and ultimately she saves the team. This is all the more remarkable when we remember that reed is the world's smartest man, Ben (at this point) is the world's strongest man, Johnny can fly and shoot vast quantities of energy, and the boys are all bulletproof when in action. Meanwhile Sue is effectively powerless: all her major foes can detect her when invisible. Yet it is Sue who creates the team, Sue who keeps the team together, and Sue who defeats Doom. Measured by her impact, Sue is the strongest one of all. (Incidentally, when Sue puts her hand to her head in issue 1 she is not fainting, she's shading her eyes from the bright sun so she can look down the dark hole where her less careful companions have fallen.)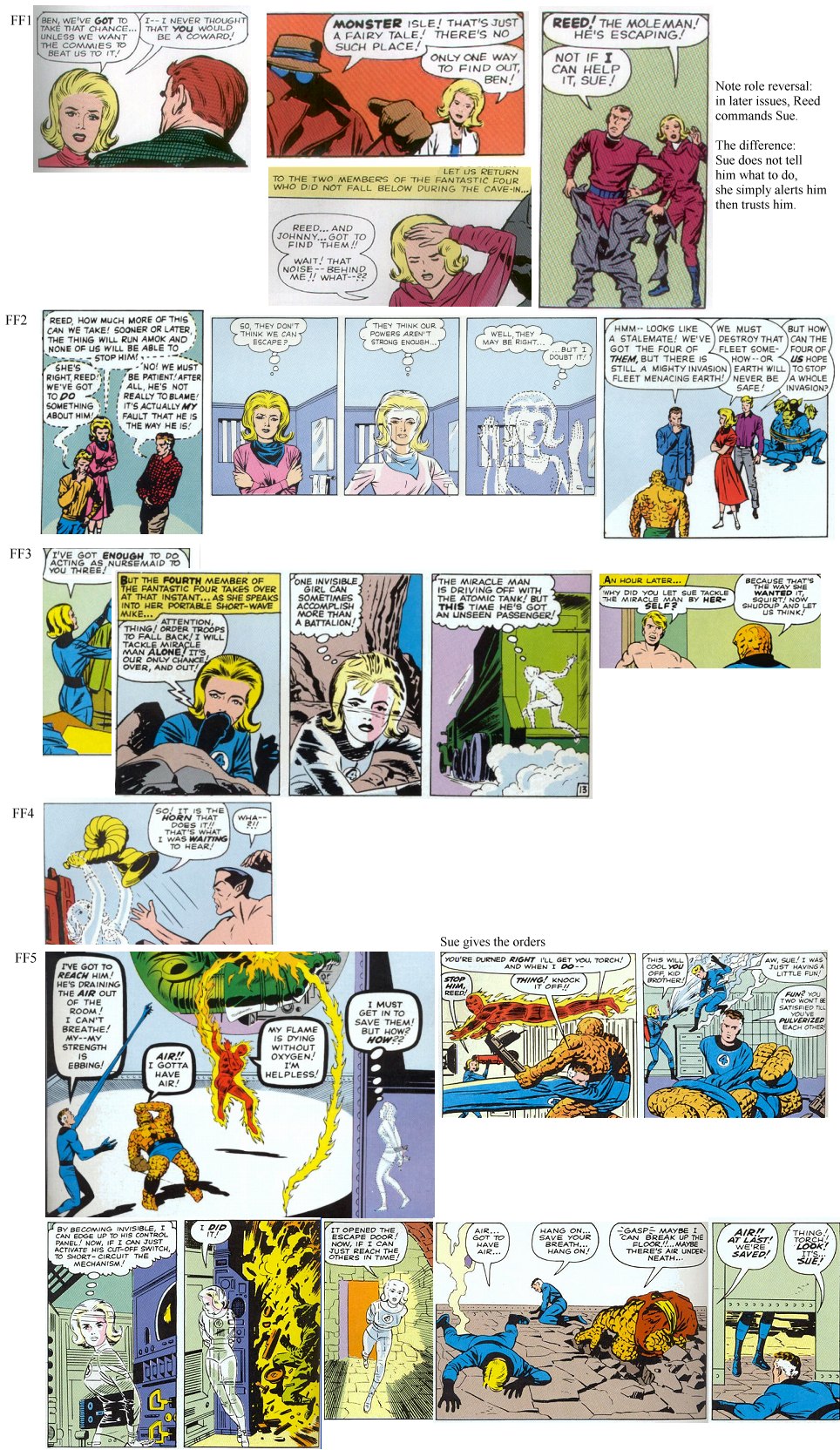 Act 1 introduces the most important secondary characters:

The Mole Man,
Skrulls,
Namor,
and of course the greatest of all, Doom.
The Baxter Building is an honorary character in its own right.
These represent the full range of experience:

frontiers (above, below, land and sea)
personality types (sad Mole Man, small-minded Miracle man, noble Namor, cowardly Skrulls, and arrogant Doom),
just as the core team represent family dynamics (parents, siblings, friends, rivals, adopted and natural).
Four key characters may appear to be missing from Act 1: Franklin, Crystal, Galactus and the Surfer. But these embody the four themes that are already introduced:
Franklin embodies the need for equality: the weakest is actually the strongest, and they sideline him when he should be their top priority.

Crystal embodies the reluctance of Sue, Reed and Ben, which contrasts with the enthusiasm of Johnny. Only Crystal and Johnny can be enthusiastic because they are subservient to their families for their first years as heroes, so their values when they are finally free will be pure. (Crystal's tragedy is that everyone thinks she is tainted when she is innocent.)

Galactus embodies the theme of confidence: his will is absolute and he apparently cannot be defeated.

The surfer crystallizes the American Dream: a pure hearted immigrant who longs for the endless frontier. What symbolizes the American spirit more than and Oscar on a surfboard? And one with an unbeatable spirit and hands that shoots energy bolts to defeat bad guys?
Other symbolism
Color symbolism: Green and purple are the old world


Purple is the color of royalty, representing the class system, and green is the color of agriculture (and of sickness). Both represent the worlds that the space age FF are leaving behind.

"In the 1960s, comic book super villains were green and purple. It was an unwritten rule but almost certain policy: heroes wore primary colors of red, blue and yellow, while second-rate reprobates got stuck with secondary shades. In just the Fantastic Four alone, every infamous foe wore a costume or had the skin color of green or purple. Doctor Doom, Mole Man, Sub-Mariner, Psycho-Man, Molecule Man and even the Red Ghost wore green. The Skrulls had green skin and purple togs. So did the Incredible Hulk, Impossible Man, Infant Terrible and Annihilus. The Puppet Master, Mad Thinker and Sandman changed back and forth between the two hues. Diablo, Rama Tut and Kurrgo wore both together. Ronan sported green armor and swung a purple club. The Frightful Four flaunted purple uniforms and the Hate-Monger hid under a purple Klan hood. Galactus, the all-time purple perpetrator, actually wore green shoulder pads and helmet in his debut on the last panel of FF #48 (looking like he just came from an interstellar lacrosse tournament; he switched to all purple dinner wear in time for the splash page of #49). Even non-super powered creeps shopped in the same department. The schemer that impersonated the Thing in "This Man, This Monster" wore green pants (justifying his actions as the Changeling). Scientists in green outfits were compelled to create Him, a golden persona of ensemble perfection. Trendy tycoon Gregory Gideon and his unfortunate son strutted in green and purple suits. Wiseguys on the Skrull gangster world named Boss Barker and Lippy Louie also donned dapper digs in such garish combos. [...] In the Fantastic Four, green was mean. In the first two years of the title's existence, verdant villains appeared in every mag except one – FF #3, featuring the aptly named Miracle Man (whose black suit and red cloak somehow got by the fashion criminals). He was one of only three true felons in the entire 108-issue Lee-Kirby run that didn't wear green or purple. The others were Klaw, whose offensive sounds made bystanders see red, and the blue-suited Monocle, who was obviously colorblind." (Robert Papetti, "Fantastic Four In The Silver Age Sixties: A Tribute")


Note that Johnny felt separated from the team while Reed and Sue were separated, so changed his costume to red, to remember his childhood hero. Then at their lowest point of act 4, when Reed attempted suicide, the uniforms changed to black.



Identity symbolism: "good" and "bad" tropes


The first year of the FF is about alienation from the world (see the notes to issue 2). In this light, Jonathan Nolan made the following observations:

A Question Of Identity (with apologies to Sherlock Holmes)

A fan of LOST did a comprehensive list of roles, and identified them as either "good" or "bad"- when someone acted in a "good" role they advanced along their positive destiny path, when someone was in a "bad" role they risked injury, death or loss of something precious to them. He identified that ALL fathers in the show were "bad" - father was a "bad" role; ALL fast food workers in the show were good - fast food worker was a good role- and so on. It's a spin on the idea of karma and destiny- fulfill the role that is your best destiny or risk disaster. I've started doing this with Fantastic Four, and the results... Well, they're kind of astounding.
Father

is a BAD role in Fantastic Four. Fathers are BAD. They are killjoys, thugs, crooks, spoilers, liars, bullies and larger than life ogres.

Son

is a GOOD role in Fantastic Four. Sons are GOOD. They are noble, rebellious against bad laws, stand up to bullies, yearn to explore, are skilled detectives and are exceptionally powerful and brave.

Nephew

is an even better role than SON. Nephews are GOOD. They are heroic, tough, get stronger and stronger, face even the most incredible horror bravely and are able to overcome any adversity. They also receive wisdom and powers from their Aunt or Uncle- turning the bad role of Father into the good role of Uncle in the process.

Mailman

and letters are GOOD. They convey real information and act as a technological version of shamanism, making the real imaginary and the imaginary real- in the process crossing back and forth safely from the realm of the gods or creators to the realm of the created and to the sub-realm of the audience.

Audience

is a good role. Actor is a bad role. Actor role is one of the riskiest roles of all, perhaps because it exposes that there is no true reality but only a nested set of created worlds. Giving the secret of reality away is bad.

Non-interference

and non-action are BAD. Taking action, especially as a soldier, is GOOD. Because soldier is a GOOD role.
Something else from the LOST analysis that also works for Fantastic Four- when you are in a good role it is BAD to doubt the role- to feel you shouldn't be doing it. First you get warnings- then you lose your powers- finally you die! To doubt yourself when you are in a bad role is GOOD. But the tragedy is that when someone is in a bad role they DON'T usually doubt themselves- they double down on stupid."


Breaking comic book clichés
The Fantastic Four was designed to break all the superhero clichés.

"I tried to violate all the comic book clichés when I did the Fantastic Four. I decided not to give them costumes or secret identities, and so forth."
- Stan Lee, "Comics Creators on Fantastic Four" page 9.

To this day, the Fantastic Four is the only major superhero comic with any claim to realism, because they are the only major characters who never had a secret identity. They are also the only major characters with no costume, just a simple functional single color uniform. Secret identities were tried twice and shown to be a bad idea: first in Strange Tales Johnny Storm thought his identity was secret, but this became a joke: in the real world a superhero could not keep his identity secret, and neither did Johnny. Second, when Reed and Sue hit their lowest point, toward the end of Act 4, they had the crazy idea of maintaining secret identities in order to raise Franklin "normally." It was of course a complete disaster of the worst possible kind: far from protecting Franklin he ended up unconscious, bleeding from the head, and in hell!

Secret identities for superheroes make realism impossible.

More about realism in early Marvel comics

Realism in Fantastic Four issue 1

Superhero powers: a plausible scenario

A sign of the decline in the comic (after 321) was the creeping return of the costume. DeFalco and Ryan gave The Invisible Woman an impractical revealing uniform, and at the time of writing (2012) the team has a series of complicated costumes: though they appear minimalist (e.g. one set of costumes is mostly white) they have subtle designs and contain highly advanced gadgets.

Similarly, secret identities are sign that realism is abandoned. As soon as Englehart released Reed and Sue from daily membership, somebody else immediately gave them secret identities. When the Marvel Knights series tried to make the teams "more realistic" they gave Reed, Sue and Franklin secret identities. Secret identities for superheroes are not compatible with long term realism.

On continuity

How many other superheroes date, then marry, then have children, and fundamentally change their core characteristics? The deep continuity and character development in the Fantastic Four is kind of the point of this web site.

This is not escapist literature

The desire for secret identities and flashy costumes can probably be traced to the concept of comics as escapist literature. Fans like costumes and secret identities because they fantasize about that being themselves doing bizarre things when nobody is looking. This is the opposite of the literary approach to fantasy: as Tolkien explains in his classic "On Fairy Tales," fantasy exists to tell us about our own world (by exaggerating aspects of it). Literary fantasy exists to exaggerate reality, not to escape from it. This is why these worlds must make sense in their own terms: we must know how they work so we can take them seriously.

In short, the Fantastic Four is not like other comics.





Trivia: Jack Kirby drew himself as Reed Richards?

For most of his life, Jack Kirby was compared to Ben Grimm, the Thing. But for the couple of years when he invented the FF, he was more like Mr Fantastic. Jack Kirby saw himself as the ideas man who would conquer the world, while Stan Lee was the one who feared and doubted. This of course was only Kirby's opinion, but here we are only looking at Kirby's art.

In the typed script to issue 1 (which probably reflected Stan's understanding of the story conference with Jack) Reed was described as "young." But Kirby made him the first ever superhero to have graying hair, much like Kirby at the time. The only clear image we have of Reed that is inked by Kirby himself is on the cover to FF7. As Will Murray observed, this Reed is a self portrait of Jack Kirby.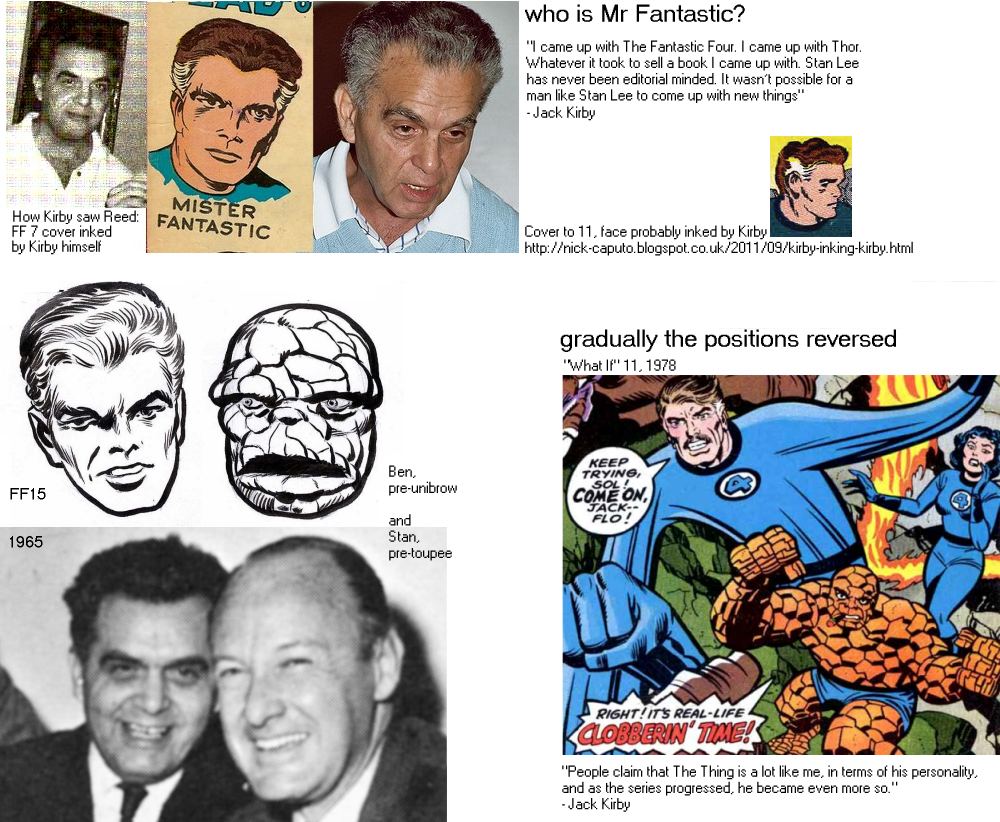 This period of optimism only lasted two or three years. By the mid 1960s, when Reed had achieved dominance over the team, and when Stan Lee was claiming he created everything, Kirby was more like Ben Grimm (most famously in the "What If" issue 11). But it did not start that way: Kirby later accepted this comparison, and remarked, "People often comment that the Thing is a lot like me, smoking cigars, kind of rough around the edges. I didn't plan it that way, but I guess it's true." (quoted by Mark Alexander, in "Lee & Kirby: The Wonder Years")

Reed and Ben in FF11:

I admit that seeing Stan's round face in Ben's early face is maybe my imagination. But I am always struck by how different Stan looked before the hairpiece and mustache. And in 1960 Stan admits he wanted out of comics, and his wife persuaded him to give it one last shot. So at first Stan was like Ben in the origin story, with his wife as Sue. If we believe Kirby's account then Kirby was the one with the confidence and the plans, like Reed.

To stretch the analogy even further, Kirby should have used more legal shielding (e.g. he should have got Stan to sign a paper at the start saying Jack created the stuff) because from Kirby's point of view the cosmic rays (the bright light of stardom) turned Stan into a monster. :)

In later years, Ben's history was expanded to look more like Jack Kirby's. For example, Ben was not only bugged by the Yancy Street gang, but it was later stated that he was once one of them, just as Kirby grew up in a tough New York neighborhood. But if we only look at the early issues we see a slightly different story. In the early days all we knew about their past was from issue 11, "A Visit with the Fantastic Four." While reading it, consider these parallels:

Reed was the older man, the one with the ideas. Jack is the obvious parallel.
Ben was the one who, in the early days, thought it could not be done, and was quick to become discouraged. Kirby tells how, when they met at the end of 1958, he " came in and they were moving out the furniture, they were taking desks out and I needed the work! I had a family and a house and all of a sudden Marvel is coming apart. Stan Lee is sitting on a chair crying. He didn't know what to do, he's sitting in a chair crying —he was just still out of his adolescence. I told him to stop crying. I say, 'Go in to Martin and tell him to stop moving the furniture out, and I'll see that the books make money.' And I came up with a raft of new books and all these books began to make money. Somehow they had faith in me. I knew I could do it, but I had to come up with fresh characters that nobody had seen before."

Ben is the butt of practical jokes (and in other issues would play tricks on Johnny, e.g. by changing the heat in the shower when Johnny was there). Kirby later tells how Stan was a practical joker, and Kirby hated practical jokes. Stan, was the practical joker and the one Jack saw as immature and annoying.
The first thing Ben says when they meet is "maybe you heard of me" - then admits that he didn't earn his place by his brains. This was how Kirby saw Reed, as "Funky Flashman" who only got the job because he was related to the boss. But back in 1960-63 they were good friends.
I admit the "wrong side of the tracks" line does sound like Kirby's cash-poor upbringing, but remember that dialog was added by Stan. To understand Kirby's view we need to pay less attention to the words and more to the art. Reed is simply encouraging Ben who deep down lacks confidence and makes up for it in being a showman, just like Stan. Stan was known for his stories about self doubt (especially with his Spider-Man dialog) whereas Kirby was always confident.
Ben is the one with the good lines, just like Stan is the one with the quick wit, while Reed is more concerned with the heavy ideas.
Reed won prizes "a long time ago" just like Kirby created all those classic comics long before.
In the war, Ben is shown flying a plane while it's Reed who gets down and dirty in the mud with the men. Again, pay attention to Kirby's art more than Lee's precise words. During the war Stan Lee stayed at America and designed health information posters, while Jack Kirby was not only on the front line, but just like Reed he went beyond the front line. Kirby was sent to make maps of enemy territory.
During the war Reed is thinking of the girl he left behind. Jack Kirby married Roz just before he left for active service.
Reed put all his talent and resources into his creations, just as Kirby set up as a comic publisher. Meanwhile Ben played football and did not take those risks, just as Stan stayed with his uncle in the safe job.
Kirby felt that power went to Stan's head: Lee became a Thing. it is vital that remember that in the early days, Ben was not as lovable as he became later, and Reed was more of a pure hero.
This of course only refers to the first few issues. By FF14 Reed was clearly top dog and Ben had lost. As Kirby says, as time went on they became more and more similar. "People claim that The Thing is a lot like me, in terms of his personality, and as the series progressed, he became even more so."