---
1963: Act 2: Of spaceships and nuclear bombs (the early 1960s)



FF6
FF7
FF8





Summary


This page focuses on just three issues: the end of year 1 (the issues were bimonthly until issue 8). In their first year Ben wanted to kill Reed, and many of the public saw the FF as menaces to society. The stories were about space ships, planetary destruction and body snatchers. It reflected the era of hydrogen bombs and the space race, when the older generation could remember a time before motor cars, before moving pictures or telephones when even electricity was a luxury. So much change, so quickly! Anything was possible. The world was hurtling into the unknown and bad choices could mean the end of the human race.



6

Issue 6: Sue's methods: true empathy is stronger than false empathy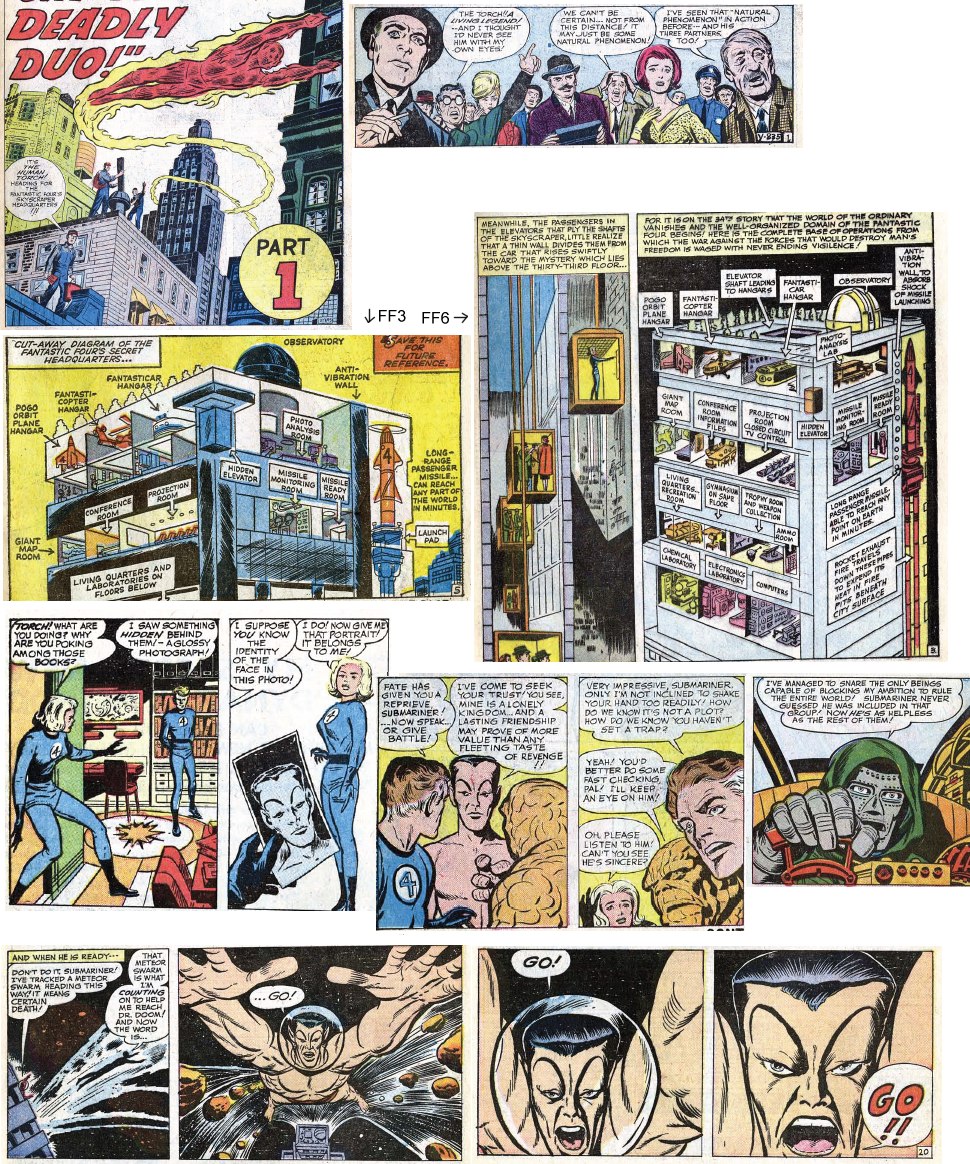 This is the issue where Sue's successful strategy (to build friendships) contrasts with the boys' unsuccessful strategy (aggression) and their enemies' cooperation based on mistrust.

We also have the major themes again:
Reluctance:

Sue toys with idea of switching sides - joining Namor.

Confidence:

the team's identity is now fully public. Until issue 3 kept some parts secret (e.g. the living quarters and laboratories were hidden from the plan, and the team often referred to secrecy, due mainly to the terrible start: their first major public outing was actually the Skrulls)

Equality:

Sue appears weak (she is the first to suffer from lack of oxygen) yet in the long run her "make friends" method is far more effective than the boys' more violent approach. They can defeat Namor time after time and he will keep coming back, so they achieve nothing. But each time Sue gains more of Namor's respect, and finally he will become an ally. So Sue's method is the stronger one.

The American Dream:

the issue starts with Johnny flying over an adoring public. Note that Johnny is the most "rags to riches" of the stars, and began with nothing (Reed had his scientific abilities, Sue had beauty, Ben was a test pilot).
How act 2 is different:

Act 2 is about Reed's rise to dominance, and begins with Doom's dominance over Namor: Doom is Reed's mirror, and Namor, like a composite of Sue, Ben and Johnny, is both stronger and more emotion-driven. But more importantly, FF6 is where the non-stop action of the introduction ends. From here on, characterization becomes the number one priority.
Characterization (1):


The opening pages to act two signal the change of pace for the rest of the 28 year story. In act 1, the FF was essentially a monster comic, packing in as much action as it could from frame 1. But act 2 begins with the family at home. This will be the standard opening for the rest of the series: from now on the story is not driven by "anything can happen" but primarily by the strength of the characters' interactions.
Characterization (2):
It has been argued that the Marvel Universe began at this point. Not with bringing back an old character (in issue 4, that had been done before at DC), and not with a simple team up of villains (those things were common and seldom made sense), but with villain's actions based on characterization. Doom and Namor had been doing things on their own since last issue, driven by their characters, not by the need for a random team up: Doom wanted all power, Namor was powerful and headstrong and wanted revenge, so it was natural for Doom to use him.

Namor's motives


We explore Namor's motives in some detail:

Read those panels again. It's powerful stuff. Even the little details, like the pagan statue. A huge, powerful tragic back story is woven in just a few words. And Namor is three dimensional: he is conflicted, he has weaknesses, there are feelings and motives he does not fully understand.

Doom's motives


In contrast to Namor's deep background it is clear that Doom is motivated by the pure need for power. But Doom is not a one dimensional character either: his motives and complexities are merely hidden for now, for dramatic effect. Yet even in this one issue we see character development. Note how Doom's personality has changed. In FF5 he was all smiles, but FF5 seems to be his first defeat. At the hands of a girl he just tied up! His anger begins here. Then at the end Namor defeats him in almost exactly the same way his object of desire did in FF6.

This cement's Doom's attitude: he can never trust anybody, and even the weakest person must be crushed totally or he will never be safe. We will not learn the source of his insecurity until FF annual 2, and we will not see the humanity still buried inside until FF247. But the point is that Namor and Doom have a life outside of what we see, and that life makes sense. Here in FF6 we establish a universe that exists apart from the comics, that makes sense on its own. Suddenly we know that major character-driven events happen in that universe even if they are never mentioned in the comics.
Science and technology
Other points to note:
The Yancy Street Gang and Ben's character development


In issue 5 we begin to gain real sympathy for Ben. This continued with the first appearance of the Yancy Street Gang: his childhood friends now troll him and he lets it get to him very time: although he has a the thickest skin he really has the thinnest.

Other firsts: Baxter and Unstable Molecules


Here the Baxter Building is first named, and we get the first mention of unstable molecules: rather than being merely a hideout, the Baxter Building is now a base for scientific research. I argue elsewhere that the unstable molecule uniforms come from the Skrulls. Clearly Reed is studying them in great detail. This will lead to his unstable molecule based life form in issue 15 (which leads to the Thinkers Android)

Doom's connection with Namor
At the most important moments in his 28 year story arc (the beginning, middle and end), Doom teams up with Namor. Here at the start, again at his lowest point (Super Villain Team Up), and when he finally gains insight (Emperor Doom), Doom teams up with the Sub-Mariner. Even in FF5, his first appearance, Doom was concerned with treasure from the sea. Why Namor? Because unlike Reed, even Doom, the proudest of all, knows that he needs others. (Namor controls the oceans, whereas Doom is more interested in the lands for ancestral reasons). Namor is also closest to Sue: a reminder that if only Reed would pay more attention to his wife, or at least understood why Sue found Namor so attractive (his respect for women), all Reed's problems would be solved.

Three continents:


Note the cold war parallel: the Eastern European enemy (like Russia) and the Pacific enemy with the slanted eyes (like China) do not trust each other. Or possibly Namor is a parallel to the Japanese, who became allies of the west after the war.

Paranoia:




"Of course, comparing this scene [opening by relaxing and reading mail] to the "A" plot with Doomsy and the Sub-Mariner suggests some interesting secondary subtext… That the minute that you start to relax, your enemies will find each other and conspire against you, screaming 'Revenge…. REVENGE!!!!' Ah, let us shed a nostalgic tear for the good old days when children's entertainment taught paranoia-as-survival-technique rather than namby pamby lessons about sharing."

- Mark Andrew


Johnny's insecurity:


"Quite what the Human Torch believes he's doing as he scours his sister's rooms is never explained. But the impression given is of a deeply troubled and demanding young man. Digging out Namor's portrait, he brushes away his sister's pleas to have her property return, before announcing her heretically torn loyalties to Richards and Grimm. It's a scene that's impossible to put a positive spin on. Is the orphaned Torch anxious about the threat to his sister's relationship with Richards, or is there simply something broken or even malevolent inside him? [Probably Johnny] Storm is anxious to ensure that the closest thing he's ever known to a stable home continues." (source)


Physical appearance:


Ben, painfully aware of his lost looks, comments "Bah! I knew it, all a gal wants is a good looking guy" - he used to want her, but now Sue has lost his respect. But two issue later brings the irony: Sue is known for her beauty, and in issue 8 Ben falls for a girl who looks just like her. All that Ben wants is a good looking gal? No. But with Ben, what you see or hear on the surface is not the whole story.

Literary technique

:


"This contains the "Doom launches the Baxter Building into space" sequence, which might be the single most famous plot in the history of the series. (That or Galactus and the Ultimate Nullifier.) And it is a GREAT sequence: Natural enemies, who second before were tryin' to kill each other, are smushed together in a very small area indeed and have to work together to survive, while a crazy psycho in a metal mask pulls them into space to die of asphyxiation, giggling like a schoolgirl. This is a prime example of "how to ratchet narrative tension up to INSANE levels" that should be taught in film schools everywhere. (And it's written for eight year olds! Lord!)"

- Mark Andrew

Foreshadowing


Raising the Baxter Building foreshadows the theme of Reed allowing the same method to destroy their home in act 4, part of Sue's utter devastation and self sacrifice. It could be said that Reed betrayed Sue (Namor's former lover) in the same way that Doom betrayed Namor.

Harmon General H

ospital


The FF routinely changes real world names to avoid being sued, and the art is designed for efficiency rather than photographic accuracy, so we can't be sure which hospital was "Harmon General". but it could have been the nearby New York University medical building, now known as "NYU Langone". They specialise in muscles, joints and bones: an area that would be of special interest to a man who can stretch.



More:


These summaries only cover the tip of the iceberg. A review cannot capture the excitement, realism, and masterful plotting of this story.


7

Issue 7: Reed begins to dominate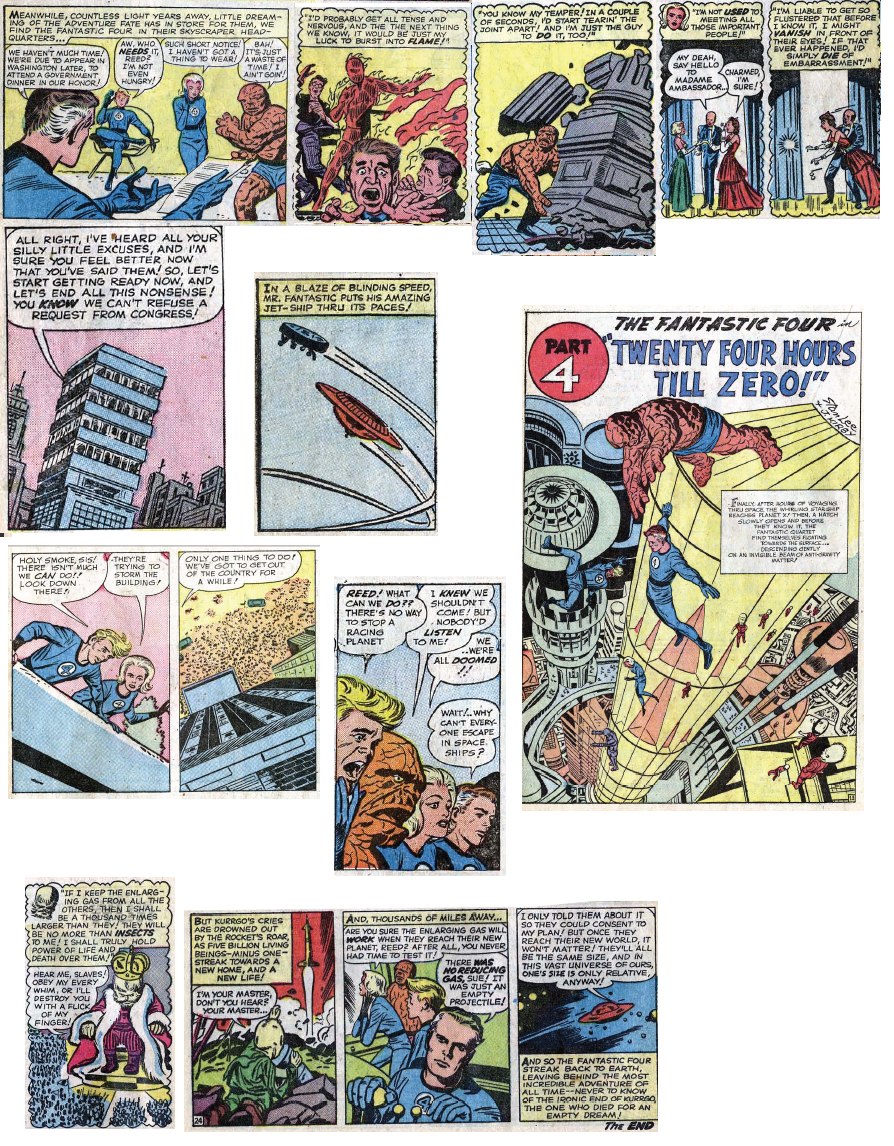 Although Reed was nominally the leader before now, this is the issue where he really takes over: only he can solve the problem, and he treats the others as children. This theme will be repeated throughout act 2 and beyond. We also see his dark side at the end - he is happy to lie as long as he believes it has the desired outcome.
Here are the themes again. Eventually this review will take the themes for granted, but it is necessary to show what every issue is really about: duty (first to family, then country, then any noble need).
The American Dream:

they're so successful and admired that they have a government dinner in their honor. Note also the praise for isolationism at the end, and the true dream (working together) versus the false dream becoming a king).

Reluctance:

the team do not want the fame, and Ben does not want to leave for an unknown alien world.

Confidence:

they become powerless, and are willing to risk of heading out into the unknown, perhaps never to return.

Equality:

Reed takes charge, and treats the others condescendingly, as if they are silly whining children. Yet their concerns are valid: a congressional dinner has no real value except for vanity. Perhaps that is why Reed loves the idea.

Three dimensional characters
Reed lies, yet he only does so to save a billion lives. His motives are pure, he achieves great things (he saved a whole planet!) and he works tirelessly for others. Reed is a three dimensional character, with great strengths as well as troubling weaknesses. He is not the usual comic book cut-out.
Communism
Planet X appears to be in a state of intellectual decay, probably caused by becoming a dictatorship. Hence they no longer have the ability to create new ships, or to make use of their existing technology. See the notes to FF 92 for how planet X technology is so far in advance of Skrull technology: Reed could only make limited use of the saucer afterwards, whereas Skrull technology was much easier to disassemble.
Political decay was the great fear of America: if they gave into communist dictators they would be like the people of planet X, a doomed civilization.

Criticisms of this issue

A lot of people don't like this issue. I am not one of them. This is one of my all time favorites stories, possibly helped by the fact that it was the first FF story I ever saw as a child, in beautiful giant size hardback form, in the sublimely perfect UK Marvel Annual 1972. Here are the criticisms from the "Fantastic Fans" blog, plus the review on the classic comics board, and elsewhere (e.g.. FFplaza). With my responses:
It's "full of sci-fi cliches."


Cliches become cliches because they're such great ideas that they deserve to be re-used. Falling in love is a cliche! Defeating the bad guy is a cliche! Plus this is the first and only time that these cliches are used in this magazine.

"A dull plot."


A dull plot? A giant alien robot, the whole world against you, a race with a UFO (so wild they need to be strapped in), an alien city, saving a whole world, two planets ready to kill them, and

a planet blowing up?

If that's dull then I want to know what you normally read! Note also the last frame, the only time the comics admit that the distances in the universe truly are vast. As a child that is the frame that most hit me. It's breathtaking.
The population turns against them twice in five issues.
Yes, and they're hardly friendly in issue 9, and probably weren't too happy about being evacuated in issue 4, or having a building taken into space in issue 6: that's kind of the point of realism, being a hero does not guarantee being loved.

A "silly" hostility ray.


What's silly about it? The name is functional, and it's from a highly advanced alien race, so they could do it, too. It makes a refreshing change from fighting somebody, and it shows the aliens' intelligence as the only escape is to leave the planet.

"society girl" Susan Storm has nothing to wear to a party?


Yes, because being a society girl means you can't be seen in the same outfit twice in public (she could wear them in private functions of course).
The "imaginary scenarios seem like filler."
No, these are historically the most significant part. This is the issue that reveals Mr Fantastic's dark side. This is where the others' self image begins to sag, and he insults and demeans them, and at the end he wins by lying. This is crucial to everything that comes after: Reed is a complex character: the world's greatest scientist, possibly the world's greatest hero, but also a vain man who will lie and belittle his friends to get what he wants. That is kind of important. Also it shows how the individual members' think inside, which is always good.
Kurrgo and his robot "are incredibly lame"
Those who liked The Day The Earth Stood Still may disagree.
How does Reed invent shrinking gas so quickly?
Simple: he has the advanced planet's "most modern lab" at his disposal. We know that they have mastered faster than light travel, so they have mastered the distortion of space and time. We also know they have anti gravity devices, and gravity is merely the curvature of space time. So they have the technology to compress space, but they lack Reed's curiosity. Reed saw how this advanced technology could compress individual people. Note that Henry Pym "discovers" a similar ability and later uses it as "Ant Man" - see the page on superscience technology for how all super tech is derived from alien tech.
Why did Reed not just shrink the other planet?
Because if shrinking is based on distorting space time then the size of the target makes a huge difference. Shrinking a billion people is a billion times easier than shrinking the mass of an entire planet.

"Not a great cover"


I agree. Not "a" great cover, but possibly "the" great cover. IIRC this is the only cover inked by Kirby himself, so we get the best idea of how he saw the team. Note that Reed looks just like Kirby (at the time). The wanted poster has often been imitated on other comics. I love the intense perspective, from extreme close up to the distant stars, and the theme of alienation: people tend to forget that the first year f the FF was not about happy families but the opposite. And note the contrast with DC comics, where the the public love the heroes. While we can try to blame the robot's hate ray it didn't have to try too hard, as we see from similar scenes in FF 2 and FF 9. I could go on and on about the importance of this cover.

"The inhabitants of Planet X are older, wiser and have science 1,000 years beyond Earth. But they can't figure out how to blow up or divert an asteroid."


One close to the size of the planet itself. The energy needed for that task is phenomenal. This is the kind of realism I like: no doubt they could blow up the kind of asteroids they expect, but one the size of a planet? What kind of civilization would be able to do that? Could we do that, even in another thousand years?

They've "never cared for space travel." Ummmm...yeah.


Again, a touch of realism I really appreciate. A lot of very intelligent people feel that a focus on space flight is disastrous: we have to solve our political problems first rather than export destruction to other worlds far less suitable for human life. While sci fi fans always assume that technology goes in just one direction, it isn't so. Why didn't humans keep progressing at the same speed as the ancient Greeks? Why didn't we go back to the moon after the early 1970s? Why are our economic systems so absurd, three hundred years after Adam Smith told us how to fix things (just thought I'd throw that in there, as a fan of ground rents instead of taxation the madness of the human race never ceases to amaze me). We also have the glaring fact that this planet is a dictatorship. What we see is the dictator's point of view: "my people do not want to leave, they are so happy here." Why would a dictator want his people to be able to freely leave? Pretty much every issue of the early FF is about American freedom versus other nation's dictatorships, and this is a prime example.

Earth science which is a thousand years behind, can clearly save them.


Not earth science, but Reed Richards. They don't want a superior nation: that would be like Russia asking America to help with its grain shortages. But Reed has been studying a captured Skrull vessel for almost a year, and has shown himself to be superb at finding solutions with alien technology. Within a few months of getting hold of the skrull vessel its technology appeared in the Fantasticar, and the three Skrull costumes made superb unstable molecule suits (or so I argue on my site). Reed has shown himself to be a genius at quickly grasping new uses for alien tech. Given the tech on planet X, and the political gridlock of their own system, grabbing Reed is the quickest way to solve the problem. (The problem being that the dictator suddenly finds himself without a world to control)

They can't possibly ask for help...the only way to defeat a runaway asteroid is to get help via a wacky scheme.


The dictator uses force. That's how politics works. That's what Stalin would have done: "I have massive resources but need fresh thinking. I hear you're good at fresh thinking, so tell me what to do. You will help me now or your family dies."

The Washington dinner in their honor: Only Reed seems to want to go as the others make up increasingly lame excuses for not going.


I love the political subtext of the early issues. Reed still isn't forgiven for taking and crashing that ship. Yet a lot of the public loves the team, and the establishment needs them. The invitation is not about pure hearted altruism from the state, it's an attempt at PR. Reed, the most confident and least socially aware, thinks it's a great opportunity. The others, more socially in touch, feel uncomfortable but don't know why. The team don't become truly ingratiated with the military industrial complex until issue 12 (after we see in issue 11 that they are far too famous not to embrace). The political subplot can be traced over the years and fascinates me.

Reed listens to them then treats them like the petulant children they are


Of course, we only have Reed's version of events. The "unreliable narrator" is another fascinating theme in these early issues. If we step back and judge this only by actions (not words) we can see that the first two years of the FF are all about Reed gaining social dominance over the team. They start off as equals and through conflicts like this Reed infantalizes the others. This will come back to bite Reed very badly in later years.

We do learn that Ben can lift up a wall on a non-existent pivot and hide behind it without destroying the wall.


Another fascinating subplot is the gradual reveal of how superhero science works. The reason the wall does not collapse will be finally revealed in FF 249, with major implications for the nature of their powers and through that of their psychological inner worlds. E.g. Ben is a lot stronger than he realizes, but the infantalizing makes him see himself as much weaker.

On Planet X we learn that they can control gravity...but can't stop an asteroid.


Another lovely realistic touch. To other comics, a gravity ray would be able to do anything, but in the real world the relative mass of the object makes all the difference.

I'm not an astrophysicist...or a geologist...but I'm pretty sure that in asteroid isn't causing as much havoc as we're seeing.


I love little details like this. The story is highly compressed, so we only get a simplified version. The odds of a direct hit are far lower than a deadly near miss: the planetoid is probably caught in the gravitational clutches of planet X and the two bodies orbit each other in a death spiral for a few days (creating massive tidal forces on the crust), before finally hitting. Or if I was a 9/11 conspiracy theorist type, I would follow the money and suggest an alternative explanation. Kurrgo experiments with gravity and clearly cares little for his people. I wonder if the gravitational problems, including the attraction of the other world, are a result of Kurrgo's experiments gone horribly wrong. Obviously he would not admit that. Or possibly he has other reasons for wanting to change planets, and Reed is merely the fall guy: the plan to shrink the people may have been there all along, and far from not having time to create an enlarging ray, Reed may have sabotaged it. One of the most important aspects of this story is the final frame, where we find that Reed is quite happy to lie when it suits him. On balance though, I think Occam's razor says the death spiral theory is the most likely.

there is no provision for how the mini-folk are supposed to operate the ship...much less get five billion to the ship.


Their transport seems to be at the stage that Earth will be at in a hundred years: we will have self driving cars and pretty good AI, but relatively few space craft. A single self driving car (or self driving plane) could gather a hundred thousand shrunken folk.

Apparently it's better to rule over really small people than to rule over people your own size.


A wonderful symbol of the long term futility of oppression. An oppressed people are kept small: they cannot grow economically or culturally, but the dictator does not care as long as he is at the top of the pile. See every third world dictatorship ever. The FF is full of symbolism like this. As I mentioned before, almost every issue is a commentary on American freedom versus old world corruption. (And of course the irony that power corrupts, see Reed's need to dominate the others).

Hopefully the residents of Planet X don't end up on a planet where they'll be prey.


Another great realistic touch. Most comics assumed that bigger was always better, but in the real world the most successful species are often the smallest. It's the mega fauna that gets killed off, not the little guys who need fewer resources. Again, a commentary on the American idea that a nation of small individuals is more effective than a gigantic soviet style unified state with its monumental architecture and ability to do huge things very quickly (or so the world believed in 1962).

The art... overall it's pretty awful. But a LOT of that is the figure work. There's some pretty cool stuff in the depiction of the destruction of the planet. But DAMN...the figure work, especially The Thing is awful.


Are we reading the same comic? I can see the argument against Sue (though I would defend her: fashions change), but the sci-fi landscapes, huge range of scenes, and Ben in particular, I find particularly impressive. I first read this issue in a large format (UK Marvel Annual 1973) so I suppose I was lucky to see it at close to the size and paper stock that it was drawn om. But the thrill of the sky chase (and details like strapping in first), and the descent into the alien city, and the final planetary upheavals... unforgettable. I suppose that's the point of art, everyone sees something different.

Did Reed use wide-spread Pym particles to make the reducing gas?


For reasons I won't go into here, I like to see the FF as a single self contained story. Shrinking is a major sub-plot over the years, and it all begins here. the Ovoids had a shrinking ray, and that led to Doom's advanced armor (allowing him to pack his previously ordinary armor with all kinds of devices). Shrinking is the key to entering subatomic and all its technological marvels, and the physics of shrinking is also the key to understanding how unstable molecules work and how they led to the other great invention, the subspace portal. I've been tracing those developments over the last few months and it's amazingly consistent. None of this is random, it all fits together, even though Stan and jack probably didn't realize it at the time.

A personal favorite

On a personal note, this is one of my all time favorite issues. I first read it as a child in a large sized hard backed black and white reprint on substantial paper (the UK Marvel annual 1972?) and it introduced me to the FF. Some of the parts I loved then, and still love now:

The scale of the locations: taking in New York, Washington, the skies above, and a distant planet.
The scale of the story: the end of a world!
The educational value: nothing explains the scale of the universe better than that, as noted at the end, even an advanced race is unlikely to bump into another one (Earth seems to be an exception)
The realism and excitement strapping in before testing the newest plane
The idea that more advanced beings are watching us
The idea that these beings are so advanced that they can control the minds of the entire planet if they wish.
The idea that, despite their power, there is no hatred: they give the team one of their only two space craft.
The moral tale - the king's greed killed him. I love that picture of clinging to the canister while the rocket leaves.!
The twist in the end - he died for an empty dream
The city image, like something from Frank Hampson
The concept of anti gravity,and all that it entails (solving Einstein's space and time limits)
How heroes are not always loved
Etc., etc.
I wonder if this issue suffers from the Star Wars problem? If you've never seen anything like it, and see it in the cinema, Star Wars was one of the greatest movies ever. But if you've seen a ton of sci fi movies and then rent Star Wars it on DVD, it can be disappointing. I was lucky to read FF7 in large format, black and white on thick paper, before I had seen any of the sci-fi movies it references. But of you come to it from hundreds of sci fi comics and B movies I suppose the experience is different. But in my view we should not blame an idea just because it's often copied. That generally means it's a good idea, not a bad one. For me, I will always remember my first Star Wars. And I will always remember the sense of awe when I closed this story and contemplated the vastness of the universe and how gravity rays might work. True, I was six years old at the time, but my admiration for this tale has only grown in the years since.

Other points to note
Nova heat:


This has the first reference to Johnny's nova heat.

Ben's history:


"The letters page gives us a little bit of background on the Thing, explicitly stating for the first time that he was a jet pilot, 'hot-tempered but good-natured, always ready for a laugh or a challenge'. - Nathan Mahney

The flying bathtub:


"It also has a comparison of the Fantasti-car to a bathtub, the first of many such letters that will shortly result in the vehicle getting a redesign." (ibid)
Reed's obsession
Reed is working on rocket fuel. His rocket failed in issue 1, it caused him great frustration in issue 2, and now he's working on it again. In issue 13 he will find the perfect fuel and finally reach the moon.
Drugs
Reed's obsession is like a drug: note how the rocket fuel tubes like like drug paraphernalia. For an even clearer example see also FF76
Priorities
The story shows more interest in their social feelings (the first part of the story) than life on another planet. Good science fiction is always about the present.
it's all about relationships

Black light


The classic anti-gravity image was used as a "Black light" poster in later years. I love that image!





The last frame


I love that last frame - that really hit me as a child. That single frame is a big part of why I love the FF. It's mind expanding! The universe is so huge! Mind bogglingly huge!



To illustrate the scale, here is a tiny section of sky as viewed through the Hubble space telescope. Even such a tiny square is full of vast, apparently endless galaxies and even vaster areas of empty space in between.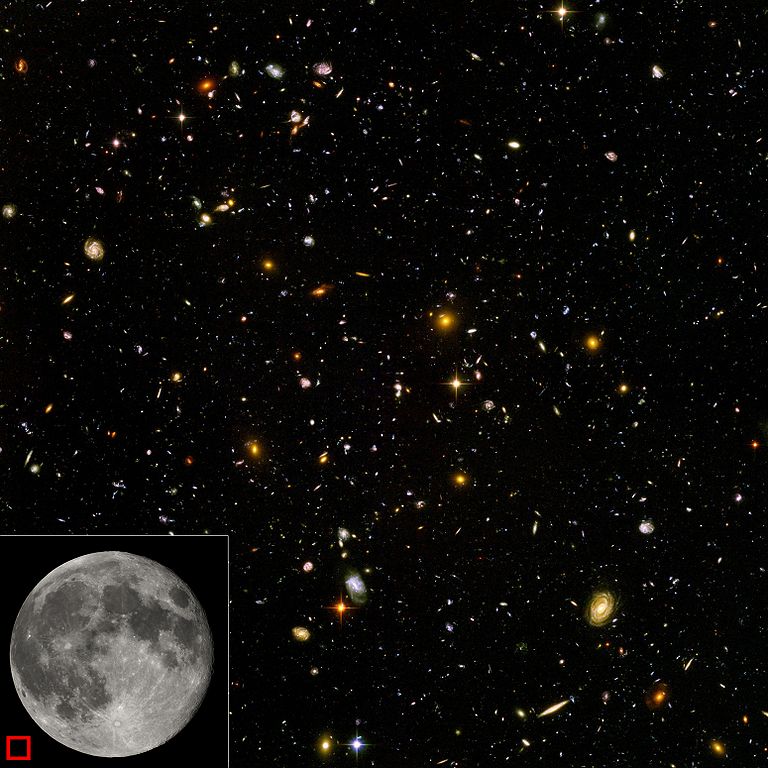 8

Issue 8: Alicia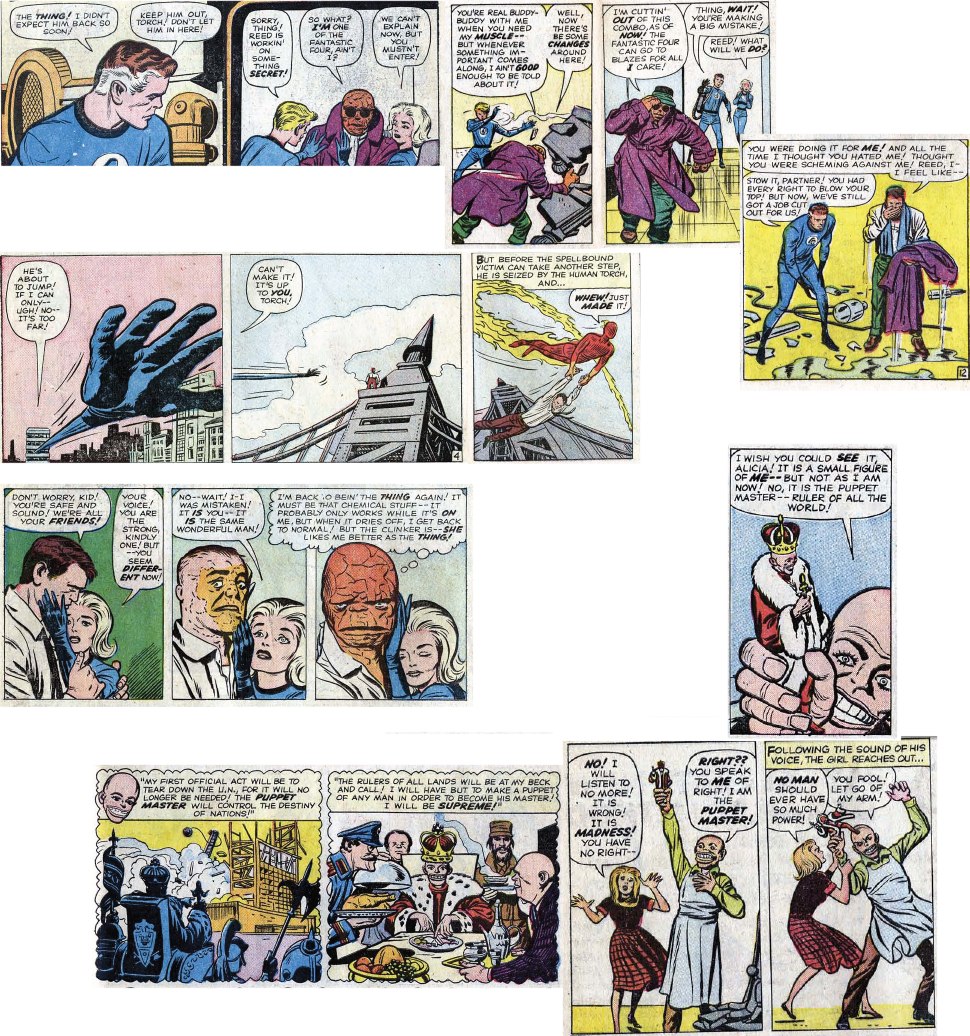 As the long term story develops, each character's core conflict will eventually be embodied in a person:
Reed's need for absolute control is embodied in his nemesis, Doom.
Johnny's need to learn responsibility will be embodied in Crystal (he will lose her because of his immaturity)
Sue's need to be noticed will be embodied in Franklin: will Reed notice his own son?
And here in the landmark issue 8, Ben's self-doubt is embodied in Alicia: he can never be human because he fears that she won't love him.
This is the fourth issue in a row with the word "captives" or "prisoners" in the title. (Thanks to The Marvelous Zone for pointing this out, I think). And they were physically captives in issues 1 and 2.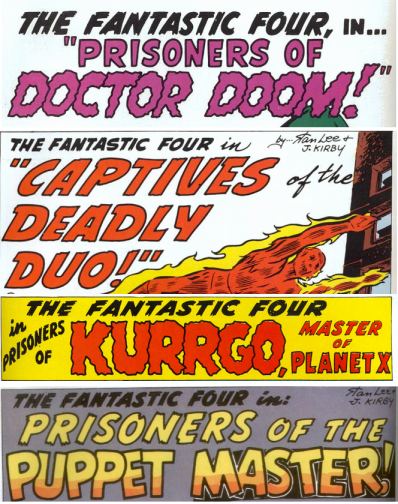 The first year is a very dark time (see the comments on alienation in the notes to issue 2). Each member of the team is defined by feeling trapped:

Reed is trapped by duty (see issue 1: he prays that this is the last time)
Sue is too (see issues 1 etc.)
Ben is trapped in his rocky form
Johnny is trapped in his junior role: he wants to leave and be a man, but duty always calls him back.

This issue of course has the core themes again:
Reluctance:

Ben does not want to be the Thing, but feels he has no choice.

Confidence:

Ben believes that he has to be ugly in order to be accepted.

Equality:

Reed treats Ben like a child (as if Ben cannot cope with the truth). This is unintentional: he genuinely cares and does try to be humble (e.g. saying Ben was right to be angry, and that Johnny can do what he cannot). Meanwhile, Alicia is the real hero. Note the equal rights message: Alicia is not shown with the stereotyped cane and hesitancy, she can function normally, even passing for Sue.

The American dream:

The recurring motif of monarchs (and would-be monarchs) who challenge the American dream. In contrast, Alicia's humility lets her marry the handsome prince (Ben).
Ben is becoming a little more normal looking, but Reed keeps him feeling ugly. Ironically, Reed's constant attempts to change Ben carry the subliminal message "your ugliness is so horrific that the world's greatest scientist has to drop everything to fix you." He is not trying to cure Ben's strength, just his ugliness. true, Ben was ugly in Act 1, but he soon evolved into a lovable teddy bear look: yet Reed and Johnny make him think he is still ugly. Note that Johnny's insults and pranks decline as he grows up, and by Act 4 Johnny is an adult. (But Johnny de-ages in the Franklinverse.)
Objections
Why Alicia?




Why does the Puppet Master need Alicia when he already has Sue in his power and can just control her?
Because his purpose is to see what he can do. He already knows he can control people, now he has the sudden idea, "maybe I can do life size disguises as well?" Then he returns to his experiments, next testing the clay on an authority figure.



Everything he does in this issue is testing his abilities for the first time, making it up as he goes along. Can he control a person? Yes. Then he has another idea and tries it. His goal is merely to experiment.


The prison:


Why did the puppet master bother with a prison? Nathan Mahney argues that it's unnecessary. But again,the story makes clear that he is merely experimenting.

The clay


How does the radioactive clay work? See the pages on superscience and technology for general principles for all powers, including action at a distance. The puppet master is just experimenting, indicating that he only just got his power. Occam's razor suggests that his power is related to the alien mind altering device in the previous issue. There is reason to suspect that the robot left some technology behind:

The robot's rays only worked on a single city, yet he said nowhere in the world would be safe. Did he have multiple devices (perhaps needed due to the curvature of the Earth), or would he simply crank up the power from one device? One device would be a single point of failure that Reed could eventually defeat. Multiple devices would solve the problem. By giving the FF the saucer it is clear that the aliens don't mind leaving high tech devices behind.


How does the clay work?


Consider the three technologies seen in FF7: advanced travel (see the mechanical horse), mind altering, and shrinking. To shrink, mass is placed in some separate dimension. Since it it placed in proportion to the body in this dimension it is probably a full size model of the now tiny person, and can be called back as needed (this is how Ant Man shrinks). The technologies may be closely related. Note that the robot apparently had a giant TV screen that could shrink to fit. Shrinking and communication may be standard technologies on planet X.


Where did he get the power?


It is clear that the Puppet Master only just got the ability to control minds, Before that he was able to make extremely accurate details of buildings. So he spends his time closely observing architecture. If the robot sent tiny broadcasting devices around the world they would be hidden somewhere, and the Puppet Master would be the first person to find them. There may be an even simpler explanation: the tiny devices needed navigation. One of them may have confused the Puppet Master's model building with the real thing.


The robot and flying horse:


Where did the robot and flying horse come from? This is more evidence that the clay is related to the previous issue. If the robot left behind multiple broadcast devices then he would need some way to quickly send them round the world. No doubt some highly advanced transport mechanism was built in. The Puppet Master's skill is in making models, not high technology.

How could the Puppet Master control high technology?


As technology advances it becomes easier and easier to use, so planet X technology would be

very

easy to use. Usually technology is too dangerous for regular people (it's designed for people with different skills and often different bodies), so anything large scale could explode and kill people. But a tiny transport device with built in mind influencing device may be low risk.


Inside knowledge:


How does the puppet master know of the Mole Man and Skrulls? He is experimenting with controlling minds so he no doubt began on a small scale: confusing people enough to gain information, Even stage illusionists do this: they use misdirection to gain information before using it in more impressive tricks.

Naivety

?
How does Alicia not notice that her stepfather is evil? Because he isn't yet. This is just the start of his crime experiments. Plus she has literally not been outside for a long time, and even then only under close control.

But what about the Wundagore theory?


In other comics, the Puppet Mater later says that he has had the radioactive clay for years, and it was even suggested that the clay was magical, powered by the Elder God Chthon from his prison near the High Evolutionary's old base at Mt Wundagore. Can we rely on that? Probably not. Naturally the Puppet Master would wish to distract people from learning how his clay really worked in case they used the information against him.

1962 cultural references

"The bridge from which the Puppet Master's victim throws himself is most probably the Queensboro Bridge, given its proximity to the 42nd Street location of the Baxter Building. Comparing a photo of the bridge to the one in the comic shows that it's a pretty good visual match."

- Nathan Mahney

"Included in the Puppet Master's puppet collection are a number of the world leaders of the time. We see a young Queen Elizabeth II (monarch of the United Kingdom), Mao Zedong (leader of the People's Republic of China), and Fidel Castro (at that time the Prime Minister of Cuba). There are three other figures shown that I am unable to identify. The Puppet Master fantasizes about being waited on by various world leaders of the time. The aforementioned Fidel Castro and Mao Zedong are shown here. Also shown are Nikita Khrushchev (then leader of the USSR) and one more fellow that I can't yet identify."

- Mahney
"Jack Kirby chose to show the Puppet Master as resembling a puppet himself, most notably Howdy Doody of TV fame." - "til the last hemlock dies"

Other points to note:
Ben's tragedy, and Sue is not perfect!


In this site I tend to make Reed sound Bad and Sue sound perfect. Sue is human too. This issue shows her at her worst. She doesn't realize how much Ben is hurting. Ben loves her, and has lost her, and it's tearing him up inside. But she doesn't realize, she doesn't see how much he is hurting: she's too busy thinking about Reed and Namor. Note how she doesn't even notice when Ben is insulted, but as soon as

she

is insulted she reacts.



Real power:


As with Sue, Alicia's power comes from her humility and understanding, not from violence.

Doppelgangers


The motif of doppelgangers is here again, last seen with the Skrulls, and next seen when Doom returns.

Reed


The puppet master is another mirror to Reed: he controls Ben, and tries to control everything but is ultimately weaker than the "weak" female. In Act 5 he finally decides to do what is best for his family, and then Reed does too.

Sales figures




"From my general experience in my years as a dealer of collectible comics, it is far and away the single most common issue of the first ten issues of the title. [...] just about every serious dealer of back issue comics seems to have at least one copy in stock. [...] The bottom line is that these issues sold more than the issues immediately before and after and thus survived in greater amounts. Was it because more copies were distributed? Was it because there was something more appealing in the cover or in the story inside the book? I have no idea."

- "til the last hemlock dies"
The previous issue was the first monthly issue (before that it was bi-monthly): possibly the production simply ramped up at this point?

Pinups


If you read this in the original comic or a faithful reprint (such as the DVD) the chapters are separated by a pinup. This breaks it up and gives it a different feel. Thanks to the "Wait-What" podcast for noticing this and many other insights.

The most important Marvel comic ever?
Overview
I have a theory that FF 8 might be the most important Marvel comic ever. Because, if my detective work is correct (a big "if"!), Fantastic Four issue 1 was not the first modern "Marvel Comic" as we know them today. The first modern Marvel was FF issue 8. This issue created Marvel Comics as we know them.

What defines Marvel Comics?
Modern Marvel, and its imitators, are defined by three elements:
Superheroes.
Everyday problems, like money problems or inability to get a girlfriend.

Crossover continuity. Making a single, enormous story that expands forever.
Contrast this with previous comics
Superheroes, yes.
Wealthy and popular (Superman, Batman, etc)

Stories that are over in eight pages. When two characters meet it is not remembered.
Note that none of this actually makes any sense:
The powers defy the laws of physics or are far beyond current science.
Real superheroes would be in demand from multiple employers and would have legions of fans. Their existence would also change the world beyond recognition.
Real stories would have consequences (not over in eight pages). Real crossovers would remove the drama: whenever a danger threatens there are thousands of other superheroes who can take it on.

Contrast this with Kirby's solo work:

Kirby's super beings are either humans at the limit of normal abilities (Captain America) or advanced races (with advanced understanding of physics) who are just visiting Earth (e.g. Thor). When Kirby is contractually required to write superpowers they do not interest him: the powers are not important to the outcome of the story (as illustrated by the first year of the Fantastic Four).
Kirby's heroes did not worry about money problems, or girlfriends. They worried about the fate of the world!
Kirby's stories were not connected to the rest of the Marvel or DC universe unless the editors insisted on it. But note that Kirbys stories had much greater continuity: characters changed forever, and events moved forwards. Stan lee's stories only had "the illusion of change".

Here I will argue that the first year of the FF was a Kirby book. Issues 1-8 were classic Kirby (plus Stan's dialog). Issue 8 is where Stan Lee told Kirby to do things the Stan Lee way instead. Issues 9-11 were a transition, and issue 12 (the Thing versus the Hulk) was full on modern Marvel.

Warning: this is a simplification!!!!!
In what follows I talk as if Stan and Jack were in some mighty conflict. In reality they cooperated most of the time. They both knew that they had to sell comics and business requires compromise. Even when Jack had the most freedom. those stories were filtered through Stan's dialog. And even when Stan changed the story beyond recognition (e.g. FF 67) you can still see Jack's intentions by removing the dialog and watching the flow of the art. Here I simplify, I focus on the differences, so we can see what each man was trying to do.
I also talk as if Jack had a clear plan. He did, in the sense that the comics he most cared about betray the same theme: asking "what's out there?" (in space, etc.) and finding it is very dangerous indeed. This is the same theme in Thor, New Gods, Eternals, Captain Victory, etc. Jack did not have a written plan of course: like any explorer, he had to adapt to where he found himself. He had to constantly adapt the stories to Stan's requirements, and to fit with Stan's dialog on previous issues. And on other comics he sometimes had to do a rush job just to pay the bills (Strange Tales for example)

Why issue 8 is different
Issue 8 is historically important for many reasons:

It is the first monthly issue, indicating that it was a sales success. (Back in the day reliable sales figures could take months. They had hints of success before now, but by now they were certain.)
It has the most obvious changes. Kirby wanted one thing, and Stan wanted something else.
It is the only issue, apart from issue 1, where we know that Stan typed up instructions for Jack. This is consistent with Stan putting his foot down to change the direction of the series.

it is the first issue with distinctive Stan Lee input. There are two elements to any Marvel comic that are distinctively Stan: the "weak woman" trope and the "emotional death at the end" trope. FF 8 has both, and is the first to have either. Remember that this is a simplification: Stan added his fingerprints to previous issues as well but not to this degree.
It marks the last issue before the tone changed. For the first year the Fantastic Four was dark: Ben wanted to kill Reed, and most people considered the FF to be menaces to society. Then in issue 9 the team become beloved celebrities, a happy family that's closer to the old DC mode.

It marks the last issue where the super powers are unnecessary. Issues 1-8 could easily be adapted for non-super powered beings, but from issue 9 their powers become central to the plot.

Now let's look at those changes, the evidence for Stan and Jack pulling in opposite directions.

Evidence of changes
The rest of this argument relies on the "who does what" page. Remember that Jack Kirby plotted the stories, and Stan then accepted or changed them. Here are some apparent changes to issue 8 (most are problems that I mentioned in the main review).

Why does the Puppet Master need Alicia when he already has Sue in his power and can just control her?
How did he just happen to have gas and gas masks handy, and spot Sue so easily?

Why did the puppet master bother with a prison?

How can radioactive clay do all that?
Where does the clay come from?

Where does the giant robot suddenly come from?

Where does the flying horse come from?
How does the puppet master know about the Mole Man and Skrulls?

How does Alicia not notice that her stepfather is evil?
Why does she immediately ask where she is when impersonating Sue? It's not much of a plan of she immediately blabs!

How does she know to grab the puppet the Puppet Master is holding if she is blind?

Why does she cover her eyes at the end if she is blind anyway?

And finally, why does the Puppet Master look so alien? Every other Kirby character looks like a normal human... except for the aliens.

The dialog tries to explain some of these things. In my main review I try to thjink of satisfying answers to the rest. But if we remove Stan's dialog then the problems disappear. The story then makes more sense:

It looks like the Puppet Master's plan was to replace Sue. Then he can control the FF, just as the prisoners help him to control the world.

He has no difficulty in seeing the invisible Sue. Why? His face indicates he is an alien: compare Namor's only semi-human face, or the large faces on Planet X or the Skrulls. The art from previous issues suggests that issues 1,2,3,6 and 7 were about space or aliens, and possibly 4 and 5 as well.

The story follows from issue 7. The last frame of FF 7 shows Reed coming home with a flying saucer, after exploring advanced laboratories, and the first frame of FF 8 shows him with new technology to play with. The technology of mind control, giant red robots and flying were seen in the previous issue as well.

Alicia does not notice anything wrong with her "step-father", and has the blank stare, because she is presumably a creation of the Puppet Master. He plans to use his superior alien technology to become king. If Kirby chose the name "Alicia" that strengthens the argument. Alicia means "nobility", indicating that she was named after the Puppet Master conceived his plan, and she was designed to control the FF.

Alicia twice reaches for the puppet and then covers her eyes to not see the death: she can see.
When Alicia is on the floor, reaching for the puppet, the oddly scratchy lines look alike that are added later. They are most unlike Kirby. Kirby drew his pictures in a cinematic way, with each frame being like the frame of a movie. and the action comes from our eyes moving between the frames. The smooth flow is broken if we stop mid stride for Alicia to wave her arm about.

Why does Alicia suddenly blow cover when Ben changes? She must see it. Her glazed look is because she is a creation and not human. As soon as Ben changes her programming breaks. She prefers the monstrous Ben because she is non-human too.

Note Alicia's similarity between Alicia and the Silver Surfer, another character Kirby intended to be a creation and not a regular human. Both saved the world by turning against their masters. Alicia softened the surfer's heart and when he later had problems he came to Alicia for help. Kirby returned to the idea of artificial life judging its creator with "Him". As for females created for nefarious purposes, note the parallels with the dolls in issue 1 of OMAC.



Evidence of changes in previous issues


Let's try the same approach with previous issues: find the problems, remove the dialog, and see if the art tells a different story.
In FF 1,


the Mole Man story was obviously intended for a non-super powered group, with the powers added later. Kirby's early FF stories do not rely on super powers at all: it is as though they are added. For details, see the discussion of the Justice League as inspiration for the Fantastic Four, and of Jack's version of events.


In FF 2,


many readers have mocked the idea of Reed tricking a more advanced race by using comic book clippings. And the whole idea that the Skrulls can build gigantic space ships and have advanced technology yet are stupid. The name Skrull suggests skull - mixing intelligence and death. But remove the dialog and we see a different story: Reed shows photos of the real monsters they encountered the previous issue, plus a warning that humans now have space travel and nuclear weapons (recall that Reed's listening device in FF 1 was the kind used for detecting nuclear tests: Reed has links with the nuclear program)

In FF3,


readers consider the hypnotist to be a weak character, and I agree. But remove the dialog and see what happens: issue 2 has 4 Skrulls, but only 3 are captured. The enemy in issue 3 can change shape and his other miracles can be explained using technology, with hypnotism just part of his arsenal. Reeds ability to persuade the Skrulls to be cows already implied hypnotism. And note how the spell is broken by a dazzling glare. Perhaps this is why the Mole Man uses anti-glare glasses, the opposite of what would be needed in the darkness under the ground.

In FF4,


somebody has hypnotized Namor to forget his past. The Miracle Man is the obvious candidate. What a threat! Skrulls can turn off your most powerful defender (Namor used to defend America, most of the time) and when he wakes up he is predisposed to attack! Even if we ignore that, we know this is continuous story because FF 4 follows immediately from FF 3. It also continues the theme of advanced beings ready to destroy us. Note that Atlantis was destroyed by the surface world (using bombs, as we learn in FF6). This links us with the explosion in FF1 and the threatened explosion in FF 2. This is all part of the same war against more advanced enemies.

In FF 5


we ramp up the danger: until now there was just the FF versus the non-humans. Now we have another human who is at least as smart and has more resources: if Earth has anything to offer in the fight against aliens, be it ancient knowledge or modern technology, this guy will get it. And worse, he can get it from across time. This also ramps up the theme of being controlled. In FF 1 the Mole Man controlled his monsters. In FF 2 the Skrulls controlled your reputation and in turn could be hypnotized. In FF 3 one of them controlled the FFs minds in return. In FF4 Namor was turned from greatest defender into greatest enemy. Now FF 5 begins with Doom holding models of the FF as pawns, and using them as his servants. By the way, note that Kirby's idea of control is sophisticated. At no time is anybody simply hypnotized and nothing else: the enemy either uses other methods (as here), or uses hypnotism as part of an arsenal of skills (FF 2, 3).

In FF 6


we finally get into space. Doom shows his mastery by getting Namor to serve his will.

In FF 7


we move further into space, we see a planet being destroyed, alien visitation, a battle of UFOs (ours versus theirs), a giant robot and of course mind control! The team get their own UFO, and we are starting to go Full Kirby. Critics have said the ending is problematic: it makes Reed into a jerk. But look at the amount of text crammed into a tiny space: he art clearly intended less text, and the serious look on Reed's face can only mean one thing: this was a warning about the next issue. He was probably saying something like "we will need this space ship for what is to come", or "Doom is still out there", or "how long before the Earth faces a threat like that, or worse?"


And so we come to FF 8:


an alien looking creature, using the alien technology from the previous issue (mind control, robot, flight) and ready to control not just the FF, but the world!

Why Stan made changes
Stan's changes make sense if your goal is selling this month's issue to this month's readers. And without that there is no business and nobody gets paid. Jack created epics that grow more impressive with time, but he had to put food on the table rent to pay. So Stan made simplified his epics for regular comic readers, who at the time probably averaged ten years old and wanted "good guy beats bad guy, says something funny, over in eight pages". For example:
Stan ensured that if readers missed the previous issue they did not feel lost. So the photos in issue 2 were changed to comic pages, shape changer in FF 3 is treated like a completely different character, and when Namor has lost his memory in FF 4 there is no discussion of why.

Stan ensured that stories were not too complex. So in FF 8 the alien with the artificial life form and the tech from the previous issue? Becomes a regular guy, his daughter, and just random technology he happens to own.
Stan ensured that stories felt familiar. So if Kirby was sending the team into space too much, with UFOs and alien duplicates, Stan said no.

Jack's plans were just too advanced. If Jack had complete control then the book would have been cancelled after a year or two, like New Gods, Eternals, or Captain Victory. The Marvel Universe, and Jack's part in it, would then never exist if not for Stan's changes.

Why issue 8 was the last straw
Issue 8 was too much for Stan:
If the Puppet Master was alien, and alien/synthetic Alicia was becoming part of the story, this means the story was going cosmic, leaving the readers' world behind.
The whole idea of strong women went against the culture of the time (though that culture was changing). Jack likes to create strong women, and (Stan preferred traditional role models). So the advanced alien, the "Alicia" ("noble one") was dialogued to be human, blind, and scared.
If the Puppet Master had a robot and flying tech from the previous issue, this was a reminder that the FF had a UFO and advanced tech. It becomes a complicated sci-fi story, which could put off readers who wanted easy to understand superhero stories. The company was in a bad way, and Stan had to focus on sales.

Incidentally, a similar thing happened in FF 67: Jack had been building the cosmic themes again since issue 44.
Instead of Atlanteans, the advanced peoples were Inhumans.

Instead of a meteor destroying an alien world it's a world eater destroying Earth.

Instead of Doom simply lots in space, this is Doom with cosmic power from outer space.
Instead of distant aliens, the Kree come to Earth.

Instead of the alien creation Alicia becoming a close friend of the team (and strong female character) it was the Inhuman Crystal.
Kirby was going cosmic again but this time fans were ready for it. Until once again he introduced artificial life that would judge the Earth. That was too far, and so Stan rewrote the dialog to be simply good guys versus bad guys. That was the final straw for Jack, but that's another story.


Can we be sure?
How do we be sure that issue 8 was such a worry to Stan? Because of the famous synopsis: Stan had to put his instructions in writing. He didn't normally do that, as we shall see, so jack's plans for this issue must have really bothered him. Even then, Jack still produced a story that Stan had to radically re-dialog (judging by the art). But Jack go t the message. Stan was the boss, and after that Jack had to tone it down. It is also worth noting that Stan's favorite FF issue (judging by how often he refers to it interviews) is the next one, FF 9. It is almost as if he can remember the sense of relief. Jack got the message. The exploding cosmic story was over, and the team were sent across America (and the world) to be penniless and then movie stars: just the kind of story Stan likes.


The famous "synopsis"
Each comic began with a meeting between Stan and Jack. For the first issue, Stan then wrote down minutes of what was discussed. Every good businessman keeps minutes of important meetings. It seems likely that minutes were not kept after that, except for issue 8. Here is the evidence:
No reason for them
Jack never read the minutes (according to both Jack and John Romita, who is very sympathetic to Stan's view). So there was no point in keeping them, unless Stan felt he might need to refer them himself later.

Even less reason for having them
These minutes or plans only covered the first third of a story. They should be seen as sales pitches or movie trailers, as general directions, not scripts. the general direction could be given over the phone if needed, so when there was agreement here was no need to write anything down.


Stan could not find any others
We only know of the issue 8 minutes because a fan asked for them years later. Yet Stan did not find a more recent example. A recent document should be easier to find: if Stan was providing typed instructions he should have one for every issue. One would be given to Jack, but since Stan did have issue 8, it suggests he kept carbon paper copies, as was common in business.

Occam's razor
We have plenty of examples of art pages from the Lee-Kirby FF, even from the early days. But only two synopses survive, despite their great interest to fans, even then.

To summarise so far: Jack wrote the stories, Stan changed them to be more commercial, and with issue 8 Jack had to be reigned in. And it worked:

After issue 8: a summary
Jack did as requested. he made the stories more like Stan wanted:
The first year of the FF had been dark: Ben seriously wanted to kill Reed. But within a few issues Ben was like a child or a teddy bear
The first year had public distrust the FF. After that the FF became beloved celebrities.
The first year saw Jack trying to make a single story. After that it was done it was just "villain of the month"
The first year saw the super powers as unimportant to the stories. After that they were often the focus of the story: e.g. The Thing versus the Hulk, or the team versus the Super Skrull.
The first year saw new races and a planet being destroyed. After that the stories were much smaller in scope, until Jack once again felt free to do things his way.
In summary, the original FF was the anti-Superman. The Superman story is about a benevolent alien who came to Earth to save us. But Jack had the opposite view. Aliens are seldom benevolent. We have to go out there if we are to survive. But after issue 8 Jack did things more Stan's way. The story was more like Superman: the threats come to us, and our beloved heroes dispatch them easily each issue.
More details

FF 9:

reflects Kirby's frustration by showing the team as bankrupt, leaving their home.


FF 10

:

mocks the dumbed down status quo by showing Stan and Jack in the comic, with no ideas. Then the greatest villain appears as a dumbed down weakling.


FF 11, story 1

:

shows how popular the FF are with children - a contrast with the first nine issues where the story tried to be darker and the team were feared. it portrays the FF like a 1950-s sitcom, with a patriarch, a weak woman, and ends with a birthday party.

FF 11, story 2

:

is about an advanced alien who comes to earth, is no real threat, and the team don't know what to do with him. This is the complete opposite of Jack's previous trajectory: the team were going into space to find deadly threats and solve them. But no more. the birthday party story even ends with the UFO being unused: the team have a functioning UFO and don't use it!


FF 12

:

shows the team, once in conflict with the military, are now best friends. it's like 1950s Superman comics again, all very establishment. And it's a cross over issue, because the whole purpose of the comic now is simply is to sell more comics.

FF 13:

removes the original tension. The team now reach the moon and beat the commies and are declared noble and good.


FF 14:

they return as national heroes

FF 15:

Reed shows how clever he is

FF 16:

another crossover
and so on.



FF 10 to 39:

the team were relatively conventional (considering what came before and after). They fought a villain-of-the-month and defeated him easily.

FF 39-43

:

Stan was becoming so busy with other comics, and FF sales were so secure, that Jack began to flex his muscles again. The team was defeated, and then battled itself. The stories became darker, and started to build to a multi part epic again.


FF 44-67:

With the arrival of Joe Sinnott Jack knew the comic had reached the big leagues (Joe previously did not work for Marvel as the pay rates were too low). This was also the moment when Stan was super busy with other comics, and also the moment when he asked Jack to come up with new hit ideas: so Jack came up with the Inhumans (and the character who would become the Black Panther) in a single weekend. Jack was in a position of strength, so he let himself loose again: the FF had cosmic threats and a single multi part epics. This became the golden age of Marvel comics.


FF 67:

Jack was frustrated at not being paid for his writing or his new characters. The last straw was when Stan changed FF 67. Jack gave up on Marvel.


FF 68-71:

Jack wrapped up his story. The Thinker is defeated, and his creation is sent into limbo of the negative zone (how symbolic). Reed and Sue announce their retirement.


FF 72-102:

Jack held back his best ideas. Issues no longer build in any particular direction, and plots are often copied from the TV.


FF 108:

Fittingly, Jack's final issue was completely torn apart (and held back, to compete with New Gods). Almost as if Stan was throwing a tantrum, or showing that he was boss. Nearly forty years later, when Jack's original story was published, Stan still had to change it: ditching the whole ancient god Janus theme from the splash page. Maybe Janus was a too much of a reminder that Jack was the intellectual of the two, the one at home in classic literature. Maybe Stan just did not get the reference, as he didn't in FF 15 and elsewhere. Or maybe it was too close to the similar Funky Flashman page: Jack's dig about the two faced god still hurt.

What had Jack been planning

?


Jack Kirby deliberately set out to make the FF a single continuous epic story. Here is the evidence:

Continuity


The FF differed from other comics by having continuity. Everyone agrees on that. The only question is, how much?


Later work


Kirby's later work (beginning just two years later) was all continuous epic stories. This began when Stan became too busy to micro-manage Kirbys work. This suggest that Kirby already wanted it that way.

Earlier work


Kirby had always been interested in epics and big themes. The very first issues of Captain America contained a backup story about Tuk, the ancient cave boy, and his quest for the island of the gods. Kirby's later heroes set off into space to find the gods, but it is the same story. Kirby was limited by the needs of his publisher, and had to create short stories, but it is clear where his heart lay.


Sky Masters


Kirby had a newspaper strip about space travel, Sky Masters. Like most such strips it was a continuous story, Newspaper strips were the gold standard for comics: every monthly artist dreamed of a syndicated strip where they could make big money and get real respect. (See the opening pages of American Comic Book Chronicles, 1961-1964 for details). This indicates his thinking at the time. The strip was cancelled (due to a legal dispute) in early 1961, and Jack immediately created the FF, a story about going into space. Indeed, sky mastery (becoming masters of space and of the beings you find there, or they will become masters of you) was a major theme of the first year of the FF.


The art


As noted earlier, Jack's art (without Stan's dialog) suggests that each issue built on the last. E.g. in FF 2 Reed showed photos of the Mole Man's monsters as a warning to the Skrulls; the shape changer in issue 3 was the fourth Skrull, etc.

Marvel superheroes really began in 1962, not 1961
This is Jack's answer when asked about the Fantastic Four:

PITTS: "I'd like to get your version of the famous tale of the creation of the Fantastic Four.

KIRBY: "My version is simple: I saved Marvel's ass. When I came up to Marvel, it was closing that same afternoon, Stan Lee had his head on the desk and was crying. It all looked very dramatic to me, but I needed the job. I was a guy with a wife and three kids and a house, and I wanted to keep it. And so, having no rapport with Martin Goodman, who was the publisher– Stan Lee was his cousin– I told Stan Lee that we could keep the place going. And I told him to try to tell Martin to keep it going, because we could possibly revive it.

"It was a bad time. It was a time when major publishers were folding and comics in general suffered bad press. It was a time when the public itself was being anti-comics-ized by people like Frederic Wertham and the movies. It was an unregulated industry. Finally, we did get a board to regulate the industry and put down rules; we formulated an atmosphere of legitimacy, but that had to take time and meanwhile, the comics were folding right and left.

"Of course, Marvel had magazines and didn't need comics, so they were ready to fold. They had other things to rely on. I began with doing monster stories and westerns; I did my best on the Rawhide Kid, and I did my best on the monster stories. This was in '59. Joe and I had our own publishing company which we dissolved; Joe went to work for one of the Rockefellers and I went back to Marvel. Comics was the only thing I knew, really, and could do well.

"They had nothing for me at that time except those particular strips, which were just going on momentum. So, I began to galvanize those strips and they began to sell a little better, but it wasn't enough to keep the company going. And it suddenly struck me that the thing that hadn't been done since the days I returned from the service was the superheroes. And so, I came up with Spider-Man. I got it from a strip called the Silver Spider. And I presented Spider-Man to Stan Lee and I presented the Hulk to Stanley. I did a story called "The Hulk"– a small feature, and it was quite different from the Hulk that we know. But I felt that the Hulk had possibilities, and I took this little character from the small feature and I transformed it into the Hulk that we know today." (source)
This is fascinating, and absolutely crucial. Most people think Jack was getting confused: he is asked about the Fantastic Four, then starts talking about Spider-Man and the Hulk. But he is not confused. Jack sees clearly. When people ask about the Fantastic Four they are really asking about the origin of the Marvel Universe, and they mean the origin of Marvel superheroes. The early Fantastic Four were not conceived or written as superheroes. That was just an awkward and unnecessary add on. The superhero era did not start until 1962. The Hulk came first, contemporary with FF 5, six months before the FF embraced their super powers. Spider-man came next, but was such a big hit that Kirby mentions him first. The Fantastic Four was never a superhero comic, and espcially not in the first year. it was a monster-sci-fi comic.

The superhero universe was not embraced until 1962, witht the Hulk and Spider-Man. Take away the Hulk's power and he is not the Hulk. Take away Spider-man's power and he is no longer Spider-Man, But take away the Fantastic Four's power and still the Fantastic Four. The Fantastic Four are not primarily a family of adventurers, not superheroes.
By the way, the Spider-Man claim is controversial. The evidence is here. But Jack is very clear: he only came up with the idea. Steve Ditko deserves all the credit for Spider-Man's subsequent success:
"The credit for developing Spider-Man goes to Steve Ditko; he wrote it and he drew it and he refined it. Steve Ditko is a thorough professional. And he an intellect. Personality wise, he's a bit withdrawn, but there are lots of people like that. But Steve Ditko, despite the fact that he doesn't disco – although he may now; I haven't seen him for a long time– Steve developed Spider-Man and made a salable item out of it. There are many others who take credit for it, but Steve Ditko, it was entirely in his hands." (ibid)
Year one versus later years
Back to the Fantastic Four. The same interviewer pushes Jack to talk about the origin of the Fantastic Four. It's not about power, it's not about characterisation, it's about alienation. But by the second year Kirby was adjusting the series due to meet reader feedack:
KIRBY: "The idea for the F.F. was my idea. My own anger against radiation. Radiation was the big subject at that time, because we still don't know what radiation can do to people. It can be beneficial, it can be very harmful. In the case of Ben Grimm, Ben Grimm was a college man, he was a World War II flyer. He was everything that was good in America. And radiation made a monster out of him – made an angry monster out of him, because of his own frustration.
"If you had to see yourself in the mirror, and the Thing looked back at you, you'd feel frustrated. Let's say you'd feel alienated from the rest of the species. Of course, radiation had the effect on all of the F.F.– the girl became invisible, Reed became very plastic. And of course, the Human Torch, which was created by Carl Burgos, was thrown in for good measure, to help the entertainment value.
"I began to evolve the F.F. I made the Thing a little pimply at first, and I felt that the pimples were a little ugly, so I changed him to a different pattern and that pattern became more popular, so I kept it that way and the Thing has been that way ever since. The element of truth in the Fantastic Four is the radiation – not the characters. And that's what people relate to, and that's what we all fight about today.

PITTS: "You think people relate more to the radiation aspect than to the characters?

KIRBY: "No… Now, they relate to the characters because time has passed and the characters are important." (ibid)
So in Kirby's mind the only significance in the origin story is radiation, This is hardly surprising, as without the radiation this is basically the Challengers of the Unknown origin. Kirby then talks about how the story was about alienation, but later adapted to suit reader tastes. And that is just what I have been trying to say on this page and the discussion of acts 1 and 2

Conclusion
And that, oh exhausted true believer, is my theory that Fantastic Four 8 is the real beginning of the Marvel Universe. The Marvel Universe did not explode onto the scene with FF 1. FF 1 was Jack finally doing his Challengers story, and putting his whole heart into it. Martin Goodman approved it because he wanted to try out superheroes. But super powers were not taken seriously until 1962, and that is when the Marvel Universe began.

Post script: we have not lost Jack's story
We can still see Jack's original stories. We can reconstruct them in four steps:
Remove Stan's writing and see what the images show.
Find as many marginal notes as we can in surviving pencils.
Refer to Jack's interviews to see how his mind worked.
Become familiar with all his work, especially his solo work, to see what he wants to do.
We did not "lose" Jack's work when Stan rewrote it. Yes, Stan pulled the stories in different directions and Jack had to react, but that kind of pulling is normal for artists. No creative process can exist in a vacuum. Rather than destroying Kirby's creativity, Stan helped him reach more people. What we have from Stan and Jack, then, if not the best of all possible worlds, is probably as close as we are ever likely to get.