---
1980: Act 4: family values? (from Carter to Reagan)



annual 15
FF219
220
221
222
223
224
225
226
227
228
229
230
231

Summary

1980 saw the transition from Jimmy Carter to Ronald Reagan. Carter had a global focus and was well liked overseas (I am British and a big fan of Carter). But at home his presidency was seen as one long malaise. So Ronald Reagan promised to refocus on America and family values.
This is reflected in the FF. The period is all about Franklin. Reed's triumph came to nothing, and it seems like he will finally put Franklin first, but will he?


A15

Annual 15: the resurrection of Doom

Doom's "mind was destroyed" in FF200.

Issue 200 was not just another story. It was the conclusion to the greatest FF saga of all.



It was the last Kirby issue (he did the cover), the first ever double sized monthly issue, the turning point between the bright Kirby-like stories (pre 200) and what followed. This was the central climax of the 28 year story. All of Doom's actions led to this point. All of Reed's actions led to this point. After this Reed said (twice, in FF201 and annual 13) that there was no more need for the Fantastic Four.

FF was clear: Doom was gone, he had failed. "His mind has been destroyed" His statue slowly crumbled over the years. The letters pages made clear: this was real. This was final.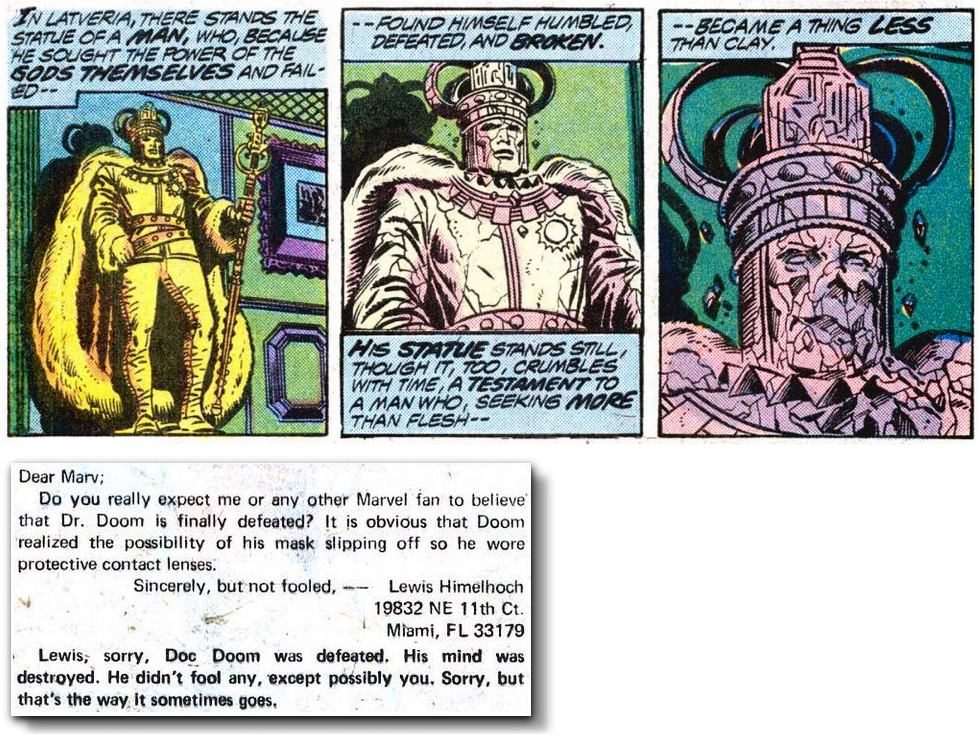 So how could Doom return? The answer is in the final panel: Doom became a thing less than clay.
To understand what this means we have to go back to the beginning, to the origin of Doom's powers.

The precursors of Doombots
Doom was always a genius, and he learned sorcery from his mother, and a love of machines from the changing world around him (this was the 1930s, when Eastern Europe was changing from an essentially medieval economy to the modern world). Simple sorcery that enabled him to possess and thereby animate inanimate objects, so he could make crude mechanical men (see his origin in annual 2). But after his first contact with the Fantastic Four (issue 5 and 6) he gained a major boost in his abilities.

As we learned when Doom returned in FF 10, Doom met an advanced race called Ovoids. They were experts at possessing mechanical bodies. They were probably attracted to Doom by his existing much cruder experience with the same principle. They taught him how to refine his art. They showed him how a person could occupy any number of mechanical bodies when needed. In effect, they showed him how to be "a thing less than clay." They introduced the idea of artificial clones: what would later be called Doombots.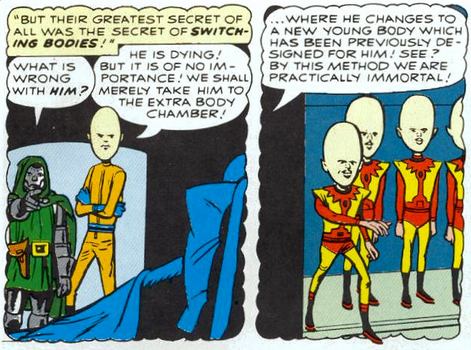 Doom's history between FF10 and FF200


Doom began as a mystic, obsessed with trying to rescue his mother's spirit from hell. But after meeting the Ovoids he focused more on science. Why? Because here was a way to solve the spirit problem: he could learn to control his own spirit regardless of its tabernacle of clay: he could beat Mephisto at his own game! Magic is just science that is so advanced that we cannot understand it, so we have to make deals with more advanced beings. If Doom understood that science then he would no longer need to make deals or admit that anybody was his superior (and he could avoid the risk of losing his soul as his mother did). Doom could learn how souls work and do it himself! This appealed to his need for control.

Since FF 10, Doom has concentrated on making better and better automated beings. He was helped by what he knew of demonic possession, plus whatever he obtained from the Ovoids, then using their shrinking ray, what he obtained form Subatomica, plus whatever he could gain from Reed and the Thinker. So he slowly improved each generation of robots:

Generation one, as a teenager, were mechanical men, probably possessed by demonic means.
Generation 2, the Thing robot, must have made use of miniaturization.

Generation 3 were the far more powerful robots that led to the FF's first visit to Latveria.

Generation 4 was Darkoth, the first combined human-robot cyborg.

Generation 5 was his Doomsman, a completely artificial organic being.
Generation 6 was his own clone, primed for cosmic power.

Generation 7 were the Doombots.

Generation 8 was to have been the artificial duplication of the Power Cosmic (see FF 257).

Throughout this, Doom relied on the expertise of Hauptman. Hauptman knew his darkest secrets of making things live.



Doom was as good as dead


Hauptman referred to his work as "resurrection": that is, the patient was as good as dead. His brain had gone, and his vital signs were very weak.



Yet within a moment of turning the switch, Doom was alert and acting at full power. This is nothing like nursing a sick, insane person back to health: this is more like rebooting a computer.




The first Doombots


The first actual Doombots appear very soon after annual 15. Annual 15 is cover dated to October 1980. The first recorded Doombot (the one singles out n FF158) was in X-men 145, dated May 1981, contemporary with FF 130. These Doombots are presumably the first test run as they make mistakes.



Proof that a Doombot IS Doom


Doombots are robots that:

are indistinguishable from Doom: even a mind reader cannot tel the difference.
believe themselves to be Doom,
So from a scientific and philosophical viewpoint,

they are Doom himself.


Or from a religious viewpoint, they

contain his spirit.


In every conceivable way,

a Doombot is Doom

: it has Doom's mind transferred into it.


Every Doombot is Doom.





Proof that Doom's mind was overwritten, not repaired


This first Doombot used the very weak body of Doom, and the remains of his mind. Rather than coax him back to health they re-wrote the software and used the armor to give power to the body (probably as an exoskeleton). We know this because:

FF 200 mattered. It was "the greatest FF saga of all". if Doom can simply recover then it destroys the story.
Doom's mind was rebooted far too quickly for it to be an organic repair. It was more like an Ovoid mind transfer
After this point many Doombots suddenly appear. Doom had suddenly perfected the technology. This is too much of a coincidence.

Why this matters


The key here is that Doom's mind did not come back through normal biological means. He did not slowly got better and fixed himself. A single human life is defined by one person's mind continuing from moment to moment: my brain in one second causes my brain in the nest second. there is biological continuity. No machines or magic are needed. That was how Doom lived until FF200, as a normal human. But in FF200 that continuity ended. The normal biological Doom came to an end with issue 200.

How can Doom be one person if there are many Doombots?


The message of the main story in annual 5 is that people are not who you think they are, and people can appear in two places at once. This is an everyday for anybody with a time machine, like Doom. In FF288 for example we see one Doom leave and another Doom enters immediately. FF288 is a very interesting case for wondering who is a Doombot and who is "real" - see the notes to that issue.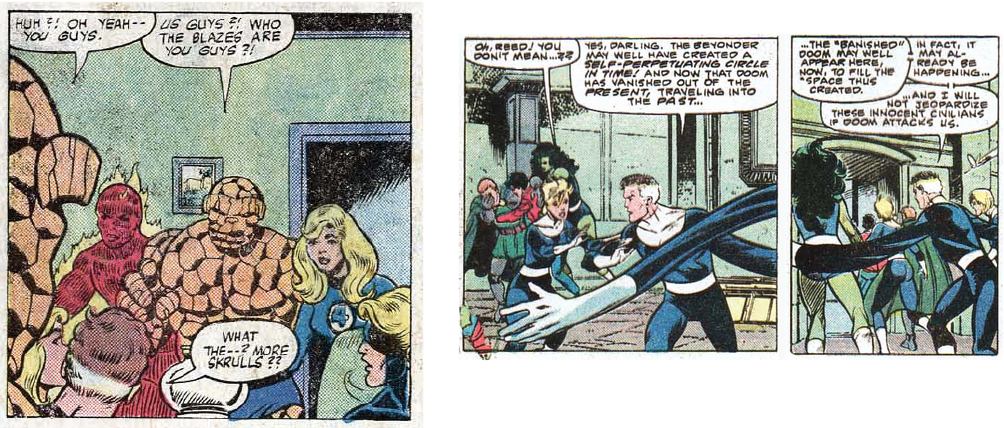 Having many Dooms is now normal. Doombots each believe themselves to be the real Doom, and pass every test: when alone they are Doom. But when they are together the "real" Doom is defined as whichever one has the strongest will.


All of this might seem weird to us, very hard to accept. But if you deal with multiple parallel realities and time machines, you just have to get used to it. When we get to the Franklinverse there will be parallel realities everywhere, and the "real" one is wherever you happen to be.
Years later, Al Ewing explained it in "Loki, Agent of Asgard" issue 6.

Note the reference to being a trickster: Loki is a trickster god. This particular Loki was a younger, less evil version of the original, who was still around: multiple Lokis, multiple Dooms. Thanks to the "good comic" blog for finding this.



Objection: if Doom can live through Doombots, why did he later need Kristoff?
Doom needed Kristoff for precisely the reason he needed his cloned son: to fix previous mistakes. If Doom fails then this proves a flaw. Doom cannot have flaws! Solution: create another Doom from an earlier version. Like a computer program being repaired to an earlier version. Doom could use any suitable body, but not the flawed Doombots. He had seen enough of Kristof to decide that the child was suitable. Of course, when Doom did in fact survive that proved that Kristoff was not needed. But then there were two primary, top level Dooms, each convinced he was the original.


The bottom line is that from here on, Doom is not a being of clay. Doom is a spirit, an ideal. He is literally the embodiment of ultimate will. Like the Ovoids, he lives through multiple bodies, and the "true" Doom is whichever Doom is the strongest. For more details, see FF 350, when one of the Dooms gets an upgrade and subdues the rest.



Religious parallels


Note the religious parallels: like Jesus in the tomb, Doom was wrapped in bandages, then the tomb was empty and he was resurrected, and lives on through any who share his spirit. Doom sees himself as the savior of his kingdom, Latveria. His enemies of course see him as a kind of Antichrist.

Now for the rest of the issue.


Sue's reforms work. But Reed's triumph unravels
This pivotal annual has two stories, two contrasting historic turning points:

Story 1: Reed's happiness on the surface: For most of Act 4 Reed has been in decline. We very seldom see him happy. But in FF194 Sue planned to reform the team. We see in FF201-231 that she and Reed play a more equal role: we often see them talk about the family and take time away from work. Reed is often in his civilian clothes and seems more relaxed. Sue's methods seem to work: in this annual we see Reed at his best, happy at last.

Story 2: then underlying problems have not been solved. You cannot defeat Doom by direct attack,l and you cannot solve the world's problems by being a superhero. This is where the superficial triumph of FF200 unravels.
This is where Doom comes back. Reed's greatest triumph (FF200) unravels. We see that you cannot have lasting peace through force. And how does Doom come back? Because of his genius? Because of his iron will? No. Because of the love of his people. This is the message of the Great American Novel: that the people matter most.
The main story, though of secondary importance, shows that the other three can function as a team without Reed. The time machine motif hints that this may be normal in the future.
The Iranian revolution

This annual is from 1980, an important time for the Great American Novel: it's the aftermath of the Iranian revolution of 1979. The western imposed Shah was deposed and there was nothing America could do. The return of Dr Doom reflects this.

Reed's comment in the first story reflects the contemporary energy crisis: "it's a godsend for an energy depleted future." This also reflects fears over oil supplies from Iran.
Einstein and peace are mentioned several times. In the 1960s, nuclear power was seen as basically good, if full of unknown dangers. Now it is 1980, and nuclear power is seen as an energy source tainted by its ability to create bombs.
Cultural parallels
The portals to distant galaxies are staples of science fiction, and foreshadow the popular Stargate franchise (from 1994, though a novel called "Stargate" was published in the mid 1980s.)
In the back up story, note the obvious Dracula imagery of the Gypsy cart rescuing the comatose master.

Reed's scientific ability
This issue is the one that reveals the true extent of Reed's scientific ability. He's been working on an energy transmitter for months, as he measures time - i.e. since around FF200? He finally duplicates the power ray, something the Skrulls used in FF18. He accidentally creates a matter transporter, a feature of the energy beam that he already used in FF37 (see the discussion of star drives).

In the past he simply re-purposed alien technology without improving it. But now, after several months, he's managed a genuine improvement, and is extremely proud of himself. This also attracts the interest of the Skrulls. It is also implied that Reed has never won a Nobel prize, and it's stated that he does not understand faster than light travel, despite engineering a working hyperspace gateway (the negative zone entrance) in FF51.
Other points to note
Thoughts on Doug Moench's run
This issue begins Doug Moench's single year on the title (FF annual 15, FF119 and FF122-131).


This is, in my opinion, the most under-rated run ever. It is probably the most information-dense, hardest to follow run of all, so it is usually dismissed without any effort to understand it. It contrasts with John Byrne's run that follows: Byrne's is perhaps the easiest to follow of all. So it is common for fans to treat Byrne as the high point and Moench as the low point. But among fans who study comics in depth, Moench's run is unsurpassed:

"I think Moench's run is one of the high points of the series." So says "Nood" (Jeff Christiansen), continuity nut, creator of the Marvel Universe Appendix, and not just a fan: a paid writer on various Marvel projects.

Even Moench himself was not satisfied with his run, perhaps because of negative fan reaction. It follows his highly praised Moon Knight run with the same artist, where they rejected simple super villain battles in favor of complexity and subtlety. It shows. Personally I also love Bill Sienkiewicz' work on the title. As with the plots, it takes a little more effort to parse, but it's worth it. If you follow the 28 year story then every Moench issue is pure gold.

It's all about Franklin

Moench's run is all about Franklin, the core of the 28 year story. Or rather, it's all about the Sue-Reed-Franklin triangle that I see as the core of the FF. Every issue has a sequence with Franklin. Every issue moves the Reed-Sue relationship forward:

FF219: Reed is under great stress, and we are reminded that Sue is absolutely committed to him (and, to illustrate this, she shows that Namor is ancient history)
(FF220-1 is by Byrne)
FF222-3: Franklin's powers re-emerge and he is possessed. We have never seen Sue more upset, even in Byrne's run, and that's saying something.
FF224-4: while reading to Franklin we see Sue lose control of her powers. We also see her sense of duty (in her relationship with Johnny) and her despairing "why is it always like this?" We see her say goodbye to Franklin, and later see him back at the Baxter building. This foreshadows and contrasts the more despairing version in 229-31.
FF226: This is about how Reed ignores Franklin, but when he remembers Franklin he wins. This for me is the core of the FF, this is the first 30 years of the FF in a nutshell. (For the first 7 years substitute "Sue" for "Franklin")
FF227: the Brain Parasites - more about the Reed-Sue-Franklin relationship. Reed observes that they have been protecting Franklin while really Franklin was protecting them. YES, REED, THIS IS THE WHOLE POINT!
FF228: Ego-Spawn, the manifestation of Franklin's insecurities. This is the first acknowledgment that the kid has serious psychological problems. Hardly surprising when his family is always moments from death, and his Dad ignores him and dumps him at every opportunity (which he sees as unavoidable, but had he put Franklin first years before then everything would be different).
FF229-231: it all reaches a climax.
Moench's run is all about Reed, Sue and Franklin. He also has some important stuff to say about Alicia, but that's another story (see attached scan from FF 226). But it's all understated: these are people who live with duty and the constant threat of death, they control and suppress their emotions because they have to. So it's easy to miss the importance of what happens.

Criticisms of the Moench run. (source)
"Doug Moench's stagnant and predictable plots featured the likes of the Ebon Seeker, the Brain Parasites, Stygorr and the Samurai Destroyer. The team seemed like card board cutouts playing over orchestrated parts. Nothing new was happening; nothing really challenged who or what the Fantastic Four was. [...] John Byrne, no stranger to the Fantastic Four having penciled issues #208-218,220, and 221, decided it was time for a change."

"Stagnant" ?
Nothing could be further from the truth. As show in these reviews, every issue was a turning point. Moench's single year is the turning point in the whole 28 year story, and Byrne's memorable run is the result.

"Card board cutouts"?
Moench's run is the most layered of all. There are conflicting dimensions and undercurrents of subtle and intense emotion, seismic events beneath the surface, as I hope to show.

"Predictable" and "nothing new" ?
The characters mentioned are all new. The events are new.


Giant Japanese robots?
Brain parasites?
A villain who seeks his own death?
The team admits defeat?
A consistent focus on Franklin?
Agatha Harkness leaves and Franklin takes up permanent residence in the Baxter Building?
We see an entire superhero team retire?
We see Franklin's alter ego?
Sue enters the negative zone for the first time - along with the team and an entire city block?
Reed saves not just the world but the entire universe?

And all in a single year! Nothing like this had been done in the book before. (with the possible exception of the last one, but even that is arguable)

"John Byrne... decided it was time for a change" ? This is the most ironic claim of all. Byrne's "change" was to try to return the FF back to where they were in the 1960s: with old personalities, old villains and old events. But in the end the team evolved on its own despite his intentions, and all because Moench had made it so the FF could never go back again.

Byrne continued what Moench started
If we look at what Byrne added as "new", he simply continues what Moench began:

Sue is powerful? Nothing she did in Byrne's run compares to her toppling an entire city block in FF231
Sue no longer takes any nonsense? This began in Jack Kirby's run, but the final straw is FF229-231. While Byrne shows her as assertive, he does not show the reason, that happened in Moench's run.
Ben and Alicia's relationship moves forward? Alicia is still a bit-player in the first half of Byrne's run: she began to make regular appearances in Moench's run, and we can see the seeds there of what is to follow. Byrne only shows the surface )(she starts to like Johnny). Moench lets us infer the thinking behind this.
Johnny acts more like a teenager again This started in FF224.
In each case, Byrne's new changes are simply the result of changes that took place in Moench's run. The one exception is adding a new team member. But that had been done several times in the past (Crystal, Medusa, Power Man). Byrne liked to retread old themes, Moench was about real change.

219

Issue 219: The fall of Rome and the fall of Reed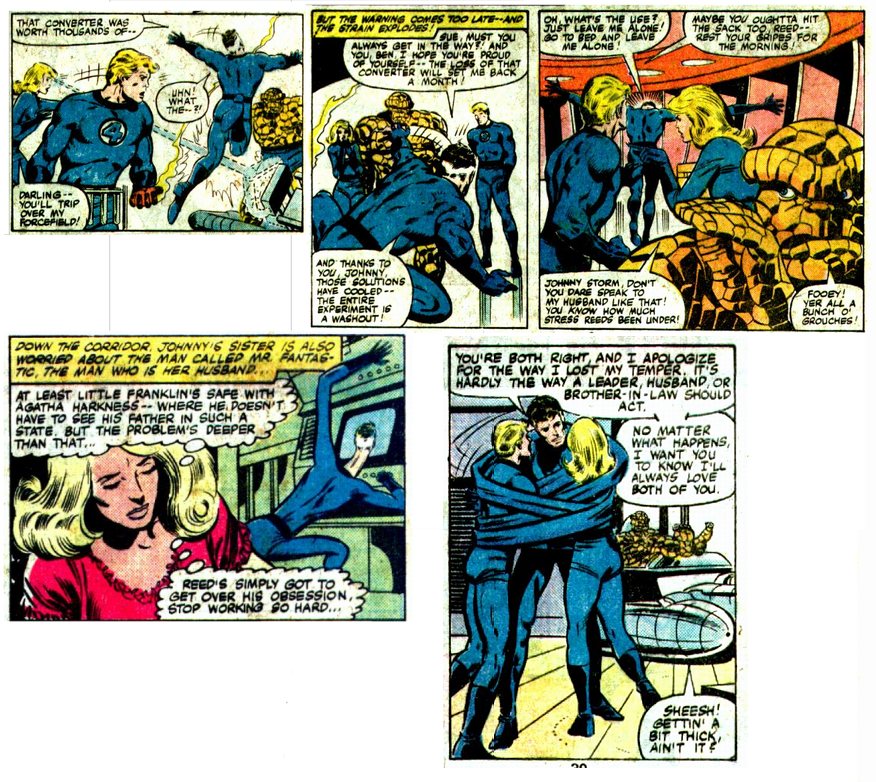 This issue is the first of Doug Moench's monthly run, Right away Moench focuses on the core issues: Reed's mental health and Sue's strength. It starts with Reed literally falling over, covers his mental fall, and compares it to the fall of Rome. In this issue:

Reed continues his obsessive work.


Annual 15 revealed that Reed was working on his projects "for months" - in other words, probably since FF200. At that point Reed felt the FF were no longer needed, and began to spend more time on his scientific hobbies.

Reed is failing


Reed's confidence was badly dented by being unable to reverse the Skrull aging ray. That event should have taught him that the others should lead the fighting and his role is as scientist. But he insists on being leader, and he can't handle the stress. On the surface, Reed's over work is solved by the end of the issue, but as Sue says "the problem's much deeper than that." As we saw in FF annual 15, Reed has been obsessively working since long before this.


Sue holds it all together.


Sue defends Reed in front of the others, and her emphasis on family (as in FF201) keeps the team together.

Sue is developing her own ideas.


Sue is inventing new and ingenious ways to use her forcefield: creating complex machines. All that Reed could ever think of was using it as a protective shield or like bullets. In this regard Sue is more creative than Reed.

The Namor love triangle is ancient history.


When the Great American novel ends, and the comic starts to feature a different team, the different Sue likes to flirt a tiny bit with Namor. But the original Sue moved past that stage many years ago.

Reed is not needed:




When Reed tries to stop the monster he just gets in the way: Ben has to tell him to unwrap himself so that he (Ben) can get a good shot at it. Ben's attack then makes the monster do even more damage, but that would not have happened if Ben was in charge he was the one to raise the alarm about the monster, so it's fair to assume that he wanted to attack it first. He would have attacked it on the sea front before it got too far into the city. But instead he followed Reed's lead and attacked the lesser monsters, allowing the big guy to escape. The bystanders are right: without the FF (specifically Reed), the monster would not be so far into the city.

Captain Barracuda is a foe of the Torch (from Strange Tales 120), and the Torch-Namor team is reminiscent of the golden age Torch and Namor stories. Everything about this story is saying that Ben and Johny could handle it alone: Ben would have whumped the monster more decisively (he had to hold back when in a built up area) and Johnny would have stopped the lesser monsters. As for Sue, her specialism is in making alliances with Namor. Then at the end it is Sue who retrieves the horn. Reed is simply surplus to requirements. He should be at home finding a way to understand his son.

The remainder of Moench's run will focus on where Reed's attention should focus: Franklin.

A rare focus on Sue
Sue is well named: "the invisible girl." People don't notice her. They don't realize her strengths or what she is doing. Probably she doesn't realize either, at least not consciously. Most of her work is intuitive and emotional: it's not not a conscious calculation. For example: she spends time with Franklin, supports Reed, and makes friendships. It's easy to dismiss these as weak, but her methods achieve far more than the boys: Franklin is their most powerful ally, Reed really needs her, and her friendships with the Atlanteans, Inhumans, Poppupians. etc., have saved the world more than once. But nobody recognizes what she does: she is an alien even to her own people. Namor, being half human and half Atlantean, is the only one who understands.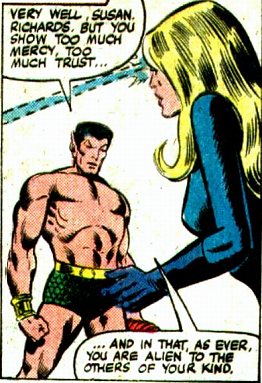 How Rome fell
The golden horn is the perfect name for a symbol of power over the seas. Historically, he who controlled the Golden Horn controlled the world. It is the name of the region at the end of the Mediterranean that controls access to Asia. It was chosen for the location of Byzantium, the capital of the Roman Empire from AD325 to the final fall of the Roman Empire (the fall of Constantinople) in 1492, which resulted in the spread of fleeing scholars, that kick started the renaissance. Rome declined and fell due to a petty love of money, as with pirates like Captain Barracuda. In contrast, Namor is "Roman" backwards, and his Atlantis with its monumental stone architecture is modeled after the golden age of Rome, before it declined.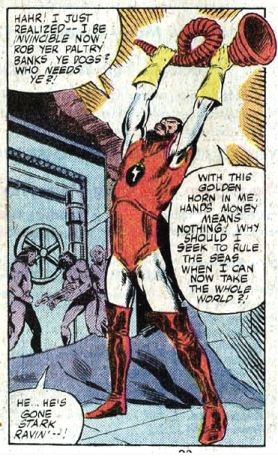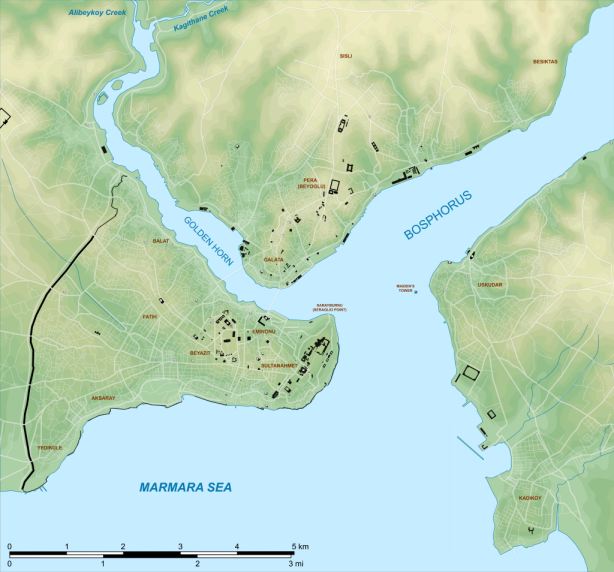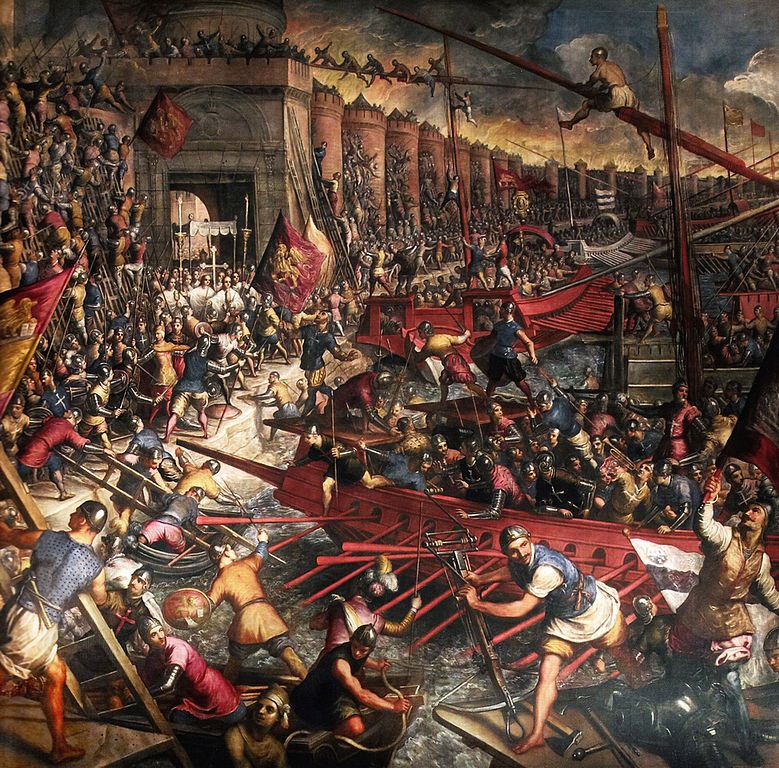 Criticisms

This issue has been criticized because Captain Barracuda is such a weak threat. But that's the whole point!

First, its a story about how Reed is often not needed. He should be at home with Franklin instead. Of course, that is not stated: Moench prefers to show, not tell. But this bigger story is clear if you consider the long term character developments.
Second, Barracuda is light relief: he's a pirate who speaks like a movie Long John Silver! With giant monsters! It's fun! It's to contrast with the relentlessly serious subplot.

Other points to note

220

221

Issue 220 and 221: the history of the world, 500,000 BC


For why this story and the year 500,000 BC matter to world history, see the notes to FF 244. But beyond that, this story is so heavily edited (see below for why) that there are very few things to say. So this review is short. It does however confirm some existing themes:

Johnny's love life
Johnny's comment in issue 220, "there's still only one thing I love more", is a reference to issue 1. His friend's response "what's her name?" reminds us that his love life is still going nowhere: at the age of 26 his love life is where it was at the age 15. Given his enormous potential this is desperately sad. So much repressed unhappiness beneath the smiles.


Ben loves Alicia
This may seem obvious, but is worth remembering, considering what happens in the FF270s.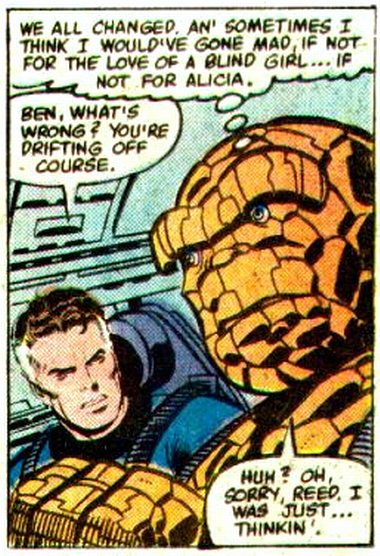 Reed's hidden stress


This issue also reminds of Reed's decline, a theme we will continue throughout Doug Moench's run.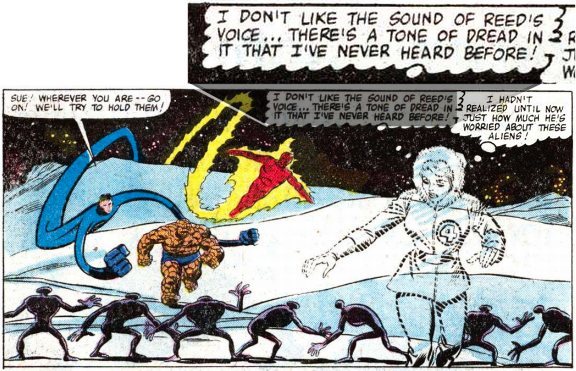 The Coca-Cola issues
"They're the two dullest issues of the FF ever published." (John Byrne, "Comics Creators on Fantastic Four" p.71)

This two part story was originally designed as a free give-away for the Coca-Cola company. John Byrne wrote it to be as safe and non-threatening as possible: it covers all the simple things: the team' origin, their powers, their relationships, etc. Coca-Cola finally rejected the story because they didn't like it when Ben hit the aliens. So it was shoe-horned into the regular FF title. The story may be interesting from the point of view of super-technology: why was Reed uniquely worried about this particular threat? The last frames also remind us that Reed routinely studies alien technology to get his ideas, but we knew that anyway.
Other points to note
The Day The Earth Stood Still


Ben's reference to "Klaatu barada nikto" is the phrase that was to activate the robot in The Day the Earth Stood Still.

Publication order


Why did we get one Moench issue then two John Byrne issues again? Those issues were intended for Coca-Cola, so were presumably written earlier. But this story was

"pushed forward in publication time a bit to make room for a stretch of Marvel Two-In-Ones where the Thing is not dating Alicia."

(source)
222

Issue 222: Sue has a nervous breakdown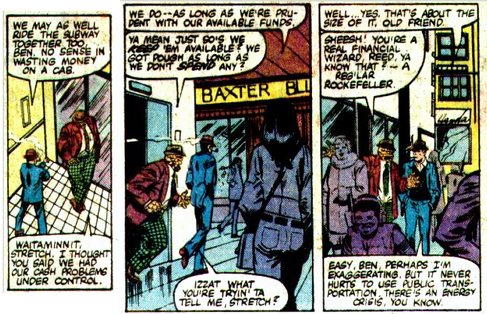 This is where things get bad. Really, really bad.

This is the third time that Franklin was attacked in just a few weeks, (the previous times were issue 216 and annual 14) and this is the worst ever. Reed and Sue have failed a their most important ask, repeatedly and totally. Sue panics and Reed despairs, because they have no idea what to do.
At around the same time they hear rumors that Doom is back: Reed's greatest triumph unraveled within a matter of months. This comes after Reed's cosmic fiasco and being unable to stop his own death - this is their lowest point.

This all happened because of Reed

Franklin has natural defensive powers, but Reed has done his best to suppress them, and to persuade Sue that suppressing those powers is a good thing.
Reed chose to visit New Salem in FF annual 14, and that link is probably what made Nicholas scratch sensitive to Franklin's power, which led to him escaping his prison.
The energy conduit came from the Negative Zone portal: the portal that Reed created,
Reed is Franklin's father, yet gives Franklin the minimum of attention. By now Franklin should have been an expert in controlling his power, but instead he is vulnerable and helpless.
Having put Franklin in the care of a witch, Reed made no effort to understand magic or the risks involved.
Note that Sue does her best to spend time with Franklin, but Reed is always busy, this time at the library.
The 100 issue cycle
Compare FF222-3 issue with issues FF122-3:
| | |
| --- | --- |
| FF222-3 | FF122-3 |
| Gabriel announces Reed's failure (by calling on Galactus) | Another Gabriel announces Reed's failure (by calling on Scratch) |
| Franklin's controller arrives, angry | Franklin's herald arrives, angry |
| Reed fails dramatically | Reed literally falls |
| Agatha finally fails and gives up | Agatha holds it all together |
For more about the 100 issue cycle see the notes to FF 217
Criticisms (source)

Sue goes to pieces
Why does Sue go to pieces? Because she realizes there is nothing she can do against magic. Worse, she must feel some guilt: she repeatedly told reed to pay more attention to their son, but when Reed did not, she let it slide. Now the chickens are coming home to roost.
Reed slaps Sue
This is proof that Reed has lost it. A cold calculating man does not slap people! This is the first of two times that Reed slaps Sue, and the other time is when Sue is more powerful than Reed and Reed cannot handle it. Some critics say this is an example of Reed's sexism, but he never did this in the 1960s, the period when he was allegedly the most sexist of all. he only does it with the modern writers, the ones who are supposed to show Sue empowered.

Scratch goes soft?
"

For a big, bad warlock intent on wresting control of New Salem away from his mother, Nicholas Scratch suddenly turned out to be unable to stomach the idea of actually hurting his mother.

" Not exactly. If you read his final words he is only trying to save his own skin, and using his mother as an excuse.
Other points to note

Real time continuity and patent law


In this issue Reed is worried about money. The cover date is 1980. But surely Reed make a lot of money from patents, right? In the notes to issue 9 I argued that Reed determined to make maximum use of alien technology, so his major patents probably date from then: late 1962. We can expect most of his early Skrull based patents to be taken out in 1963. US patents at the time (between 1836 and 1994) lasted for 17 years. So in 1980 Reed's first patents were beginning to expire, leading to a drop in income.


The stories evolve on their own.


Jef Willemsen observes:

"In his interview for Comics Creators on Fantastic Four, writer Doug Moench explained just why he wrote the Salem two parter. 'I don't think that was my idea. I think Salicrup (the FF editor at the time - JW) asked me to do that. He asked me to pick up the threads from some previous storyline and resolve this mystery about Franklin that had been left hanging by the previous writer. I think I called Marv (Wolfman -JW) and he told me he was going to tie it to Salem's Seven so I just followed his lead. It wasn't really to my taste. I didn't particularly like Salem's Seven.' So, barely three issues in, Moench was already being forced to incorporate and finish characters and story lines he didn't have any particular interest in."


This illustrates how the stories naturally evolve themselves, despite the intentions of the writer. When editorial interference is light, this results in better stories. The most obvious example is Stan Lee's influence on Jack Kirby's stories. But when editorial influence ignores continuity (unlike this example where it is to maintain continuity), the stories are destroyed, as we will see in Steve Englehart's run.

Lorrie and Dorrie.


Maybe the names are a coincidence, but Lorrie does seem to be another Dorrie: she wants the fun of having a lover (FF), but is not interested in real commitment (see FF231).

Beelzebub


The final frame says that Scratch's voice is like the buzzing of a fat fly. An odd choice of words? Flies have long been associated with demons, all the way back to the Biblical Beelzebub, where "lord of heaven" in Hebrew sounds like "lord of the flies."
223

Issue 223: they finally take responsibility for Franklin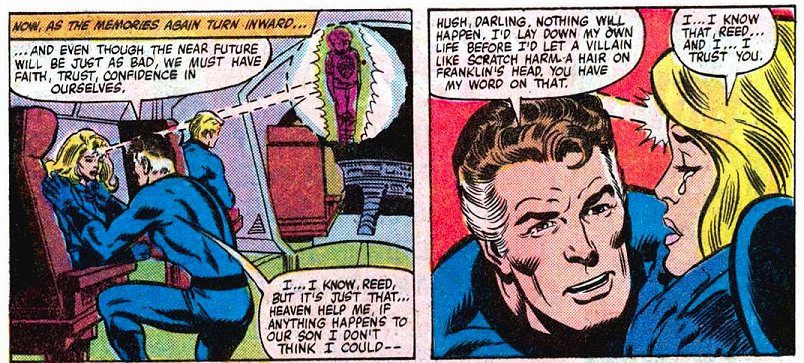 Reed says he will never let anybody hurt Franklin. But he just did exactly that - three times! (FF216, FF222, FF annual 14, not to mention all the times before that.) Letting people hurt Franklin is what he does! He doesn't mean to, but he lacks the emotional connection to see what he has in his son. Perhaps part of Sue's unhappiness is knowing that she could have done more to make him focus on Franklin, and she always let it slide. Reed maybe couldn't help it, but Sue could. She failed her son and she feels it more than anybody.

But this is the issue where they finally start taking steps in the right direction. They say goodbye to Agatha. They accept their son into their home at last. It's the first step toward recovery. it's a huge step but they still have a long way to go yet, before Reed can connect with his son.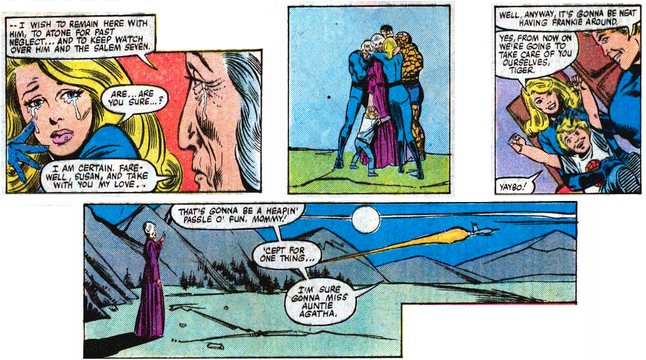 Will Reed make Franklin his top priority? Will he follow Agatha's example and put his family first? We shall see.





224

Issue 224: the origin of man: cycles of cosmic renewal. Johnny cannot face it, and starts to de-mature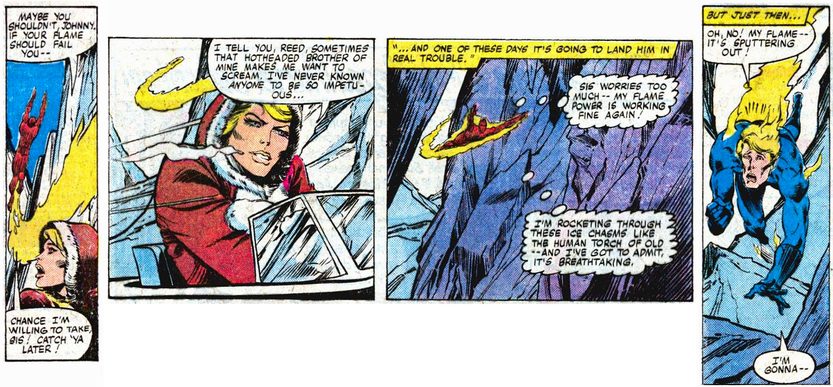 The late 1960s and 1970s Johnny rejected his role as a junior partner in the team. The 1980s Johnny embraced it. This issue is where he changed. Ever since issue 1 Johnny has been growing up, gaining confidence, but recent events (starting with issue 214) have caused him to doubt himself. He's becoming less confident, and it manifests itself by him being more cocky, less mature. This is the issue where Sue notices. This will continue until Alicia helps Johnny to finally find peace at the end of act 4.


Symbolism

Red mist: Throughout Moench's year we see the team gradually lose control, until they admit it in the final arc. The red mist at the start symbolizes this, by causing them to lose control of their powers. "Red mist" means losing control, usually in anger. Its first recorded usage is in 1857 in Harper's Mag. Dec. 63/2: "A choking, dreadful feeling arrested my breath; the ground rocked beneath my feet; a red mist swam before my eyes! I staggered I fell!" (source)

Darkfield illumination: "Darkfield Illumination" refers to a technique used by scientists using microscopes: objects are lit so as to stand out against a black background. Korgon describes this on the last page. In the same way, this "darkfield illumination" makes Korgon learn the dark side of power: Korgon's power did not make him happy, it just made him lonely. The FF are finding the same thing. (Unlike the X-Men a thousand years later, Korgon was the only one: this makes his story even more tragic, and more interesting: he had no guidance, no precedence.)

The zeitgeist

Hunting for a civilization amid ice mountains, powered by a magical light, and finding a tiger frozen in the ice, parallels the then-recent 1977 movie "Sinbad and the Eye of the Tiger": "Eventually they reach the North Polar wastes [in their search for the legendary land of Hyperborea] Kassim is hosted into the light source (magic of Hyperborea), and is restored. As a last resort, Zenobia transfers her spirit into a saber-toothed cat which had been frozen."
It also parallels another famous movie: "The interior of the shrine was very similar to the shrine set in the 1935 motion picture She, complete with steep pyramidal steps, a vortex of light coming from above, and a saber-toothed cat encased in ice." (source)

The death of a god reflects the decline in respect for religion in the American media of the time.
The story also references greenhouse effect: this reflects a change in culture: until the mid 1970s it was assumed that a new ice age was a bigger threat (hence FF145-146).
The story also references the Tungusta explosion in Siberia.
The warriors dressed in skins riding quad bikes recalls another then-recent movie, Mad Max.

Baldr
The blind god who saves the world through his tears recalls the story of the Norse god Baldr.

"Baldr is known primarily for the story of his death. His death is seen as the first in the chain of events which will ultimately lead to the destruction of the gods at Ragnarök. Baldr will be reborn in the new world, according to Völuspá. He had a dream of his own death and his mother had the same dreams. Since dreams were usually prophetic, this depressed him, so his mother Frigg made every object on earth vow never to hurt Baldr. All objects made this vow except mistletoe. [...] When Loki, the mischief-maker, heard of this, he made a magical spear[or arrow] from this plant. He hurried to the place where the gods were indulging in their new pastime of hurling objects at Baldr, which would bounce off without harming him. Loki gave the spear to Baldr's brother, the blind god Höđr, who then inadvertently killed his brother with it. [...] Hel promised to release Baldr from the underworld if all objects alive and dead would weep for him. All did, except a giantess, Ţökk often presumed to be the god Loki in disguise, who refused to mourn the slain god. Thus Baldr had to remain in the underworld, not to emerge until after Ragnarök, when he and his brother Höđr would be reconciled and rule the new earth together with Thor's sons." (source)

In the next issue the mischief maker Wiglif is explicitly compared to Loki. True, the parallels are not exact, but then the original legends themselves were always fluid, with multiple versions. This story may then be far more significant than it appears: see next point.

"The most unusual FF saga of all"
The last page calls this "the most unusual FF saga of all" and so it is. This Norse "god" suggests the legend of Baldr, but not the Baldr of Marvel. It reminds us that other Marvel Comics do not have the same status as the Fantastic Four: although characters appear in the title (the next issue has Thor) those characters do not report their stories to Marvel, so within the realism of the main title their other comics are mostly made up. So the Thor we will see in this story is not one hundred percent the same as the Thor we read about in his comics. We see a similar process when Marvel and DC comics combine: each comics universe has its own different Thor, and so when they cross over things are not as they might seem.
Other unusual elements are that the enemy is a god, he never gets off his bed, and simply wants to die. This is not like other stories!
500,000BC
The crystal mountain at the North Pole causing worldwide disruption points us to FF 220-221.

Then the date 500,000BC points us back to Odin and the origin of Asgard (see Uatu's timeline: Odin planted his trees beginning 500,000 BC).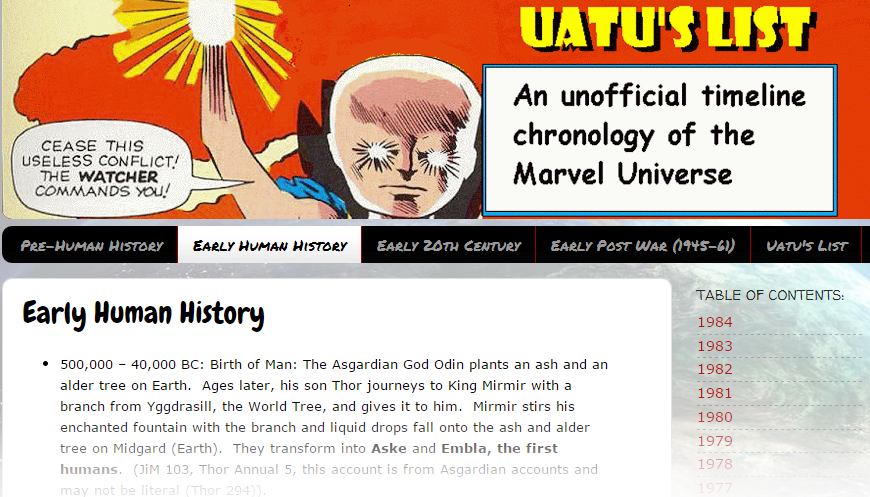 I asked the author for more details, and he replied:

"Sorry, I can't remember where I got 500,000 from, whether from Wikipedia or the JiM/Thor issues cited. This was years ago..."

I haven't been able to track down the source. But even if it's just his guit feeling, if the world authority on Marvel dates has the feeling that 500,000 BC is correct than I trust his gut feeling.

Asgard
If Odin set the seeds for humankind in 500,000 BC, it is the same time as the magnetic poles switched (according to FF 221) and the same time that some long-lived non-human aliens became very curious about Earth, suggesting that something important was happening. The FF 221 story is very similar to the Thor story in FF 224. Both stories have numerous parallels with the south pole Beyonder story in FF 315, which again links us Marvel's big cosmic origin story.



Asgard and Earth's magnetic fields


Odin's creation stories are obviously symbolic (e.g. in another legend the ice giant's skull formed the heavens, and after that the stars were made). But they feature something (called the World Tree) that surrounds the Earth to protect us: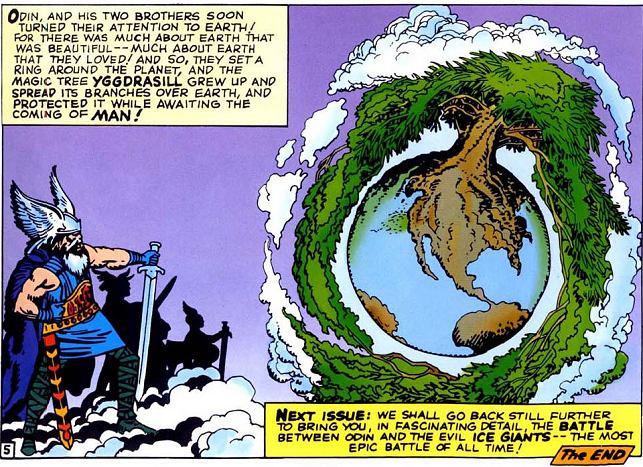 It also keeps a great danger locked inside, and also connects with other dimensions ("the nine worlds"). Te ony scientific clue we have is that it involves electromagentism. (These images are from the first "Tales of Asgard" that form the basis for all other Thor mythology.)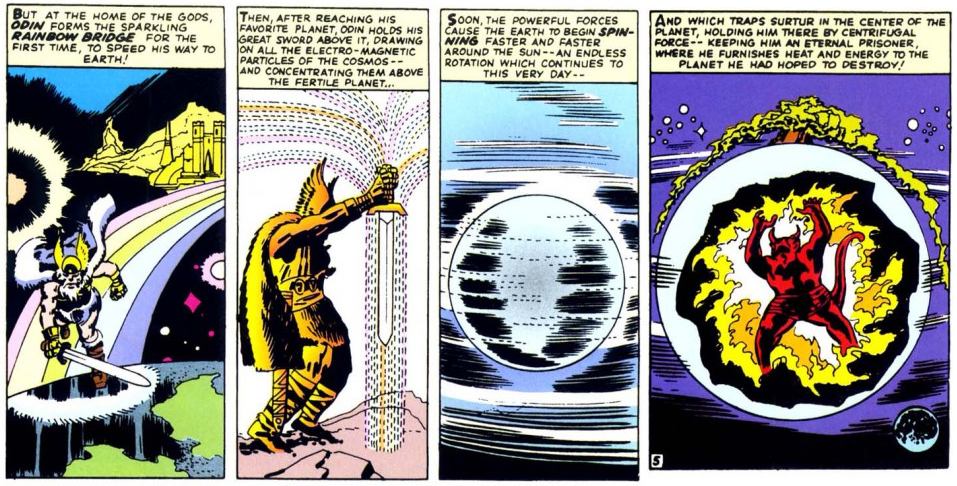 The obvious link is Earth's magnetic field. This field protects us from the worst of cosmic radiation. This is the cosmic radiation that creates mutations. Humans are designed by the Celestials to be able to mutate to become super beings, so by controlling mutations (through the magnetic field) the higher beings are able to ensure that humans evolve naturally until they first enter space and meet cosmic rays. So when the norsemen look north and see the northern lights in the sky, they are literally seeing Earth battle the cosmic rays that threaten genetic chaos if uncontrolled.

When Thor crosses the rainbow bridge it is very similar to the comet men in FF 315, when he just kicks a particular stone and begins a joruney across the stars to another world (or in the previous issue where walking through a particular cave take you thousands of miles away).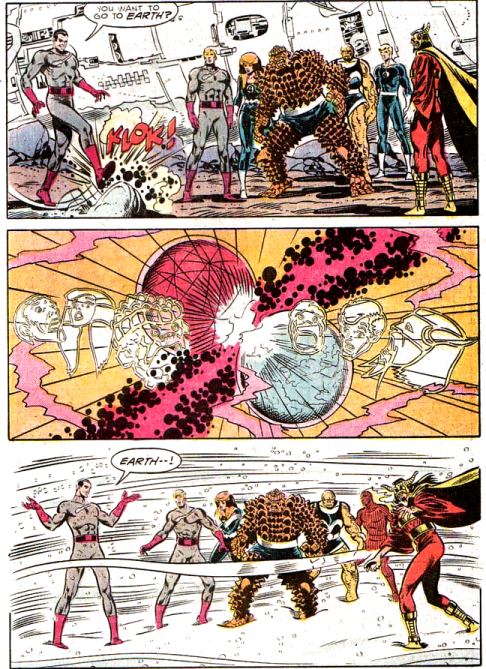 We can further speculate that the origins of Asgard in a frozen wasteland, defeating the frost giant and banishing the fire giant to under the earth, are related to the events in the arctic and antarctic, perhaps related to the Deviants being banished underground, or a memory of the great heaters that controlled the climate, or perhaps relating to another teleportation event. It's all good.


Crystals of renewal
The Darkfield Rod is the focus of the blind god's power, and no doubt helped him create the crystal fortress: the chosen one has a crustal rod that enables him to create a crystal fortress from the previous civilization. This idea was also seen in the (then recent) Superman movie. The crystal is how a dying civilization is reborn.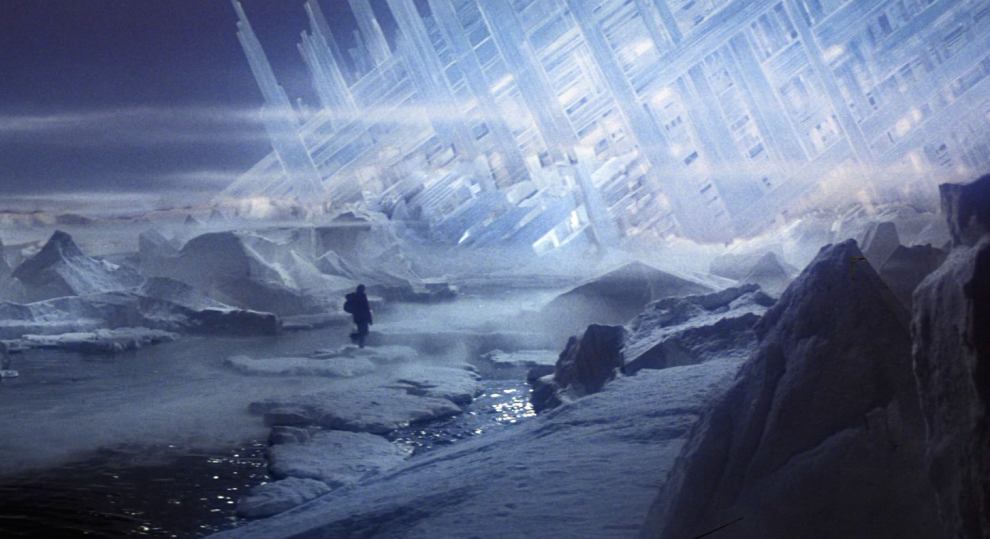 In this case it is not Krypton, but Asgard: The Asgardian gods need to be worshiped in order to exist, but the Norse religion was declining, so this crystal fortress ensured it would continue. There always has to be a group of Norsemen somewhere.

Other uses of crystals in the FF


Like all crucial themes it begins in issue 1: the valley of diamonds in FF1.The closest real world photo shows they are actually crystals, looking like Superman's fortress fortress of solitude: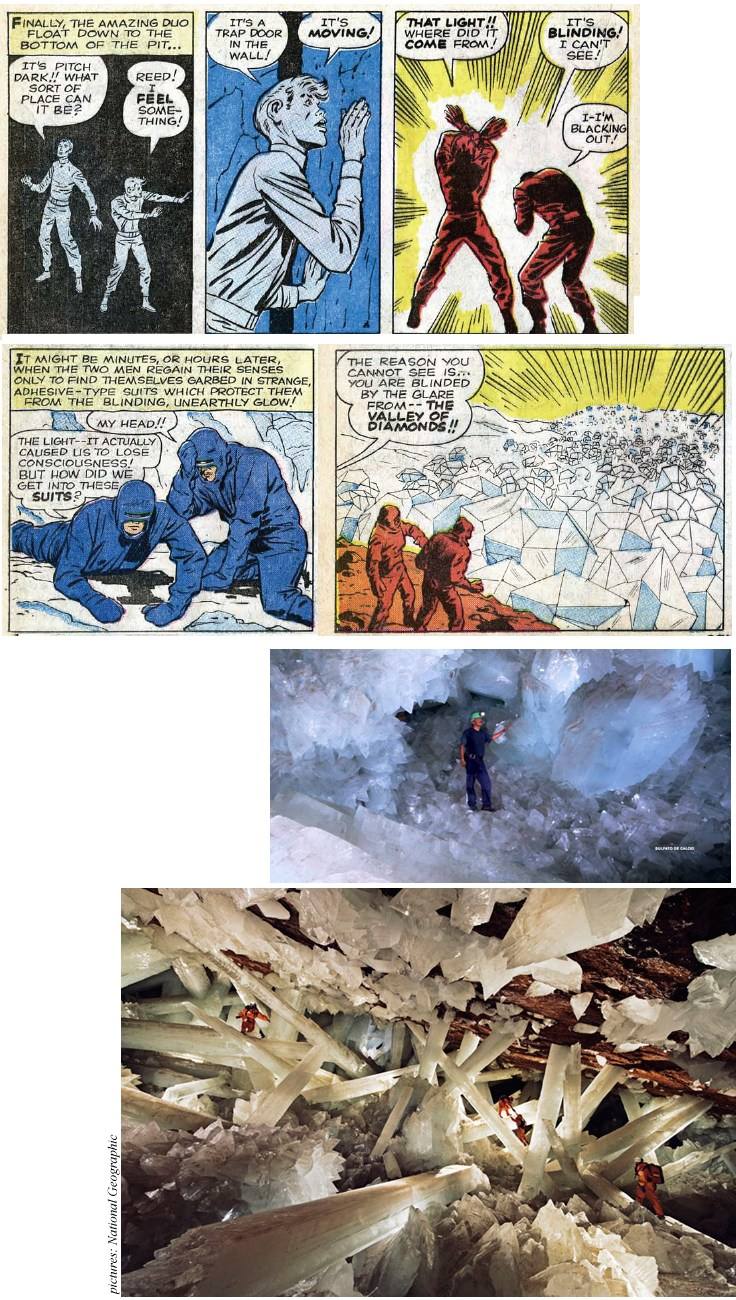 And in "Superman-The Movie":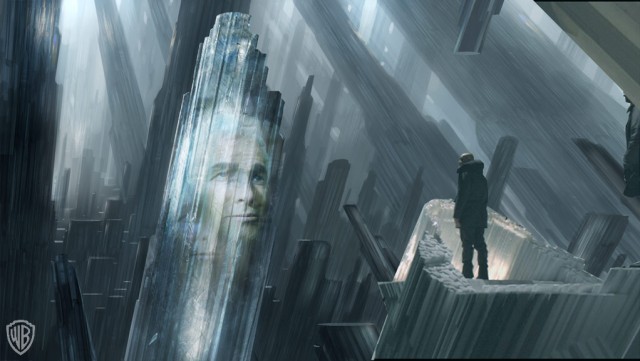 The crystal theme appear again at the end, in the dimensions on the way to the Beyonder in FF319 (how symbolic!)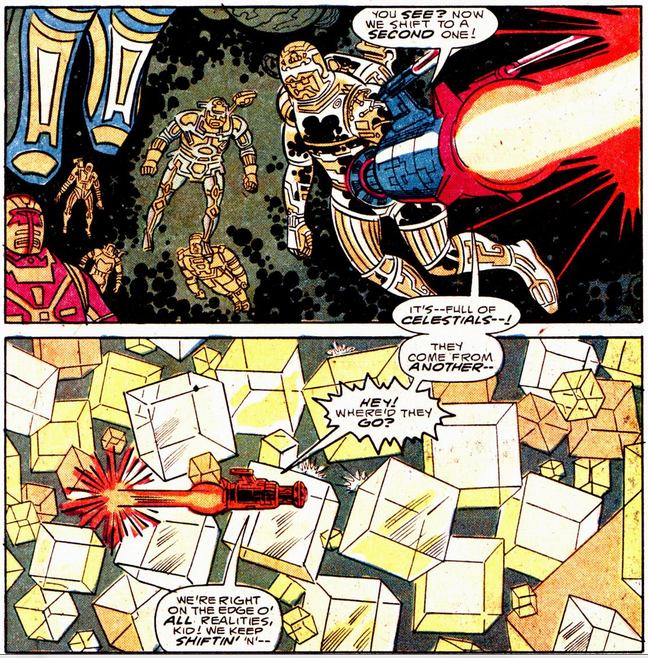 Here the crystals are cubes: cosmic cubes are the ultimate form of the creation-crystals.

Other references to crystals of power include:




Johnny's reaction (to this and the previous intense issue

)
So we can see that there is a lot going on below the surface! Note the contrast: Johnny's de-maturing with the greater depth now being revealed in the Marvel Universe. Perhaps Johny is beginning to realize the scale of the demands on him, and does not want to go down that road. He is overwhelmed.But in act 5, when he is finally mature, he is ready for whatever the cosmos may throw at him and so returns to the beginning place: the ice and snow and the Beyonders in FF315-6.


Other points to note:




225

Issue 225: Sue mentally rejects the team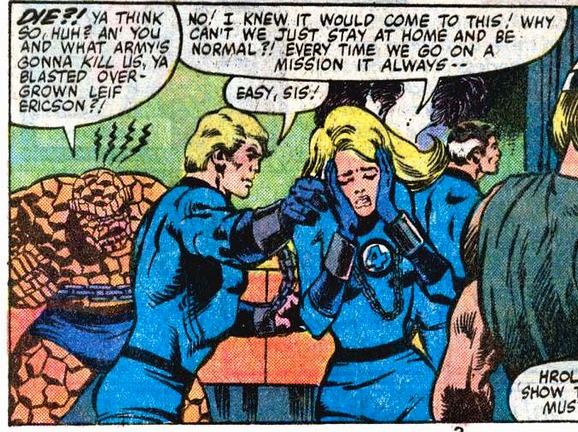 Until now, Sue always saw the team as necessary. In FF201 for example, Reed plans to disband the team, but Sue insists that the team and family are the same. But in this issue the recent changes cause her to change her view. Being in the team is no longer worth the cost. Meanwhile, Sue has been developing her detective skills. We saw in FF158 that she plans to be a detective, and in FF219 we saw her practicing with developing her skills, without any input from Reed. Now she's developed them to a point where she can use a force field probe to pick locks: a useful tool for a private detective. Also note how she amazes the vikings with "feats of seeming impossibility." What could this be other than rising on force field pillars? In FF232 she uses a force field pillar to appear to fly, but it's a very small step from what she does here. Finally, she rescues the team, again using her own initiative and without any guidance from Reed. Sue is independent and planning a life away from the team.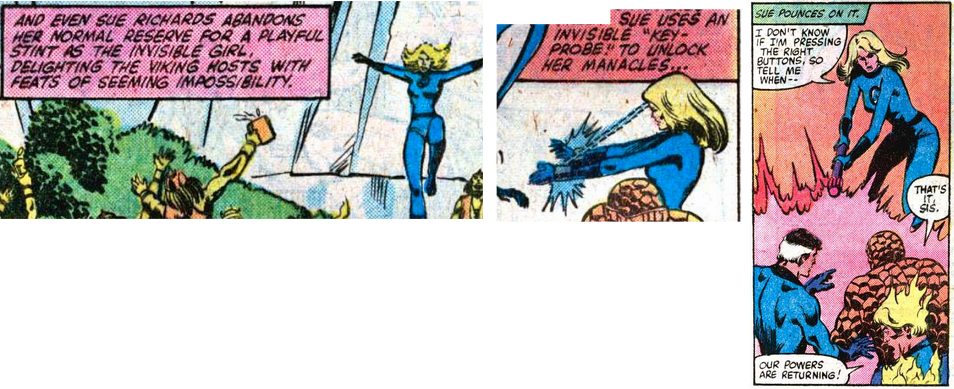 This issue is also significant for two other developments, confirming what we always suspected.


First, the accident that gave the team their powers also increased Reed's mental abilities. This explains why he is able to so quickly understand and use alien technology.

Second, we see that Alicia's greater understanding is almost like a super power itself. It is not technically a super power, but it was enough for her to convert the silver surfer to our side and thus defeat Galactus. It will also be enough for her to understand the complex dynamics beneath Ben and Johnny's long term problems and solve everything: the blind woman who defeated Galactus will also be the catalyst to solve the team's long term problems and complete the Great American Novel. In this issue Ben draws a parallel between the blind god and blind Alicia.

In the above image note that Franklin plays with the ketchup, making it look like the blind god's tears. This merely emphasizes the obvious parallels between the blind god and the blind girl and the boy who unconsciously guides the Marvel Universe universe, just as the blind god guides his people. Franklin sees via his dream self, and finds it mentally disturbing, just as the blind god sees darkfield illuminations and hates the experience. Both are reluctant gods.

Deep symbolism
The story is about a god who no longer wants to be a god. This is deep stuff, a first in comics. The story also handles deep a question that applies not just to religion, but to all live, including American history and also to comic book continuity) - must you continue the old ways forever? Odin says yes, that's all he has. But the blind god sees men's hearts and knows that he must move on.

Why does the blind god weep? because he sees their hearts and it saddens him. In other words, he sees what holds them back. The Viking dome that never progresses is a symbol of that eternal stagnation. The cycle of rain and rebirth that seems so idyllic is corrupt because it is artificial, cut off from the outside world, and the occupants can never learn to survive on their own. This theme is developed in the final tale of Moench;s run, the story of the Ebon seeker: from a civilization that cannot progress, so it must contact new life to survive. It's a universal rule of all existence. It applies to comics too (without change they die: the sealed off dome is like sealed off comic shops, always stuck with the same group of fans from the past, repeating genres from the pas).

Criticisms

(source)

"There wasn't really a good reason for Odin to be monitoring the team's affairs."

Yes there was: as the only surviving band of original worshipers, they are the *only* people he is interested in.

"I think the whole 'Korgon's Alive!' party was really out of place"

These are vikings. Naturally they will celebrate a great event with a feast.
Sue dances on a table? No, the text says she is "demonstrating feats of seeming impossibility" - e.g. standing on an invisible platform, etc. As for dancing, Ben is the one who looks drunk and silly. Why should we be sexist by singling out Sue?
Other points to note




Allow me to be an elitist snob for a moment


If you will forgive me a personal rant, they say that youth is wasted on the young. I would also say that the best comics are wasted on comic readers. Here we have a story of Shakespearean depth, and also the story where Sue decides on her independence. Yet the typical review I read says it's unoriginal, that Sue is dancing on tables, and that the only redeeming feature is that Thor hits somebody. Call me an elitist snob if you like, but stories of this quality are wasted on most comic readers.





226

Issue 226: it's OK for a superhero team to move forwards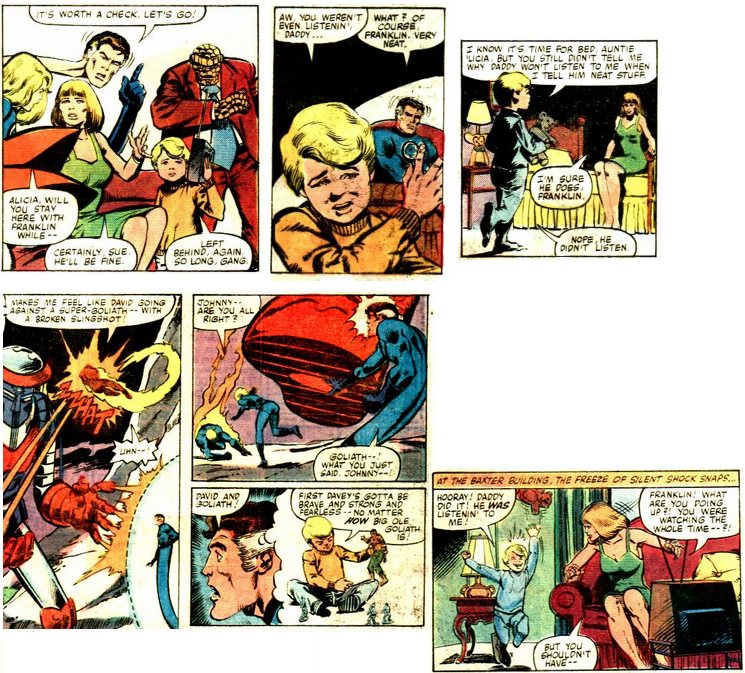 In this issue we see, by example, that it's OK for a fighting team to move on. On the last page Ben envies them. The Fantastic Four does not need to disband like the Shogun Warriors, but if Agatha can spend more time with her family, then so can Reed.

Reed is slowly making progress. He finally spends some time with Franklin. He is in the same room... but he ignores the child, he always has his mind on other things. He finally remembers something Franklin said at thee end: this is progress, but not much. Note that four year old Franklin is a better strategist than Reed!

Other points to note

Alicia is growing impatient with Ben. She is doing everything to show him that he is accepted, but he just won't commit. Eventually this low level neglect will reach a crisis, in FF251.
See the zeitgeist: this is 1980, and Japanese giant robots are established in American culture! But the first wave of their popularity is over, hence the American robot pilots retire.
227

Issue 227: Sue starts pressuring Reed to focus on the family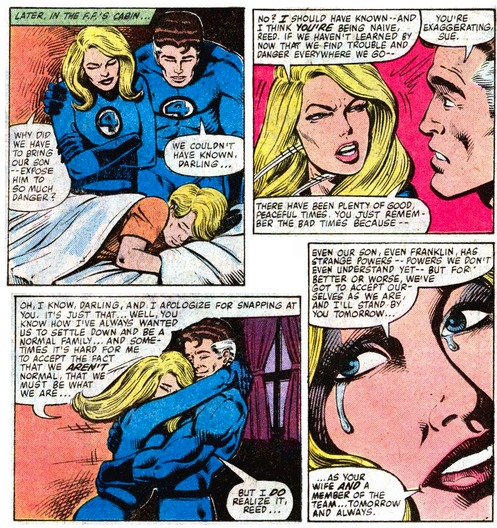 Here Sue finally starts to pressure Reed to give attention to Franklin. But it's not in her nature. When Reed defends his point of view (that everything is OK really) she backs down. But the pressure in mounting.

Criticism of this issue
Sue has been mocked for hiding her luggage, as if she's shallow an afraid of confrontation. But she only does it to make life easy for Reed. Reed has been extremely fragile lately, e.g. his failures in FF204-214, and his visible stress in FF219. Now Franklin is always around and it's a difficult time for him: he always wanted Franklin to go away (e.g. to Agatha). Sue is trying to minimize his stress in this difficult time. The luggage incident is about Reed's weakness, not Sue's.
228

Issue 228: Reed finally pays attention to Franklin.

Or does he?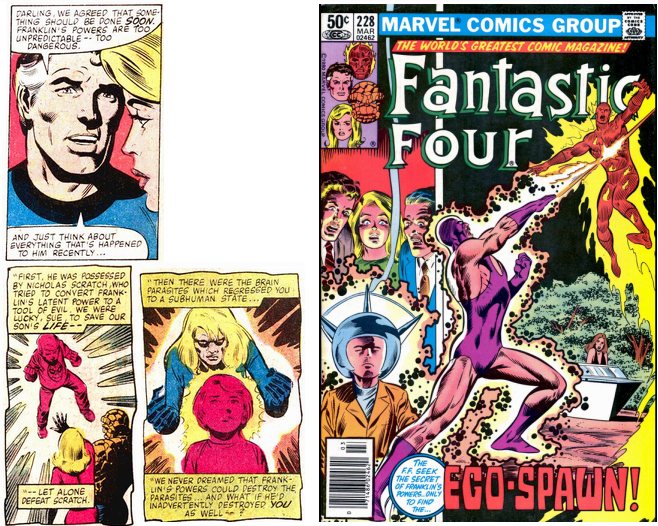 At last! After all these years! Reed finally decides to pay attention to Franklin. But how does he go about studying Franklin's power? Does he collate all known examples and draw some conclusions? Does he talk to Franklin at length? Does he take time to observe and get to know his son? Does he even talk to Sue and to Agatha Harkness, who have spent more time with Franklin than anyone? In short, Reed is a scientist, so does he do science? No! He sends Franklin to someone else, as he always does. Reed seems to have a pathological fear of contact with his own son. Reed just does not know how to be a father.



It's not physical, it's psychological


The crucial point here is that Reed wants to examine Franklin physically, when the appearance of ego-spawn indicates that the trigger is psychological: it's linked to Franklin's frustrations. But Reed does not understand psychology, he does not understand frustration in others. He will not let Sue (who has more empathy) take the lead. So when the physical approach fails he just gives up. So it could be said that "ego spawn" refers to Reed, not Franklin: Franklin's problems are a result of Reed's ego that prevents him from being close to his son. Franklin (as Ego-spawn) states it plainly: they don't pay him any attention!



Other points to note



Johnny says how he is older (he's now 26) and is so relieved to have a date. See notes by FF204 for how rare this is.
Note Johnny's reference to a hangup he thought he'd got over (inferiority). In the early 1970s he thought he was acting like a man, but he never addressed the root cause, his real failures with women and his real position as junior in the team.
The cover is one of my least favorites. The villain seems designed to be as generic and uninteresting as possible, and this reflects how this comic is not about heroes and villains. The existence of a super powered villain is just a minor detail. If you can get past the cover, it's a surprisingly good issue. Well worth re-reading slowly and in depth.
229

Issue 229: they realize it cannot work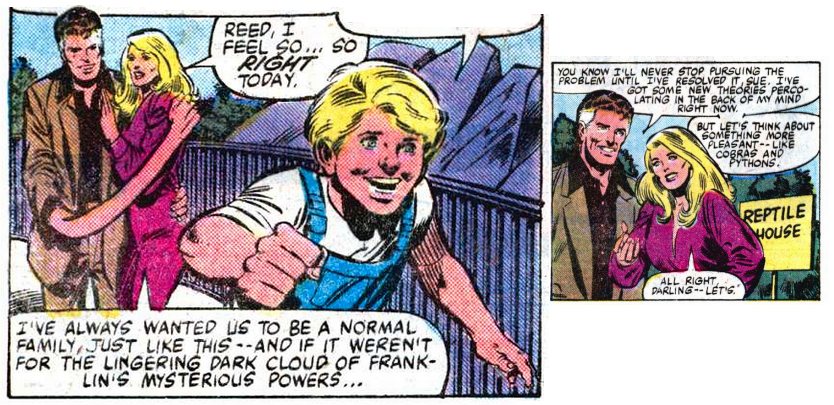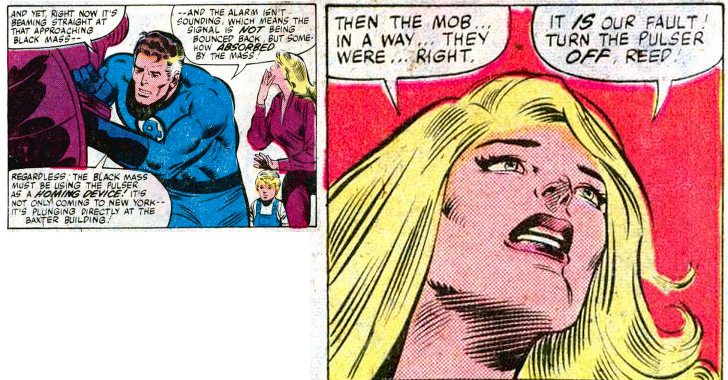 Between FF201 and now, as the triumph of FF200 slowly unwound, Reed and Sue were trying to muddle through. They tried to act like happy families in the hope that everything would sort out right. This arc (FF229-231) is where they realize it cannot work. Here are some of the landmark events in this story, events that are easy to overlook.

This was the first time that Sue said Goodbye to Franklin, in the sense that she really did not expect to come back.
This is (I think) the first time she acknowledges that sometimes major disasters are their fault.
This was the first time that Sue went into the negative zone (though technically she was inside a shielded bubble and in subspace, so her later statement in Byrne's run that his family trip was her first time, is still true). Its the first time she is exposed to the full horror of where Reed might go, both physically and mentally.
This is the first time that the team is reported dead - we see their obituary on TV
This is the first time Sue must act against the wishes of innocent people (when she pushed a man off heir floating island - they cannot see her invisible cushion far below) - taken in the context of knowing that this problem was their own causing and she would probably never see her son again, you can imagine what is going on in her head
This provides unique insights into how those around them view the FF (Franklin watching them on TV, Johnny's girlfriend's thought processes). We also see valuable insights into their normal lives - Ben with Alicia, Johnny dating, how Sue sees things - though these insights are not new, they simply build on the past. Johnny and Ben will not reach their "last straw" moments for a couple more years.
Each of these elements expands on themes that have developed over the previous 20 years, making this a crucial landmark issue. After this, things could never be the same, and sure enough, everything changed from the next arc (the start of John Byrne's run). If we trace the development of Reed's goals and Sue's goals since 1961, this is a final straw of seismic proportions. This story explains:

Why Byrne's Reed was more withdrawn (his physical appearance has always reflected his mental state),
Why Sue tried to change her entire outlook on life.
In short, it explains the changes that Byrne will chronicle, starting in the next arc.




Reed has no hope


This is the arc where Reed finally admits defeat. Things have been bad before, but not like this. He will not give up completely until in FF231, but throughout the arc he knows it is hopeless. Although by a miracle they survive, the psychological damage is done. See the commentary to FF231 ad 232 for how this affects him.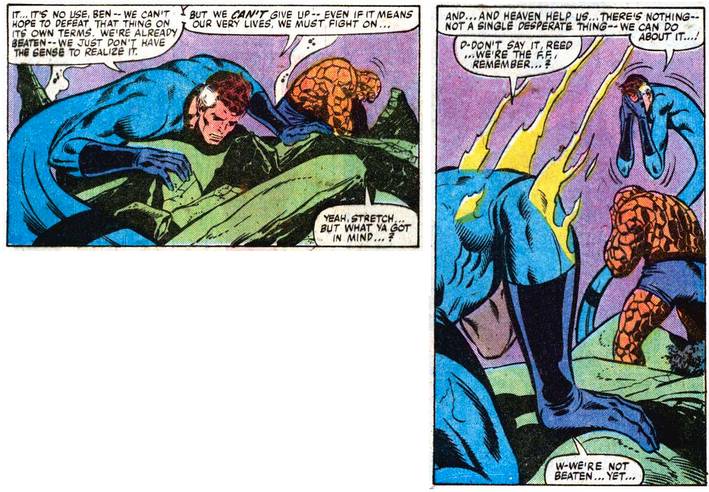 Criticisms
Other points to note
For why Reed and Sue are on a date (such a refreshing image!) see comments to FF232.
A lot of the writing in these three issues is refreshing, with the full range of emotions from light humor to despair - from the statue of Jim Shooter (FF231 splash page) to Lorrie's dialog, and how the family back home worries. There's a lot to like about this arc.
For what Reed was learning about the negative zone, see comments to FF 244.

230

Issue 230: all the biggest themes in one intense issue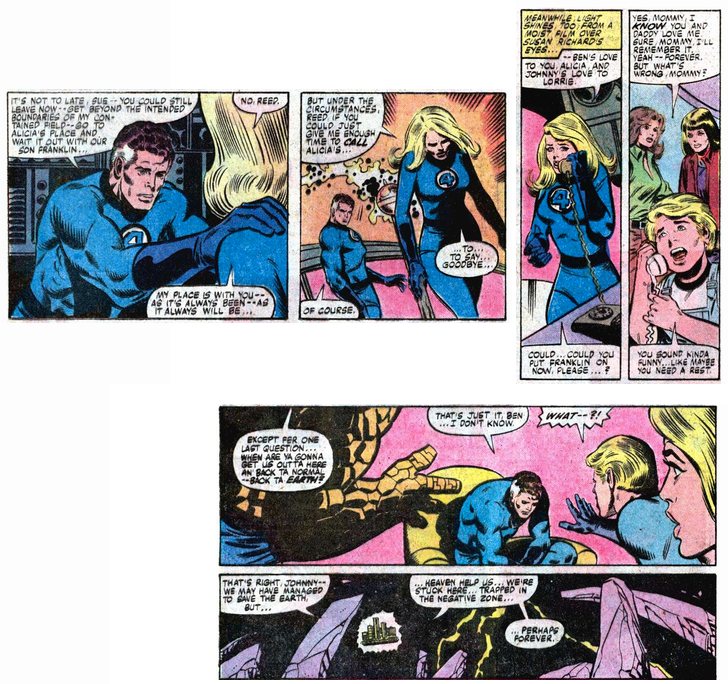 This issue has all the biggest stories in one issue. If anything is big, it's here:

This is where Reed Richards averts the end of the universe: it's as big as "The Biggest One" in Walt Simonson's run.

It's repeats the common theme of Reed entering the negative zone, but this time he takes the entire family, and the entire building and part of the surrounding city there, and can't find his way back!

This is where the team have reached absolute despair and expected to die.


The issue is about the symbolic battle between Sue's cooperation and Reed's conflict.

It's where the male figure is trapped by his own actions, and does not realize he is the source of his own problems.

We have the cost of Sue's choice to be with Reed, and how long it takes - for Sue it must feel like forever.

The story parallels the greatest of all FF stories, the Galactus trilogy:

It features a planet destroyer who is not evil, but it's just what he does

Reed creates a negative zone barrier around a city (remember the Inhumans story that ran concurrently),
the story involves going to the origin of all reality, just as Johnny did in FF49-50

We also see the power of the four compared with other comic book teams, as Johnny rejects the Avengers' well meaning offer of help: the FF's power comes from their experience and Reed's intelligence, not their raw muscle.

It's just mind expanding, it has that core that makes the Fantastic Four what it is. In one issue we contemplate the life cycle of the universe, existential angst, life inside a black hole, violence versus non-violence, male versus female, positive versus negative, and so much more, all described with poetic imagery.

The final solution is understanding, not violence. Then it leaves Reed not knowing what to do next. Seeing Reed in the negative zone is like seeing him gardening in FF annual 21: he doesn't know what to do.

On the surface, the end of this three issue arc will be the biggest change the Fantastic Four have ever seen: it leads to the start of John Byrne's famous run on the story. Some treat it like a complete soft reboot, going back to the early 1960s, the first time this has happened, and the end of continuity. but if we look deeper this is an illusion, and continuity is there, as we shall see. But arc is the point where the team consciously realize that everything must change. They will not actually make those changes until the end of the act: John Byrne's run will stretch the climax to their family crisis over 63 action packed issues.

Personal note: one of my favorite issues
This is where I put on my literary snob hat. Many fans consider this a very bad story, and see John Byrne's run as a huge breath of fresh air. It is true that Byrne's work is far more accessible, but appearances are deceiving. in my opinion this issue is hugely underrated because people do not take it slow and consider the massive themes packed into each page. Read quickly, it's just a rapid fire chaos of old cliches. But read slowly, when we see the symbolism of each element and its connections with the wider story, it's inspiring, mind expanding, profound.
The cultural zeitgeist
Apart from all the universal themes, this issue is rich in cultural links. The square-ish red space craft being sucked into a black hole is from the 1979 Disney movie "The Black Hole." The plot twist at the end is from the 1979 movie "Star Trek: The Motion Picture." This illustrates the power of the Great American Novel and why it is seldom recognized: it sucks in the biggest themes of the time, and so casual readers reject as "not original." But those who study literature enough know that nothing is original. Certainly not Shakespeare or Chaucer or Homer. If something seems original it's only because we haven't yet found influences. All great art is derivative. But for those who want the most ideas in the smallest space, presented in the funnest way, you can't beat Shakespeare, or the Fantastic Four.

The name Stygorr: where dark roads converge
"Steig" is Germanic for narrow steep path, and "Stygian" refers to the river Styx in hell. "The rivers Styx, Phlegethon, Acheron, and Cocytus all converge at the center of the underworld on a great marsh, which is also sometimes called the Styx." (Wikipedia) "Gore" means to stab, from the old English for dirt or clotted blood. It's also the triangular piece of land where roads meet: all these meanings are ideal for a deadly being who lives where dimensions converge. Compare Gorr the golden gorilla: another dimensional being (counter earth is a parallel world), this time created from emergency genetic engineering (a form of clotted blood); and Gorr was extremely strong (he broke Hulk restraints) and dangerous when he first appeared.

Other points to note
231

Issue 231: the final alienation. Big direction change for Reed, Sue and Johnny


Show, don't tell
The golden rule of story telling, according to many people, is show, don't tell. Characters do not need to state what is happening if we can see for ourselves. This issue is the perfect example: it's where the team realize that they cannot go on as they are.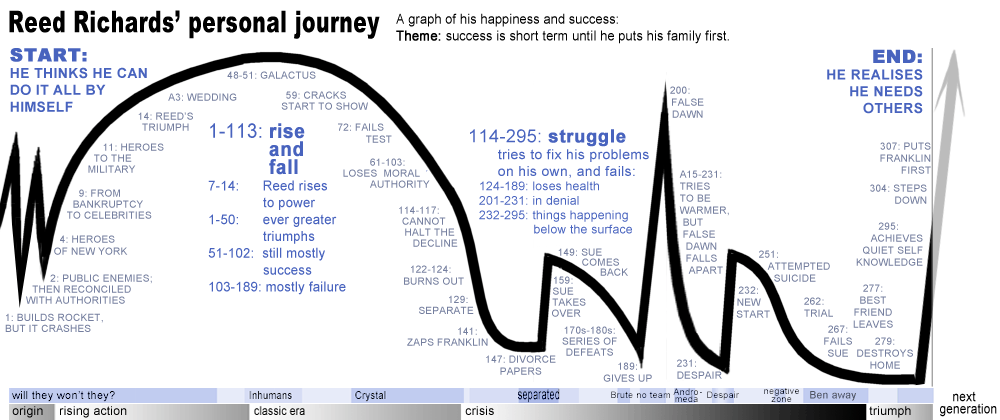 The team hit rock bottom and decide to change
The story is not just in the unprecedented danger to the family (the only time Sue has said goodbye to Franklin, etc. See notes to FF229) but it's in their faces. It's in the team just standing on the street at the end, away from all their technology, contemplating. This is where John Byrne's "Back To Basics" era began, in the last page of Doug Moench's run.

The biggest change in the 28 year story
After this issue, between FF231 and FF232, the FF undergo their biggest change ever. Superficially it looks like the entire story is rebooted to the mid 1960s (that was John Byrne's intention, except it didn't out that way: the characters had their own momentum). What we actually see is Reed, Sue and Johnny accepting that things have to change forever, and trying desperate measures. Ben does not react so badly because he already went through ultimate despair years ago: he has lost the ability to change his life and must wait for Alicia to change it for him, at the end of this act. Incidentally, Alicia is the unsung hero of this 28 year story: the one who defeated Galactus (by converting the surfer), the one who triggered the final redemption of the Fantastic Four, the one who stays with Franklin (as in this issue) when nobody else will.


Symbolism
The black hole being (the Ebon Seeker) symbolizes Reed's despair: sucking all light in, turning it black. Reed, as a scientist, is a seeker, but lacks the connection h needs to his cautious, big-picture-seeing feminine side (symbolized by Firefrost). The danger of unbalanced science, threatening the universe, was foreshadowed in the Watcher's warning about the Overmind at the start of act 4. Like science, the Overmind draws on countless previous minds.


Franklin's power is manifest again


Franklin is watching reports of their end on TV, he repeatedly says that everyone is wrong, they

will

survive. And so they do.


Sue's desperate gamble
In the next issue Sue will adopt a "back to basics" strategy, sexually: to get through to Reed she will become a Stepford Wife. Her phrase (in FF232) "Reed will love being married to a child" is on surface a throw-away comment, but indicates last minute second thoughts. Remember that this was her decision, not he hair stylist. This is Sue's "to be or not to be" moment - is she doing the right thing?

Note that Sue's bust is enlarged (this is not true for all female characters, it's specific to Sue). In FF232 she will mention that she keeps her uniform permanently hidden under her uniform. Is this a hint that she is now using her other power, her force field, in a permanent and unconscious way as well? That is, she never needs a Wonderbra or corset.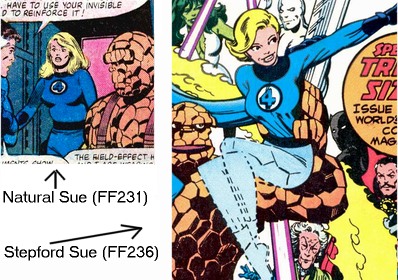 Sue's mid life crisis
The radical makeover may also be related to her age. Sue is 32, and her family ages more quickly than most (see FF212). She missed her childhood (she was raising her brother) and so has always been interested in beauty, and she's known for her good looks. The crisis of FF229-231 coincided with her feeling old, hence the desire for a radical transformation.

The second honeymoon: parallels with the first
Sue's decision to be more sexy and to go on dates with Reed can be seen as a second honeymoon. It has many parallels with the first honeymoon (see FF47):
The first honeymoon began with the Seeker (FF44), the second was triggered by the Ebon Seeker.
The first had the Inhumans soon trapped behind a matter-antimatter barrier. In the second it was the humans who were trapped.
The first barrier was finally destroyed by a carefully controlled explosion. So was the second.
The first honeymoon was dominated by Galactus (FF44-48): the second was dominated by the Ebon Seeker, a Galactus-like being.
The first Galactus problem was solved by the female side (Alicia). So was the second (Firefrost)
Etc.

Johnny's crisis
The Ebon Seeker crisis hits Johnny hard as well: it comes at a time when his love life has hit rock bottom. He's 28 years old, seeing 30 approaching, and is still treated like a kid. In the past he matured and saw himself as an adult but it didn't help his life: he still feels duty bound to play the junior role, things still go wrong, and with Reed as his only male role model his love life stumbles from crisis to crisis. Johnny is not a happy man.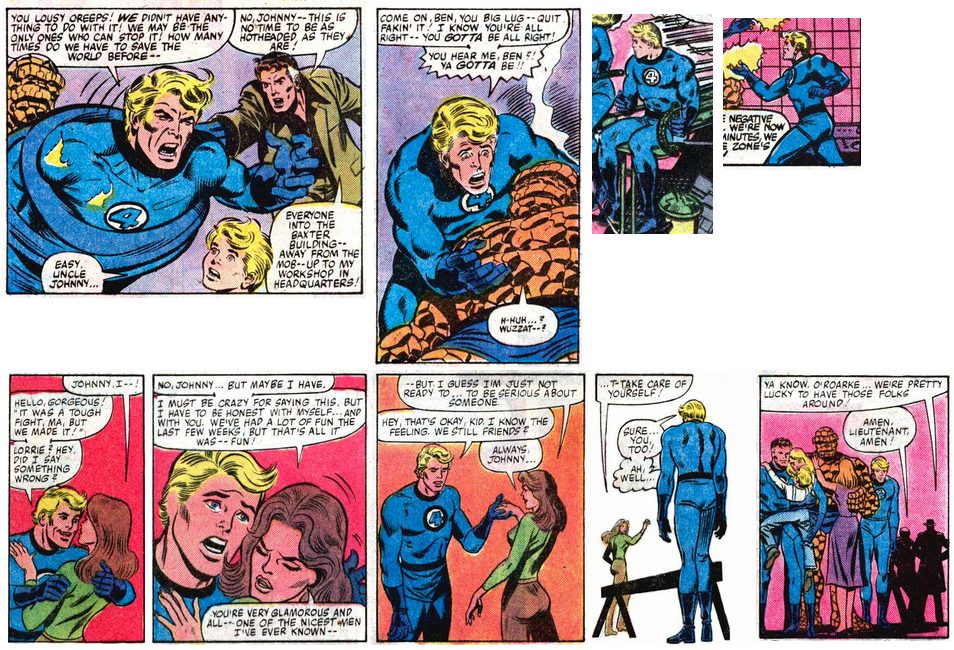 Johnny pretends to be a ladies' man but has only seriously dated four girls (Dorrie, Crystal Frankie and Lorrie) and they've all dumped him. The last page of FF229 shows how desperate he is: Lorrie says they've only been together a few weeks, and already Johnny is professing deep love to a girl who does not care for him.
We don't know how much time passes between FF231 and FF232 but Johnny, like Reed, loses a lot of weight. Some put this down to artistic license, but the same artist, John Byrne, showed Johny and Reed with bulging muscles as recently as FF221. It's likely that i the gap between FF231 and FF232 they don't eat much at all. They are miserable. The next time we see Johnny he's tracking down Frankie again, a girl who lacks emotional empathy (she finally decides to be the herald to Galactus) and previously lost interest in Johnny. Clearly Johnny is desperate.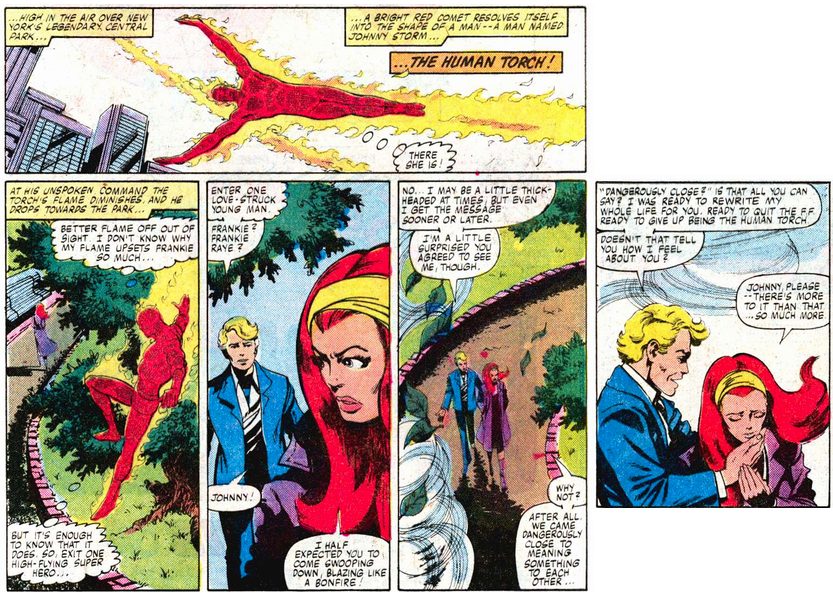 Of all the team, Johnny has suffered the least and is the first to bounce back. First he regains his self esteem in F233, and then.... well, wait and see.
How much time passes
When Lorrie dumps Johnny she says they've been dating for "weeks" - but they started dating in FF222. The entire year of Doug Moench's run was only experienced as "weeks" to the characters. See Marvel Time for more details.